The Best Chromecast Alternatives – 8 Options to Consider
The Best Chromecast Alternatives – 8 Options to Consider
By Johan Curtis No Comments 12 minutes
Here's your quick guide on the best Chromecast alternatives in 2023. Chromecast is a media streaming device powered by Google.
It allows users to stream content from their smartphones, tablets, or computers to their TV. The device is a small dongle plugged into a TV's HDMI port and can be used through a smartphone app, computer, or voice command via Google Assistant.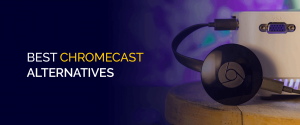 Chromecast can stream videos, music, and photos from popular apps like Netflix, YouTube, Hulu, and Spotify. It supports various devices and platforms, including Android, iOS, Windows, and Mac.
With Chromecast, users can turn their TV into a smart TV without purchasing a new one. It's an affordable and convenient way to stream content from the internet directly to your television.
However, you might want to consider Chromecast alternatives due to its limited compatibility. Chromecast requires a Wi-Fi network and an HDMI port on your TV.
If your TV doesn't have an HDMI port, you won't be able to use Chromecast. Similarly, if you don't have a reliable Wi-Fi connection, you may experience issues with streaming.
Another reason is limited features. While Chromecast is great for streaming videos, music, and photos, it doesn't offer much in terms of advanced features. 
For example, it doesn't have a built-in interface or remote control, so you need to use your smartphone or computer to control it. Additionally, Chromecast lacks support for devices and services from other companies. 
For instance, if you use Apple devices or services, Chromecast doesn't integrate well with them. This could be a problem if you're trying to create a seamless streaming experience across all your devices. 
Finally, Chromecast collects data on your usage, which may concern some users. If you're worried about your privacy, consider an alternative device that doesn't collect as much data. 
In this blog, I will list the eight best Chromecast alternatives that you can use in 2023. So, keep reading to find what suits you the best.
Best Chromecast Alternatives
If you're considering an alternative to Chromecast, here are eight of the best options to opt for: 
Roku Streaming Stick+

Apple TV 4K

Amazon Fire TV Cube

Nvidia Shield TV

Airtame

Samsung AllShare Cast

AllCast

Xiaomi Mi Box S
1. Roku Streaming Stick+ 
Ranked first on our list of Chromecast alternatives, the Roku Streaming Stick+ is a standout streaming device from a company known for producing some of the best gadgets in the industry. With support for 4K HDR streaming, the Roku Streaming Stick+ can deliver top-quality content by simply plugging it into the HDMI port on your smart TV.
This device outperforms Chromecast with its content delivery. Unlike Chromecast, the Roku Streaming Stick+ comes with its own interface and can be operated using a remote control. This makes it much more viable than Chromecast, which requires a smartphone to operate.
Moreover, the Roku Streaming Stick+ remote can power both the volume and your smart TV, meaning you can control all functions using a single remote.
Music enthusiasts will appreciate that the device supports Dolby ATMOS surround sound, making it an excellent choice for those with home theater systems or those who simply want top-quality audio.
 Overall, the Roku Streaming Stick+ is a versatile and convenient streaming device that offers high-quality content delivery and a seamless user experience.
Pros:
Affordable and easy to set up

Supports 4K HDR and Dolby Atmos audio

Fast and responsive performance
Cons:
No Ethernet port, so you'll need a strong Wi-Fi signal for the best performance.

The voice remote doesn't include a headphone jack for private listening

No support for Apple AirPlay or HomeKit

Limited storage capacity, so you may need to manage your apps carefully.
2. Apple TV 4K
Another alternative to Chromecast is Apple TV 4K. It has a more advanced interface that is easy to use and comes with a dedicated remote control, making it even more user-friendly than a smartphone or computer controlling content. Additionally, it has access to a wide range of streaming services, including Netflix, Amazon Prime Video, and Hulu.
One of the biggest advantages of Apple TV 4K is its compatibility with Apple's ecosystem, making it an ideal choice for those who already use Apple products such as iPhones, iPads, and Macs. It also has AirPlay 2, which allows users to stream content from their Apple devices directly to their TV.
Another advantage of Apple TV 4K is its support for 4K and HDR content. It also has a feature called "Up Next," which allows users to easily keep track of their favorite shows and movies.
Apple TV 4K also has Siri integration, allowing users to use voice commands to control their content, search for movies and TV shows, and even ask for the latest news and weather updates.
Pros:
Supports 4K HDR and Dolby Atmos audio

Multiple streaming channels

Seamless integration with other Apple devices and services

User-friendly interface
Cons:
More expensive than many other streaming devices

A limited selection of games and apps compared to some other platforms

No support for Google Play or Amazon Prime Video 

Limited customization options compared to other streaming devices

No USB port for local media playback or storage
3. Amazon Fire TV Cube
On number 3, we have Amazon Fire TV Cube, an excellent alternative to Chromecast. It offers a complete package that combines a streaming device with an Amazon Echo speaker, allowing you to control your TV using voice commands through Alexa. This can be very convenient for hands-free control of your entertainment system.
Amazon Fire TV Cube has a straightforward interface with a remote control, which can be trouble-free compared to a smartphone or computer to navigate content. 
It is also compatible with streaming services like Netflix, Hulu, and Amazon Prime Video.
Besides, it supports 4K Ultra HD and HDR content to give you great streaming pleasure. 
Amazon Fire TV Cube provides an advanced feature called "Alexa Routines," which allows you to customize your smart home experience by setting up automated actions for Alexa to perform.
Another upside is that it has a built-in IR blaster, which can control other devices such as cable boxes, soundbars, and receivers, making it a versatile addition to your entertainment setup.
Pros:
Supports 4K HDR and Dolby Atmos audio

Large selection of streaming channels/apps

Can control your TV, soundbar, and other home entertainment devices using Alexa voice commands
Cons:
No USB port for local media playback or storage

Voice control may not be as reliable as using a physical remote sometimes
4. Nvidia Shield TV
Another impressive Chromecast alternative is Nvidia Shield TV. It is a more powerful device that runs on the Android TV operating system. It has a faster processor, more RAM, and more storage than Chromecast. This makes it better suited for streaming high-quality video content, playing games, and running other apps.
The Shield TV has remote control support, making navigating through menus and control playback easier. The remote also has a built-in microphone for voice search, making it even more convenient to use.
 It also has an Ethernet port and supports Bluetooth, which makes it compatible to connect to other devices.
Pros:
Has an Ethernet port for faster and more reliable internet connectivity

Supports 4K HDR and Dolby Atmos audio

Includes a built-in speaker for Alexa voice responses and Bluetooth connectivity for external speakers
Cons: 
A separate controller is needed

It is more expensive than other devices.
5. Airtame
The AirTame, which is ranked fifth on our list, may not be the most popular Chromecast alternative among users, but we believe that it has its strengths.
One of its main features is the ability to cast movies and images from your smartphone to your TV, similar to Chromecast. This feature is especially useful for educators who want to share their screens in the classroom. It is also compatible with a wide range of Android and iOS devices.
Another advantage of the AirTame is its ability to stream to multiple screens in HD 1080p video, making it ideal for business presentations and conferences. It supports features that other wireless HDMI adapters may not, such as WPA2 Enterprise, Ethernet connection, connection with IP, and access point mode.
Setting up the AirTame is easy, and users can do it quickly by plugging the device into the HDMI port and connecting it to a Wi-Fi network using the app. Additionally, there is a cloud-based device management tool that allows for remote monitoring of devices.
Pros: 
Advanced security features

Easy setup process

 Easy to use for presenting to audiences
Cons:
Quite Expensive 

Only supports 1080p streaming.

 slow performance when streaming content
6. Samsung AllShare Cast
Samsung AllShare Cast is a wireless streaming device; it offers a more seamless and convenient streaming experience compared to Chromecast. AllShare Cast uses the Miracast standard, which allows you to wirelessly mirror your device's screen onto your TV without the need for additional hardware or apps. This makes it much easier to use and more accessible for users who may not be as tech-savvy.
It also supports multiple devices and operating systems compared to Chromecast. It is compatible with various Samsung devices, including smartphones, tablets, and laptops, as well as devices from other manufacturers. That's why it is a more versatile option for users who have multiple devices to stream content on.
AllShare Cast also supports a comprehensive range of video formats and resolutions than Chromecast. It can handle 1080p video at 30 frames per second, as well as 720p video at 60 frames per second. This makes it great for users who want to stream high-quality video content.
Additionally, it offers a much more definitive streaming experience than Chromecast. It uses Wi-Fi Direct technology to create a direct connection between your device and your TV, which can help to reduce lag and buffering. Offers a built-in antenna that helps to improve the signal strength and range.
Samsung AllShare Cast is a quite versatile and reliable streaming device than Chromecast. While it may not have as many features or customization options, it offers a more straightforward and accessible streaming experience that is ideal for users who want to mirror their device's screen onto their TV without any fuss or extra hardware.
Pros: 
the setup process is easy

Design is portable

Wireless screen-sharing support
Cons:
Compatible with Samsung devices only

Occasional connectivity issues
7. AllCast
The AllCast comes on number 7 on our list of the best Chromecast alternatives. 
Again, compared to what Chromecast supports, AllCast has much more variety. It works with numerous devices and operating systems. You can use it on Android, iOS, and  even on some smart TVs. 
It is a unique streaming app that offers several advantages over competing products. Unlike standalone devices like Chromecast, AllCast is an app that allows you to cast your mobile device screen onto an HDTV display. 
One of its key advantages is its enhanced compatibility, as it supports a wide range of streaming service providers, including Roku and Fire TV, and is compatible with multiple mobile operating systems, such as Android and iOS.
Another advantage of AllCast is its ability to work seamlessly with various media servers like Plex or function as a standalone app to communicate with native iPhone and iPad elements. 
Additionally, it can cast to virtually any smart HDTV brand and still maintain high-quality video and audio, making it a more versatile option than other streaming devices.
Pros:
Affordable Pricing 

User-friendly interface 

Works with both Android and iOS devices
Cons:
The free version of the app is limited and has ads

 Does not support all devices or file formats 
8. Xiaomi Mi Box S
Despite its catch-up apps, dynamic HDR format support, and non-immersive audio quality limitations, the Xiaomi Mi Box S is still a reliable and high-performing streaming device. It offers a complete Android TV experience and can stream content in 4K HDR with excellent clarity and vibrant colors. Additionally, it provides a three-dimensional surround sound experience through both Dolby and DTS.
One of the Xiaomi Mi Box S's standout features is its built-in Chromecast, which adds to its functionality and allows users to stream content from their mobile devices directly to their TV. The device also features a dedicated Google Assistant button on the remote control, enabling users to launch their favorite movies and TV shows with simple voice commands.
While it is more significant than many competitors and sits beside the TV rather than behind it, the Xiaomi Mi Box S is a powerful device that uses a quad-core processor with 2 GB RAM and 8 GB storage. This makes it an excellent choice for streaming videos and audio over extended periods. 
Pros: 
Offers support for 4K Ultra HD video and HDR playback

Easy-to-use interface

Supports voice commands through the Google Assistant
Cons:
Slow performance 

Remote is difficult to use

Limited customization options.
Conclusion 
We hope our list of Google Chromecast alternatives has been useful to you in your search for a streaming device. After careful analysis, we recommend the Roku Streaming Stick+ and Apple TV 4K as the most stable and popular options based on our research.
However, we understand that everyone's preferences and opinions may differ, so we encourage you to do your own research and find the best option for your home entertainment needs. If you have found an alternative that you think is better, we would love to hear about it in the comments.
Take Control of Your Privacy Today!
Unblock websites, access streaming platforms, and bypass ISP monitoring.
Get FastestVPN