Most Secure Email Providers to Try in 2020
By Johan Curtis 11 Comments 12 minutes
Emails are a very difficult means of communication to protect properly. After the information revealed by Edward Snowden, email security problems have become much more evident to the general public, since before users were not aware of the ease with which these communications are spied. Secure email providers such as Lavabit and Silent Circle decided to suspend operations and shut down their servers instead of complying with the NSA's demands, as this went against their privacy policy.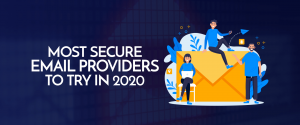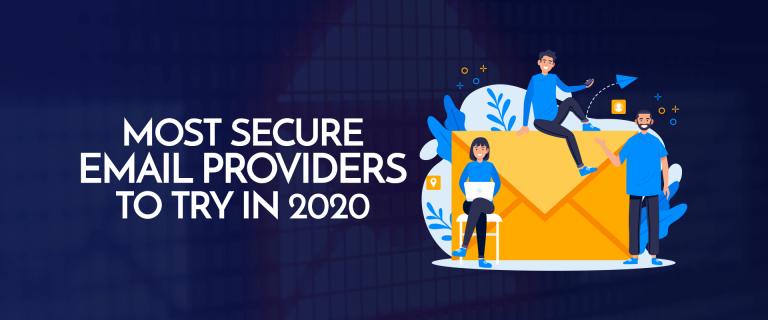 Note: The Internet is not a safe place. So called secure email providers, advertisers and even government agencies collect user's private data for their own interests. To protect and safeguard your personal data from preying eyes, use FastestVPN to encrypt your data when using email services.
The problem with protecting your email is that it must be encrypted end-to-end to prevent it from being intercepted while traveling on intermediary networks, and the recipient also needs to have the same encryption system. Although some of these systems are free, they are difficult to configure in general and try to convince the other user of the importance of carrying out the process, it can be useless. The way in which email protocols work also facilitates data leaks, because the mail remains in a service, waiting to be collected. However, if you still need to use email to send confidential data, or just want to keep your emails private, there are a few secure email services that you can rely on. Each email provider offers the high level of security and great features that can benefit you over other standard email services.
Here are our top 10 secure email providers that you can use for messaging and communicating:
1. Posteo
Posteo is an independent secure email service providing great security, privacy, and sustainability on the internet. They offer sustainable and encrypted email accounts, including calendars and address books. Posteo is totally self-funded and ad-free. Posteo is said to be one of the most all-round and friendly encrypted email services. It is a great, cost-effective solution for those who want to encrypt their entire mail suite.
Features
Two-factor authentication (TOTP) available
Fetched by IMAP/POP3,
Address book and calendar (synchronizable)
Simply saved data encryption
Ad-free email account, ad-free website,
Easy signups
Pay anonymously by cash, bank transfer, or PayPal
Storage
2 GB storage (can be increased)
up to 50 MB of file attachment
Country
Its servers are based in Germany
Price
1 EUR per month
Additional storage: 0.25 EUR per GB per month
Cons
No end-to-end encryption
Not as secure as other encrypted services
2. ProtonMail
ProtonMail is the top-most rated secure email provider right now. It not only provides secure email messaging service but also gives users the ability for quick setup and ensures that the user stays safe from email scammers. Although, signing up to ProtonMail as simple as other popular email platforms like Outlook or Gmail, ProtonMail actually offers built-in security for user protection against scammers and snooping eyes.
Features
End-to-end encryption for all messages
Users can send encrypted email messages to their contacts that don't use ProtonMail
Useful self-destruct emails
The improved online web interface with features such as drag and drop messages, contact manager, and authentication logs.
Dedicated mobile applications for both iOS and Android.
Totally open source email service
Storage
Max attachment size: 25 MB
Mailbox storage: 500 MB (free), 5 to 20 GB.
Country
ProtonMail servers are located in Switzerland
Price
Free (No Ad), multi-tiered pricing starting from $4 per month to $75 per year.
Cons
Expensive top-end plans
Limited cloud storage
3. MailHippo
MailHippo is a highly-encrypted, secure and affordable platform for sending and receiving emails. Along with end-to-end encryption, MailHippo is compatible with any existing email address and supports any email provider, which makes it one of the best-encrypted email services available. MailHippo is very easy to use and doesn't require any setup or complex configuration. Simply sign up to immediately start sending and receiving HIPAA-compliant encrypted emails.
The cloud-based platform uses industry-leading 256-bit AES encryption to secure messages while in transit and at rest. In addition, MailHippo equips each user with a complementary SendSafe® address, allowing the user to receive totally-secure emails from anyone.
MailHippo offers a number of affordable monthly price plans along with a Free Trial to let users make the most of their encrypted messaging service. All price plans can be cancelled anytime with no obligation, giving you complete control over how long you want to use the service.
Features
Use your current email address
No setup/configuration required – start sending in minutes
Message recall
Message expiration
Message preview
Auto type-ahead address book
SendSafe® Address
HIPAA Compliant (required for healthcare providers)
Online customer support
Storage
Unlimited email storage
Send large files up to 100 MB in size
10 GB of email attachment storage
Price
Basic plan starts at only $4.95/month
30 Day Free Trial
Cons
Storage is limited for the free version
4. Tutanota
Tutanota is yet another web-based secure email service that focuses on providing the best security and experience to its users by providing a variety of features and solutions within the platform. Even though it is an open-source system, it also provides private users with a dedicated platform for their email. The security provided by Tutanota is immaculate and doesn't cost much. It has a paid version that costs only 1 euro per month and a free one. In the free version you have 1 GB of space and few options. In the payment option, you can expand the space, use 5 or more aliases, use your own domains or make customizations. The developers of Tutanota declare that they do not use PGP in the encryption because for them the encryption of the matter is also important. Therefore they have developed a proprietary solution based on AES and RSA that encrypts attachments, text, and subject. They do not record IPs or email addresses, which are deleted.
Features
Tutanota supports all browsers
App is free for most personal users
Apps for both iOS and Android
Unlimited number of sent messages per day
Plus account starts at about $1.50 per month, making it extraordinarily cheap compared to most other secure email providers on the market
Premium account users can use their own domains with Tutanota
Expand your cloud storage and user count
Storage
Max attachment limit: 25 MB.
Mailbox storage: 1 GB
Country
Tutanota is based in Germany
Price
Free (No Ad)
€12 year (Premium)
Cons
Mobile app design is out-dated
Only AES-128 encryption
5. Mailbox.org
Mailbox.org is also a Germany based, secure email provider that offers powerful features. It offers a great number of features with an extremely user-friendly design. Moreover, it's also compatible with mobile apps and third-party email clients. What's more? There's much more that you can enjoy with its encryption feature that lets you encrypt all your data on servers in Germany.
Features
Ad-free services
Custom domain name
Cloud storage
Encryption
Spam protection
Individual Price Plans
Storage
Max mail storage 25 GB
Cloud Storage 25 GB
Country
Price
Cons
Enabled Registration Tracking
Doesn't support mobile clients.
Note: The Internet is not a safe place. So-called secure email providers, advertisers and even government agencies collect user's private data for their own interests. To protect and safeguard your personal data from prying eyes, use FastestVPNto encrypt your data when using email services.
6. Mailfence
Mailfence is an encrypted email service based on the OpenPGP standard that offers end-to-end encryption and digital signing. It was launched in November 2013 by ContactOffice Group, which has been managing an online collaborative suite for professionals, universities and other organizations since 1999. Unlike other private and secure messaging services that can be found on the web, Mailfence does not lock users into their own "digital island". It leaves its users absolutely free to communicate securely with anyone, whether with other Mailfence users, or any other email service (compliant with the OpenPGP protocol). But using Mailfence has many other benefits, as you can see in the table below.
Features
Supports two-factor authentication
Emails addresses are digitally signed to prove authorship
Doesn't use ads
Email settings can be customized and tweaked as per user preferences
Blocks spam messages
Allow users to buy credits to send text messages and faxes
Contacts can be imported from Outlook, Gmail, CSV file, vCard, etc.
Includes file storage and calendar for documents
Allows users to send mail through the address they used to sign up, like their Gmail address
Storage
Max attachment limit: 10 MB (Free), 50 (Entry/Pro).
Mailbox storage: 500 MB (free), 5 GB (Entry) and 20 GB (Pro).
Country
Mailfence is a Belgium-based secure email service.
Price
Free (No Ad)
2,50€/month (Entry)
7,50€/month (Pro)
Cons
Free tier's cloud storage limited
No dedicated mobile apps