Secure Email Providers
By Nancy William 16 Comments 16 minutes
There may be various ways for people to communicate using numerous instant messaging apps, but emails are still very much alive. If you're among the large population of people still conversing over emails, make sure you know that not all email providers or email services are secure. This guide will show you the most secure Email providers in 2022!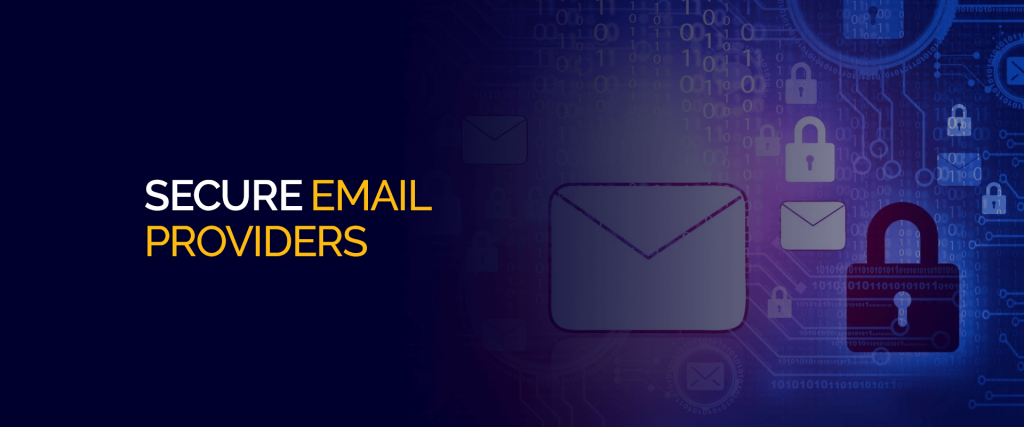 Note: The Internet is not a safe place. So-called secure email providers, advertisers and even government agencies collect user's private data for their own interests. To protect and safeguard your personal data from prying eyes, use FastestVPN to encrypt your internet traffic.
The internet today is not the same as yesterday, and with that said, it most certainly is not as safe. There are things you need to be careful of like tracking, malware, government surveillance, hacking, phishing attempts, and more while using any email service provider.
For this reason, it's crucial that you do everything within your power to secure all communications and data carried through your emails. Before thinking about software that can help, your first focus should be on getting the best and most secure email provider.
Your main target for protecting your email securely means that the email provider itself must be completely end-to-end encrypted. Through this, it will prevent it from being intercepted while your emails and data travel over the internet.
End-to-end encryption helps tremendously, but other service providers with a privacy-focused policy can also be considered. Looking to communicate privately via email? There are a few secure email services that you can rely on. Each email provider offers a high level of security and great features that can benefit you over other standard email services.
Table of contents
Best & Secure Email Providers at a glance
10 of the best secure email providers in 2022 – Detailed analysis
As mentioned, you will need the most secure email provider that can help privatize all your data. Out of countless email providers, here are the top 11 that made the cut:
ProtonMail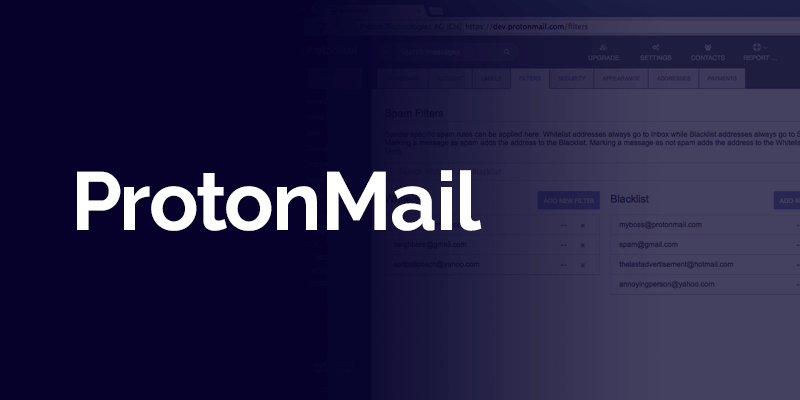 Developed by CERN and MIT scientists, ProtonMail is currently one of the most popular Swiss and encrypted email providers in the industry. It not only provides a secure email messaging service but also gives users the ability for quick setup and ensures that the user stays safe from email scammers.
Although signing up to ProtonMail is as simple as other popular email platforms like Outlook or Gmail, ProtonMail actually offers built-in security for user protection against scammers and snooping eyes.
There is no desktop app available for ProtonMail, but you can always use the web-based client that supports numerous browsers. If you require it for your smartphone, ProtonMail comes with apps for both iOS and Android.
Features
End-to-end encryption for all messages
No-logs
Users can send encrypted email messages to their contacts that don't use ProtonMail
Useful self-destruct emails
User-friendly and updated online web interface
Dedicated mobile applications for both iOS and Android.
Open source email service
5 to 20 GB storage on the premium plans
Up to 1000 messages a day
Free account with 500 MB storage, 150 messages per day, and limited support
Cons
No POP3 support
Comes without a desktop app
Price
Free (limited support)
Plus – $4.00/mo.
Visionary – $24.00/mo.
Professional – $6.25/user
DuckDuckGo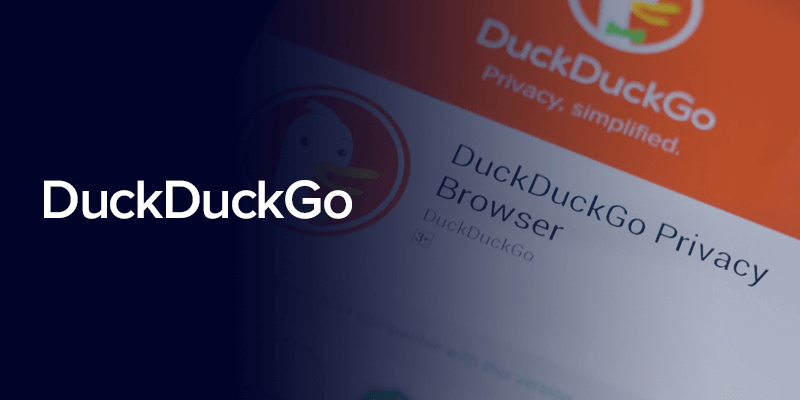 DuckDuckGo is not an email provider but is one of the most popular search engines. Wondering what DuckDuckGo is doing on the list of best secure email providers? Well, this privacy-focused search engine has announced a new service called Email Protection.
To keep your expectations in check, the new email protection service is not an email provider but acts as a proxy for your email address. Plus, it's for any platform.
The service is free to use. You can use the personal @duck.com email address to sign-up for services or distribute it over the web without revealing your actual email address. Any emails sent to the @duck.com email address get forwarded to you. DuckDuckGo also promises to remove email trackers.
The feature is currently in beta, but you can join the Private Waitlist through the DuckDuckGo app on iOS or Android.
Features:
Masks your actual email address
Forwards your emails privately
Disables email trackers
Price:
Tutanota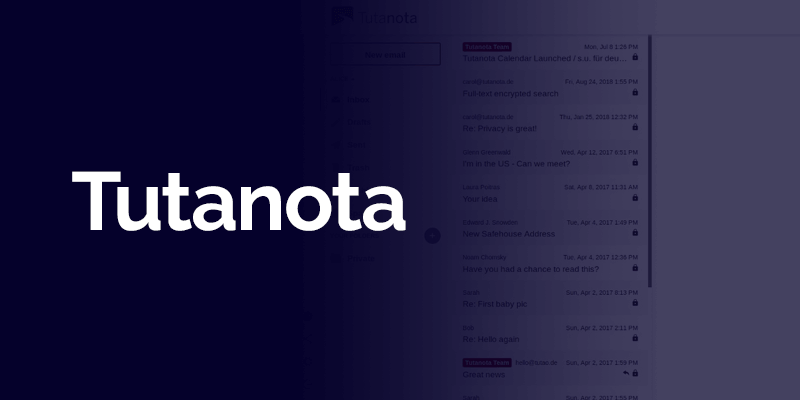 Quite similar to ProtonMail, in design and usability, we have Tutanota. It's yet another web-based secure email service that focuses on providing the best security and experience to its users. Another perk? Tutanota is one of the cheapest email services too!
Its high AES and RSA encryption matched with a variety of features and solutions is all seen within its service. Tutanota is an open-source system that provides private users with a dedicated platform for their email.
The developers of Tutanota say that they do not use PGP because it lacks perfect forward secrecy. Therefore, they have developed a proprietary solution based on AES and RSA that encrypts attachments, text, and subject. They do not record IPs or email addresses, which are deleted.
The only downside, also mentioned in the cons list below is that there is no search email option. It makes it a little more difficult to look up older emails in one go.
Features
End-to-end encryption and 2-factor authentication
Tutanota supports all browsers
The app is free for most personal users
Tutanota offers apps for Android, iOS, macOS, Windows, and support for Linux, Browsers
Ad-free
Unlimited number of sent messages per day
Premium account users can use their own domains with Tutanota
Expand your cloud storage and user count
Mailbox storage: 1 GB
Cons
Mobile app design is out-dated
No IMAP support
Important features missing from the free app
No ability to import contacts in bulk
Price
Mailfence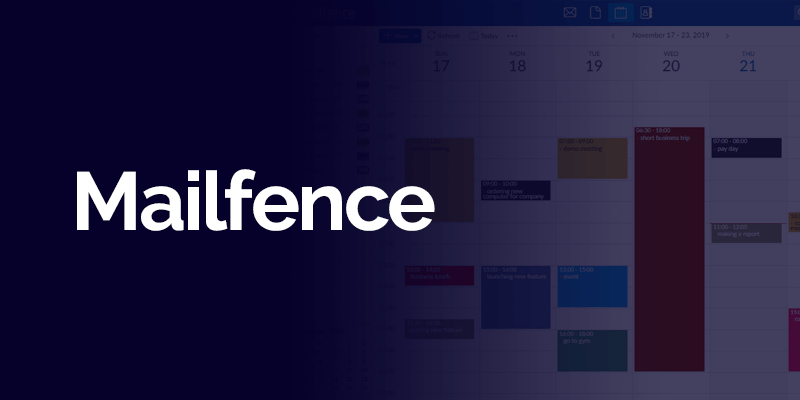 Mailfence is an encrypted email service based on the OpenPGP standard that offers end-to-end encryption and digital signing. It was launched in November 2013 by ContactOffice Group, which has been managing an online collaborative suite for professionals, universities, and other organizations since 1999.
Unlike other private and secure messaging services that can be found on the web, Mailfence does not lock users into their own "digital island". It leaves its users absolutely free to communicate securely with anyone, whether with other Mailfence users, or any other email service (compliant with the OpenPGP protocol). But using Mailfence has many other benefits, as you can see in the table below.
It most recently launched its mobile app. You can follow the steps outlined here to add Mailfence to your list of apps.
Features
Supports two-factor authentication
Emails addresses are digitally signed to prove authorship
Doesn't use ads
Email settings can be customized and tweaked as per user preferences
Blocks spam messages
Allow users to buy credits to send text messages and faxes
Contacts can be imported from Outlook, Gmail, CSV file, vCard, etc.
Includes file storage and calendar for documents
Max attachment limit: 10 MB (Free), 50 (Entry/Pro).
Mailbox storage: 500 MB (free), 5 GB (Entry) and 20 GB (Pro).
Cons
Free tier cloud storage is limited
To receive an activation key, you'll need another email address
Price
Free (No Ad)
Entry – $2.50/mo.
Pro – $7.50/mo.
Ultra – $25.00/mo.
Posteo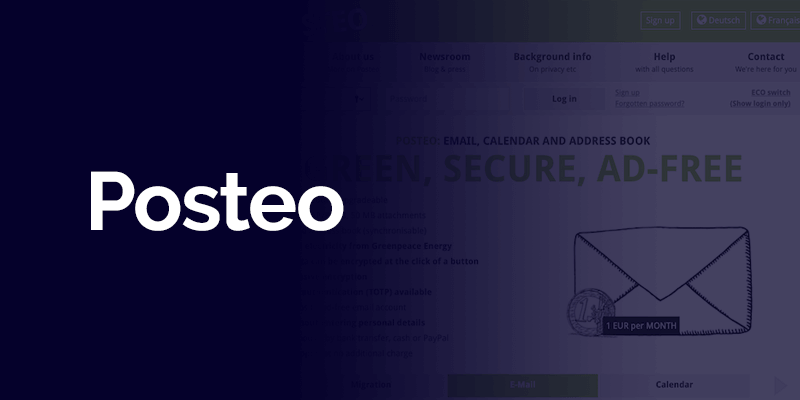 Posteo is an independent German secure email service providing great security, privacy, and sustainability on the internet. They offer sustainable and encrypted email accounts, including calendars and address books.
Posteo is totally self-funded and ad-free. Posteo is said to be one of the most all-round and friendly encrypted email services. It is a great, cost-effective solution for those who want to encrypt their entire mail suite.
Features
Two-factor authentication (TOTP) is available
Fetched by IMAP/POP3,
Address book and calendar (synchronizable)
Simply saved data encryption
Ad-free email account, ad-free website
Easy signups
Pay anonymously by cash, bank transfer, or PayPal
2 GB storage (can be increased)
up to 50 MB of file attachment
Cons
No end-to-end encryption
Not as secure as other encrypted services
Price
1 EUR per month
Additional storage: 0.25 EUR per GB per month
Runbox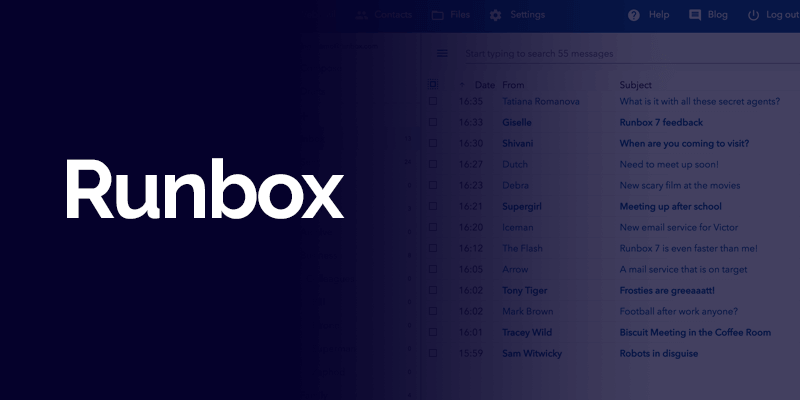 Next, we have a secure email provider called Runbox that is Norwegian-based. Not the most popular secure email service than the ones mentioned above, but RunBox is slowly catching up to the top email providers in terms of email encryption.
Runbox uses various security tools to keep your data away from the cybercriminal who wants to steal it. When you send an email using Runbox, they are sent through a secure encrypted connection.
Everything sent between Runbox servers and your email address is also encrypted. The data stored on the Runbox server is locked in a vault (in Norway) where it is protected by the constitution.
Runbox also provides annual plans using bitcoin for extra anonymity. For extra security, Runbox uses Two-factor authentication and with no external tracking cookies. It's almost impossible for scammers to hack into any Runbox email account.
Features
Create email aliases to use different email addresses with just one account
Powerful and reliable in processing and storing a large amount of data.
Professional management of emails such as spam filtering, customized sorting, forwarding, etc.
Integrated services
Strong email privacy protection
Spam and virus protection
Plenty of storage space
Universal access via Web, IMAP, WAP, etc.
Max attachment limit: 100 MB.
Mailbox storage: 10 GB
Cons
Less storage capacity
High subscription costs for businesses.
No mobile App
No free account
Price
Micro – $19.95/year
Mini – $34.95/year
Medium – $49.95/year
Max – $79.95/year
Mailbox.org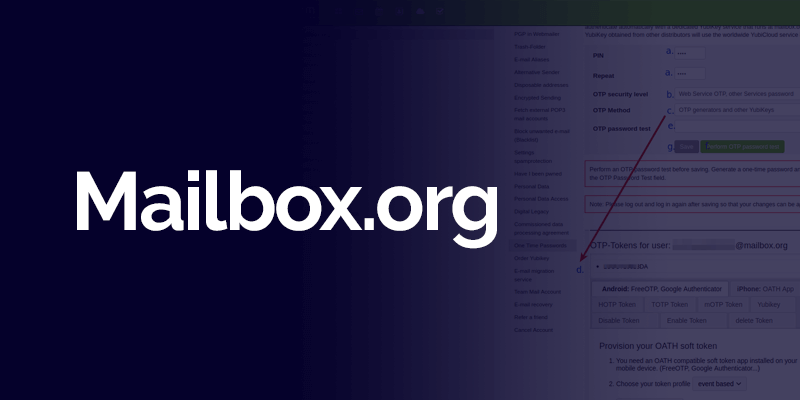 Based in Germany, Mailbox.org is another secure email provider that offers powerful features. You could say it's also the best for beginners because of its extremely user-friendly design.
Moreover, it's also compatible with mobile apps and third-party email clients. What's more? There's much more that you can enjoy with its encryption feature that lets you encrypt all your data on servers in Germany.
Features
Ad-free services
Custom domain name
Cloud storage
Encryption
Spam protection
30-day free trial
Max mail storage 25 GB
Max cloud Storage 50 GB
Cons
Enabled Registration Tracking
The metadata for email isn't encrypted
Doesn't support mobile clients.
Price
Light – €1.00/mo.
Standard – €3.00/mo.
Premium – €9.00/mo.
Note: The Internet is not a safe place. So-called secure email providers, advertisers and even government agencies collect user's private data for their own interests. To protect and safeguard your personal data from prying eyes, use FastestVPN to encrypt your data when using email services.
Startmail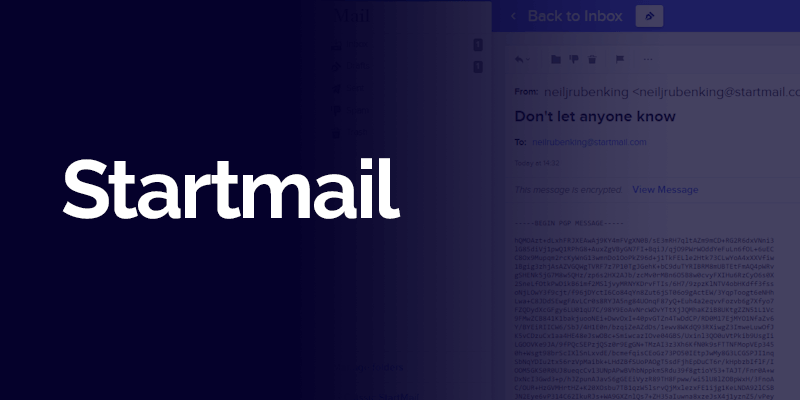 Startmail is formed by the team of a private search engine called Start page. It is based in the Netherlands however, the company is following Dutch law. All the emails are encrypted on Dutch servers. Startmail supports IMAP, SMTP and third-party apps like Thunderbird. There is no free account available on Startmail, but it does offer a 30-day money-back guarantee that you can use instead.
Features
PGP encryption
Disposable email addresses
IMAP/SMTP compatible
Affordable plans
GDPR compliance
Supports 2-factor authentication
Cons
Doesn't support custom mobile app
Code is not open source.
No identifiable end-to-end encryption
Price
Personal – $2.50/mo. annually
Custom Domain – $2.95/mo. annually
Kolab Now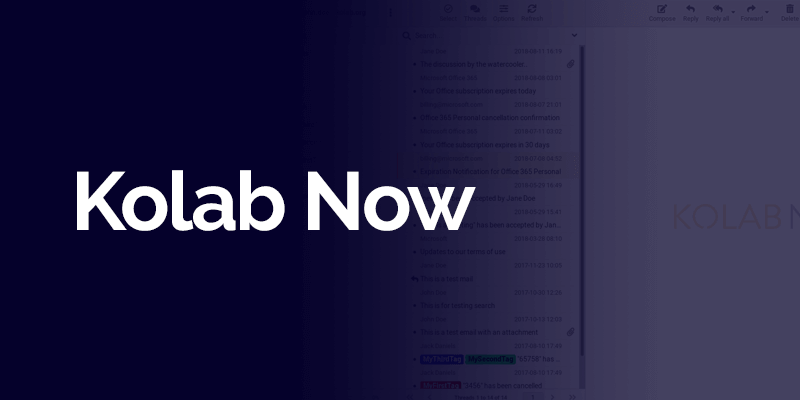 Kolab now is yet another Switzerland-based open-source encrypted email service that is focused on providing small and medium-sized enterprises with secure email services and a complete online office suite.
It Now allows you to pass confidential information through emails easily without any problems. It charges its users directly and offers various monthly and annual plans for an individual account.
Kolab, as a secure email provider, now stores all your emails and files on their server in Switzerland. It keeps your data safe from your own government agencies, scammers, as well as advertisers.
The good news is that Kolab Now offers end-to-end encryption, along with features that are some of the most required for secure email providers today. Kolab might not be cheap, but it does provide great all-around email privacy.
Features
Integrated app for taking notes
Supports Perfect Forward Secrecy
Email-tagged support
Contacts and calendars
Shared folders
Cons
It's more of a productivity app rather than a secure email service
Rates are getting higher quickly
Price
Just email – CHF 5.00/mo
Full Kolab – CHF 9.90/mo.
CounterMail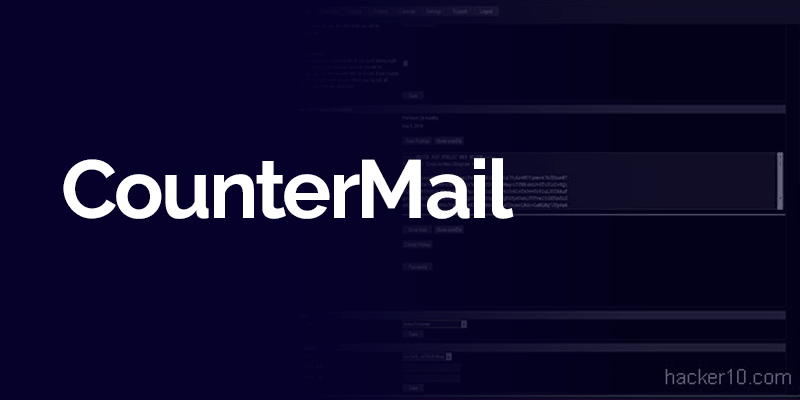 Last, but not least, we have Countermail, a secure email provider headquartered in Sweden. This provider is all about user security.
Although its interface looks pretty outdated, its system is regularly updated while its email security is second to none. Just like ProtonMail, it also offers end-to-end encryption between the sender and receiver.
Further, it uses OpenPGP to keep your email messages safe and your email account secure, matched with 4096-bit encryption keys for browsers. Since it uses diskless data servers, nobody will be able to read or write anything you send through these servers.
CounterMail is very open and honest about how their system works and is always ready to display how secure their system is for everyone.
Features
Supports IMAP
Allows modification of different settings for your account
Doesn't keep IP address logs
Includes a built-in password manager for password protection
Uses anonymous email headers
Supports email filters
Available for desktop and IOS
Cloud storage starts from 250Mb up to user requirements.
Cons
Dated website
Free tier limited to a week
Price
$4.83/mo. (6 months plan)
$4.00/mo. (1-year plan)
$3.29/mo. (24-months plan)
Bonus Tip
Using any secure email providers from the above list is up to you, but you can make your email even more secure by using a VPN service.
VPN creates a secure connection between your computer and the network (the email service provider). When you enable the VPN service, the internet traffic (emails, messaging, etc.,) travels through the VPN connection first.
This means VPN secures your email, web browsing, chat, etc., from scammers and hackers. So, if you have a VPN, enable it and keep yourself secure.
Security Features to Consider When Choosing the Best Personal Email Service
While searching for the most secure email services, be careful of what you're considering. There are plenty of free email providers that might harm your email safety and privacy. Hence, to get the most secure email services, always consider the following criteria. Your personal email service should match a few, if not all, the features below.
End-to-end Encryption
End-to-end encryption is the most critical feature that makes an email service secure. A regular email service only provides encryption until it reaches the server, like Gmail or Outlook. End-to-end encryption keeps your message secure while transmitting and only allows the sender and receiver to read the message because only the receiver has the key to decrypt the message.
Two-Factor Authentication
Another important feature to look for is two-factor authentication. It gets you the added layer of protection and stops intruders from accessing your account. If hackers somehow manage to learn your password, the 2FA gets you the backup key and makes it impossible for a hacker to log in to your account even after having the login credentials. You can deploy different options for two-factor authentication, including SMS 2FA, TOTP 2FA, Push-based 2FA, and more.
Metadata Security
When a user sends an email, some of his information is attached with that email as a metadata header. The header covers critical information about your web browser, device, and recipient. However, a secure email service takes care of your metadata security by stripping out header metadata to protect privacy as much as possible.
Server Location
Server location is another strong security consideration. The main reason to always focus on server location is that some countries, including the USA, Canada, UK, and Australia, are the Five Eyes Intelligence network participants. These countries spy and share user data on their servers with agencies. Therefore, It's suggested to select secure email services from safer countries that respect user privacy laws, including Sweden, Belgium, Germany, and Switzerland.
How Does Secure Email Work?
Secure email works with end-to-end encryption, and the recipient can only decrypt your message. Yet, if you're using a regular email provider, the service can read or scan emails through keywords, making it easier for hackers to intervene.
Secure email services have many encryption choices, just like PGB, that mix both symmetric and asymmetric encryption. Other encryption protocols like S/MIME use the certificate to ensure that no one has tempered the email you sent.
There are other encryption choices available such as Transport-level encryption, and end-to-end encryption.
Transport-level encryption safely delivers the email on the web, but email providers can read it. However, it can be combined with other protocols like TCP, HTTP, or FTP to better work for other things like IMAP, SMTP.
Another email encryption is known as PGP, pretty good privacy. PGP encryption has everything in it. It deals with symmetric encryption, hashing, and a public encryption key. The best thing is users don't have to exchange encryption keys every time. The whole encryption process takes place secretively, so you don't have to worry about anything.
Yet, so far, End-to-end Encryption is the best as it prevents third-party and mail providers from reading the message. Only sender and receiver have private keys to decrypt messages when needed.
Why Should You Use Secure Email Services?
Gmail is not a very secure option when it comes to security. There are many reasons why one should be using secure email services in the first place. However, to make things clear below, you can find a list of the practical reasons to use a secure and encrypted email service.
Storing Messages in a Safe Location
A safer location is needed to keep your messages away from the Fourteen Eyes intelligence-sharing countries. Secure mail services have servers at private locations that won't allow anyone to break into your emails.
Metadata privacy
Gmail or regular email services never encrypt the metadata header that contains data about you, your browser, device, and the receipt. Yet, secure email services always hide your metadata header to better ensure privacy.
Strong Messages Encryption
Unsecure email services never maintain encryption once your message arrives at its intended server. Any hacker or the email service itself can easily snoop on your messages. Secure email providers always manage end-to-end encryption that makes it impossible for anyone to read messages except you and the recipient.
FAQS
Why is Gmail not a Secure Service Provider?
Gmail is not considered a secure service provider due to its lack of encryption. It only uses TLS encryption that protects messages when they are in transit. Once the message reaches the mailbox, then Gmail can clearly see your content.
Why should I encrypt my emails?
One should use encrypted email services because your email might contain sensitive personal or business information. Without encryption, anyone can easily track or spoof your messages.
Can I encrypt my messages manually?
Yes, you can manually activate encrypted emails by setting up the PGP encryption method. However, the setup should be followed from both ends, the sender and the recipient.
What will happen when an email account gets hacked?
When a hacker hacked your email account, then he can send anything miserable in your name. He has the power to transfer money or falsely manage your online account. Not only that, he can send anything with your name, and it will badly affect your personal or business reputation.
How to figure out if anyone is reading my messages?
A few signs will help you know if your email gets hacked. Yet, there are no signs to determine if someone is reading your messages. The best bet to avert email snooping is through end-to-end encryption.
Conclusion
When it comes to privacy, there are not many email services that guarantee anonymity and security. To keep your emails as private as possible you should use any of the secure email providers listed above.
However, apart from the list above, there are some other secure email providers that we have not mentioned like Fastmail, SAFe-mail, etc., but they are also very useful when it comes to email encryption.
All these secure email services listed here are much better at protecting your privacy than Gmail, Yahoo, Outlook, and others. If used properly, end-to-end encryption will keep your emails safe when you send them to other users.
Take Control of Your Privacy Today!
Unblock websites, access streaming platforms, and bypass ISP monitoring.
Get FastestVPN