How to Watch BBC iPlayer Abroad from Outside the UK
How to Watch BBC iPlayer Abroad from Outside the UK
By Johan Curtis 4 Comments 21 minutes
Do you live outside of the UK and want to watch BBC iPlayer abroad? By using a VPN or Virtual Private Network for iPlayer, you can now watch all BBC channels from any part of the world. Since BBC iPlayer can be accessed only in the UK, you will need the best VPN to able to get the BBC iPlayer working.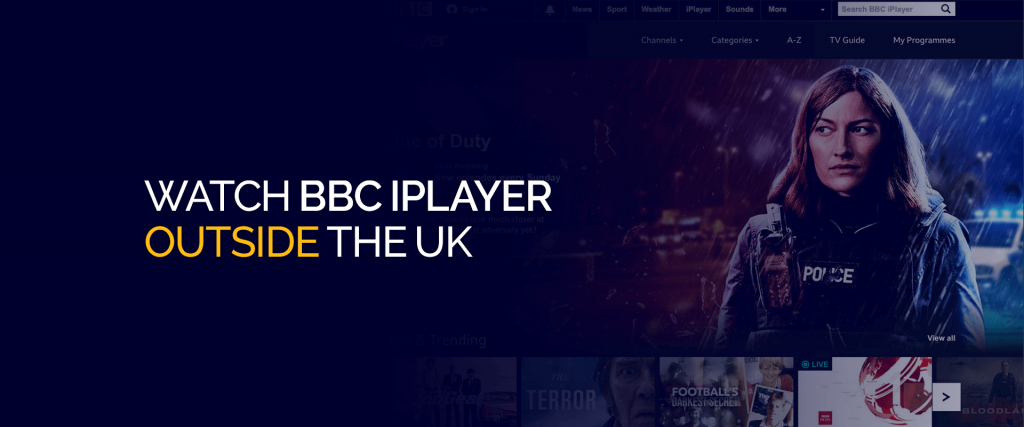 In this article, we will be explaining everything you need to know to access BBC iPlayer abroad (outside the UK).
Note: This is a workable solution – tried and tested. If it does not work for you, contact our 24/7 live customer support and they will guide you to a manual step by step connection process that will make BBC iPlayer accessible to you from anywhere in the world.
How to Watch BBC iPlayer Abroad
To be able to watch BBC iPlayer abroad, you need to sign up with a VPN provider. There are so many VPN providers available, and FastestVPN is certainly at the top when it comes to access BBC iPlayer.
After signing up with FastestVPN, download and install the VPN software to your Mac, PC or smartphones.
Start the app and sign in with your VPN account.
Now, the most important thing connect to a UK VPN server.
Launch the iPlayer app or go to the iPlayer website and you will be able to watch BBC iPlayer abroad from anywhere outside the UK.
Why Do I Need a VPN to Get Access to BBC iPlayer

Why do you need a VPN for BBC iPlayer? For those outside UK, the answer is clear and evident. It is to get access as BBC iPlayer is geo-restricted and is blocked for everyone outside the United Kingdom. With FastestVPN you can simply change your IP and show virtual presence in the UK to get access the channel from abroad. FastestVPN serves as the best BBC iPlayer VPN that there is in the market. With the industry leading VPN service access your favorite content from anywhere, at any given time.
Another reason why you need a VPN is to escape all speed throttling issues from your ISP. At some point all streaming enthusiasts face this issue which is very infuriating. Lucky for them, with FastestVPN they become invisible and get off the radar so the ISP fails to throttle speed or monitor any of your activity.
Watch BBC iPlayer Live Online in the USA
Americans love to watch BBC channels. But since the BBC iPlayer is blocked there, you may not be able to access it unless you have VPN. Using a VPN enables viewers in America to stream all BBC channels. To unblock and access BBC iPlayer abroad, and watch your favorite BBC programs online, follow these steps:
Sign up for VPN service
Download and install the VPN app
Select 'UK' as your location
Launch the BBC iPlayer
Stream and enjoy your favorite BBC channels
Watch BBC iPlayer Live Online in Australia
Not only Americans, but Australian viewers can also stream BBC iPlayer abroad and enjoy the live streaming experience watching their favorite programs and shows without facing geo-restrictions. To watch BBC channels online in Australia, you must first purchase a VPN service and then:
Download and install VPN app on your device
Configure the server location to UK region
Launch or open BBC iplayer abroad on your browser
Search and stream your favorite BBC programs
Watch BBC iPlayer abroad Live in Canada
Just like the US, viewers in Canada are also restricted to stream BBC channels. In order to watch BBC programs, Canadian viewers need a reliable VPN provider. VPN allows you to stream your favorite BBC programs from anywhere in the world, and Canada is no exception. To access BBC iPlayer in Canada:
Sign up for a VPN service
install the VPN app and configure your location server to UK region
Launch the BBC iPlayer app and browse your favorite BBC channels and programs
Enjoy live streaming of BBC iPlayer with complete ease
Watch BBC iPlayer abroad Live in Deutschland
Even though one of the neighboring countries of the UK, Germans are also restricted to accessing BBC channels. For them to get unlimited access, they need to sign up to a top VPN provider such as FastestVPN.
Configure the VPN app by Selecting 'UK' as your server location
Launch the BBC iPlayer app and stream your favorite BBC programs with ease
Watch BBC One Live-Stream Outside UK
BBC One is the flagship television channel of BBC in the United Kingdom and is a total family channel that broadcasts TV shows, music, news, and sports to viewers in the UK. It is one of the biggest and most popular UK channels in the world today and is watched by Millions of people every day. However BBC one is only available to UK viewers only.
Since it broadcasts almost everything, many people outside the UK also want to watch it, but due to the restrictions, it becomes impossible. But not entirely, if you subscribe to a VPN service you can access BBC iPlayer from any device at your home or even office. To watch BBC One on your device, get a VPN service, install their app and set your location to the UK. Then follow the steps given below:
When you have the VPN ready, run the BBC iPlayer or open it on any browser
Search for BBC One
Select and enjoy watching any program on BBC One live streaming
Watch BBC Two Live-Stream Outside UK
BBC Two is the second most popular TV channel of BBC in the UK after BBC One. It covers a wide range of TV shows and programs that are informative and serious as compared to what we see on BBC One. Again, BBC Two is not available for international viewers. BUT, this doesn't mean that you cannot view it anyhow. An easy way to watch BBC Two is by getting a VPN. A VPN will allow you to access BBC iPlayer by virtually relocating your devices to an IP address from UK, enabling you to stream BBC Two online. But that's not all, you can also watch other BBC channels as well and more. To watch BBC Two live-stream:
Get a VPN service
Install it on your device
In the settings, set your current location to UK (doing this will relocate your to a new IP address)
After configuring the VPN, launch the iPlayer or open the BBC iPlayer on any browser
Search and select BBC Two to view the program lists
Now you can enjoy BBC Two live streaming without having to spend a penny
Watch BBC Three Live-Stream Outside UK
BBC Three is another popular entertainment channel by BBC. It was launched as a replacement for BBC Choice and targets an audience of viewers between 15 to 34 years old. Just like BBC One, it also covers almost every genre, including comedy, current affairs, drama, and animation.
BBC Three can also be viewed online via the BBC iPlayer, but only if you live in the UK. People living outside the UK may face restriction issues when they try to watch BBC three online. To watch BBC three from anywhere other than the UK, of course VPN is a must in order to watch and enjoy the live streaming of BBC Three without any restrictions and lag. Apart from that, you also need a free account of BBC iPlayer to watch BBC three. Then you must:
Configure the VPN and set your location to the UK
Open the BBC iPlayer website or launch BBC iPlayer
Stream your favorite BBC Three programs with ease and comfort
Watch BBC Four Live-Stream Outside UK
BBC Four is a last of the series by BBC and available to digital TV viewers in the UK. The channel shows a wide range of shows including drama, music, comedy, documentaries, international film, original programmes, and current affairs. And just like BBC One, Two, and Three, but since BBC iPlayer is blocked for viewers outside the UK, watching our favorite comedy shows and music has become really difficult. But yes, it can be accessed via a VPN no matter where you live. Follow these 4 steps to successfully watch BBC four on your iPlayer:
Get Fastest VPN account
Install and then configure it by setting your server location to "UK"
Now open the iPlayer website on your browser or launch the BBC iPlayer on your device
Search for BBC Four and start watching live streaming of popular programmes of BBC Four
Watch CBBC Live-Stream Outside UK
CBBC is a children's television channel by BBC and is aimed for kids aged 6 and above. It broadcasts a wide range of cartoons and educational shows for kids in the UK, meaning that kids outside the UK cannot view them. Not for long if you have a VPN on your devices. A VPN can be configured to allow you to watch and access websites and streams that are blocked in your country. Use a VPN to unblock BBC iPlayer and do the following.
Open your iPlayer app or browse its website in any browser
Search and select CBBC on the iPlayer
You will be presented with a wide range of CBBC programs that you can play for your kids
Watch BBC News Live-Stream Outside UK
BBC News is one of the oldest and most popular BBC channels. It is responsible for gathering and broadcasting news and current affairs from around the world. BBC is the world's largest news broadcasting company and produces around 120 hours of television and radio programmes each day, including online news streaming.
BBC News offers authentic News and is the most trusted British News channel. Be it in the office or at home, millions of people watch BBC News live. Although the BBC iPlayer broadcasts news worldwide, its online streaming is blocked for viewers outside the UK. But this doesn't mean that you can never watch it. You can actually, by using a VPN service. A VPN will allocate your device to an IP address in UK, allowing you to watch and browse content from UK websites and apps. Follow the given steps to successfully access the iPlayer.
Open the VPN settings and choose "UK" as your current location
Run the iPlayer or run the iPlayer site on your browser
Select BBC News and then choose from a range of programs and enjoy watching news shows and programs
Watch CBEEBIES Live-Stream Outside UK
CBeebies is an entertainment channel by BBC for kids aimed at encouraging the educating children aged under 6 and providing high-quality content for toddlers to understand. Cbeebies has won numerous awards and is the most-watched kid's channel in the UK and the 8th most-watched in the world.
Cbeebies broadcasts different content for infants and toddlers but mostly animated cartoons. It is available to viewers in the UK through cable, IPTV, and online streaming. But when it comes to viewers outside the UK, Cbeebies cannot be accessed or viewed unless you have are a licensed UK citizen. However, viewing Cbeebies isn't impossible entirely. Viewers from the outside UK can still let their kids watch Cbeebies by getting a VPN like FastestVPN. A VPN will relocate your smartphone, smart TV, PS or any device and relocate it to an IP address from UK. This will grant you the access to BBC iPlayer. Follow the steps below and you will be able to play high-quality cartoons and shows for your kids:
Open the VPN and configure your current location as "UK" in the setting
Now open the iPlayer find CBEEBIES to play the live streaming video
Or open the browser and search for Cbeebies, select any program from the listings and let your kids enjoy the live streaming of CBEEBIES shows and cartoons with your kids
Get BBC IPlayer abroad on Kodi Outside UK
Kodi is a free, open-source media application and is the most sought-after media center in the world right now. Kodi can be used on different hardware and OS platforms, with a large interface that can be accessed with any TV and a remote control. Kodi allows users to view all types of streaming media including music, videos, and podcasts. It is a commonly used media player around the world to watch literally everything TV shows, dramas, music videos, documentary and many more. The best thing about Kodi is that it gives users a wide collection of add-ons and repositories.
Kodi users in the UK can easily watch their favorite BBC programmes with its "iPlayer WWW" add-on that offers exclusive British content. But the fact remains that it is only available to users living in the UK only. It enables users outside UK to watch BBC channels on their device via Kodi VPN, the best option is to get a UK VPN that will relink you to a UK IP address.
Therefore, get your UK-configured VPN like FastestVPN on your Kodi device using a VPN enabled  router, and do the rest mentioned below:
Select "Add-ons" from the home screen and then select 'Install from repository'
Click on 'Video Add-ons', and then select 'iPlayer WWW'
A popup will appear that will allow you to install the add-on
Now open your iPlayer and watch all BBC programs and shows with ease.
Get BBC iPlayer abroad on Apple TV Outside UK
The BBC iPlayer is now available on Apple TV 4 in the UK. BBC iPlayer is the most popular streaming channel in the world. So there is no wonder that people in the USA, Canada, Australia, Germany, and other countries want to unblock watch BBC iPlayer on their Apple TV outside the UK. Unblocking the BBC iPlayer is really easy using a VPN or DNS. Both methods will let users bypass geo-restrictions and access BBC UK television channels from anywhere in the world. But VPN is the easiest and simplest of the two. Here is how you can unblock and watch BBC channels when you purchase VPN services:
Configure the VPN app on your Apple TV by connecting it to a router
Open the BBC iPlayer website or the app on your Apple TV
Enjoy BBC iPlayer's offerings 24/7
Get BBC IPlayer abroad on Roku Outside UK
Roku is a digital media player that provides exclusive content in the form of channels to users worldwide. The Roku device when connected to an Internet router a wide range of features and options to stream media. Since it's a set-top box, you need a TV or display device to use it. For UK users, Roku offers a range of UK channels and apps that can be accessed for free. For users outside the UK, accessing UK channels especially BBC iPlayer on their Roku device requires the data traffic to be coming from the UK, or at least seem like it is coming from the UK. You will be able to access UK channels but there will be no streaming. For which, you need a VPN or DNS service. So, this is what you need to do first.
Reset the Roku device
Configure FastestVPN on your Roku device connected to a router
Create a new Roku account
Log in with your new account
Add UK channels
Search BBC iPlayer website on your Roku browser
BBC iPlayer ready for streaming
How to Get BBC IPlayer abroad on Samsung Smart TV
To watch BBC iPlayer on your Samsung smart TV, downloading UK apps isn't enough if you're not living in the UK. You will still need to change you appear as if you live in the UK to unblock BBC iPlayer outside the UK. To unblock and avail UK's premier streaming service, you need to get a UK VPN server that will allow you to relocate your router to a UK IP address. To enable VPN on your Samsung Smart TV:
Sign up with a fast VPN provider
Setup VPN to your internet router
When configuring the VPN on your router, choose a UK VPN server
Now you will be able to access UK apps and BBC iPlayer on your Samsung Smart TV
How to Create BBC iPlayer Account outside the UK?
People who live outside the UK need to register a BBC iPlayer account in order to access live streaming of BBC channels. The registration is free, but users also need VPN to watch the live stream. To sign up for a BBC iPlayer account in US, Australia, Canada or anywhere else outside the UK, follow these steps:
Go to the BBC iPlayer website and then to their registration page
Enter your date of birth and click the 'Next' button
Now, you need to enter your email address and set a unique password
Choose the United Kingdom as your country
Enter "WC1X 0AA" in the postcode field
Finally, click on 'Register'
That's all. You'll shortly receive an email from BBC to verify your email address and complete the registration, go to the given link and finish your registration
Now you can go to BBC iPlayer and watch your favorite programmes
Unblock BBC iPlayer abroad outside the UK – VPN vs Smart DNS Proxies
Smart DNS proxies are easy to configure and can get you ready in seconds. All you need to do is to sign-up to a DNS service provider and add the servers to your device
Smart DNS has two drawbacks; it will only allow UK channels that are supported, and it only pipes relevant traffic to the UK which may speed up the connection but it will not encrypt the whole traffic, thus, compromising on privacy
If your ISP does apply DNS Hijacking or Transparent proxies then you will need to use VPN as Smart DNS proxies won't work for you
Another downside to DNS is that ISP can apply for DNS hijacking or transparent proxies against you, making it an unreliable option
VPN providers like FastestVPN let you choose different locations covering almost every country globally, including the UK.
VPN encrypted all your traffic
Your internet service provider will not be able to monitor your Internet activities
Installing and configuring a VPN application on PC, iOS, Android, or Mac is really easy
The downside is that your device has to support VPN. This means that your Smart TV, for example, will not work. Unless you have a router that does support VPN of course
The only downside to using a VPN is that your device has to support it. Meaning that Smart TV doesn't support VPN so you will need a router to support the VPN, then connect your TV with the router
BBC iPlayer Compatible Devices
The BBC iPlayer app is compatible with almost all streaming platforms:
Mac
PC
PS4
Xbox
PS3
Kodi
Samsung Smart TV
LG Smart TV
Sony Smart TV
Amazon Fire TV
Android
iPhone
Roku
Now TV
iPad
Chromecast
Apple TV 4
The Best VPN for BBC iPlayer: Frequently Asked Questions
I'm not a FastestVPN user. Can I still access BBC iPlayer?
All the viewers in the United Kingdom have access to BBC iPlayer even without FastestVPN. However, if you are abroad, BBC iPlayer is not accessible unless you have FastestVPN connection. FastestVPN has UK servers which show virtual presence in the UK and allows you to stream BBC channel online from anywhere freely.
On what devices can I watch BBC iPlayer?
You can watch BBC iPlayer on any device that has a browser. Just connect with FastestVPN's UK server on your device and get free access. You can also watch it easily on Kodi. Kodi has an official addon for BBC iPlayer that allows you to watch all your favorite content from there. Though, you still need to make sure that you are connected to the VPN for access if you are outside UK.
Why is BBC iPlayer not available abroad?
BBC channel has licensed content from multiple TV networks from around the world. This is what restricts BBC from broadcasting its content in other regions. But if you are outside UK, connecting to FastestVPN will allow you to stream BBC iPlayer, no matter where you are.
I can't access BBC iPlayer. What should I do?
If you are being shown a warning saying "BBC iPlayer only works in the UK. Sorry, it's due to rights issues" or something similar, then it is probably because you are outside the UK. The problem has a simple fix though. Just connect to FastestVPN and get a UK IP that will allow you to bypass the geo-restrictions. If you still face any problems, you can freely avail FastestVPN's live chat support.
Does FastestVPN come with a BBC iPlayer account?
FastestVPN does not come with a BBC iPlayer account. The two are separate. FastestVPN is only the gateway to give you access even outside UK and save you from speed throttling. BBC iPlayer needs to be subscribed separately for access of its content live online.
Is there a way to access BBC iPlayer for free?
From the website, unfortunately there is no way to access it for free and you need to pay for the subscription to get access to the content online.
Though you can access BBC iPlayer FOR FREE with Kodi. Just connect to FastestVPN, install BBC iPlayer addon from the Kodi repository and get free access to your favorite shows and live stream of events!
Is it legal to access BBC iPlayer using a VPN?
So far there are no laws that restricting audience from accessing their favorite channel using a VPN. So until now, it is not illegal to access BBC iPlayer with a VPN.
What is the easiest way to watch BBC iPlayer?
The easiest method of watching BBC iPlayer outside United Kingdom is with FastestVPN connection that will unblock all restriction.
Will I see any ads when using FastestVPN for BBC iPlayer?
FastestVPN is a paid service that shows no ads to its users. In addition, it also has an ad blocker feature that blocks annoying ads and pop ups that show up on your screen. Feel free to stream the internet without getting any unwanted ads.
What if I don't have a UK TV license?
BBC iPlayer is required legally. It is a criminal offence to stream BBC iPlayer without a UK TV license. It leads up to a fine of £1000. There is no such restriction for people who are outside UK and use BBC iPlayer with a VPN. Being outside UK means that you are not legally required to have a UK TV license.
When outside the perimeters of UK, during sign up all you have to do is put a check mark where it asks if you use a TV license and you will be able to proceed with ease.
BBC iPlayer not working with VPN? What is the reason?
There many reasons why your VPN wouldn't work or stop working in the middle with BBC iPlayer. The issue can be fixed by altering settings of BBC iPlayer and the VPN, both.
Will the BBC check my name and address is on the TV license register?
BBC does not check name and address on the TV license register. It requires your name and credit card information for billing and TV license as legal requirement. These details are maintained in your profile log only and are not cross checked for verification. A specific user's data is only cross-referenced in case of an ongoing investigation, otherwise it is not.
Can You Watch BBC iPlayer Live?
Of course you can! What else makes using VPN for BBC iPlayer so great? Live stream all major and your favorite events on BBC iPlayer from anywhere in the world, even outside the boundaries of UK, with a VPN. From variety of categories select news, sports or the shows you would like to be entertained with live!
Conclusion
No matter whether you are a student learning English, or a British living outside the UK, watching BBC iPlayer abroad outside the UK is now possible. Using a VPN is a fast and reliable solution to access block content securely and will allow you to access UK online streaming service anywhere in the world. It doesn't matter which BBC programme you want to watch on your devices, VPN lets you watch anything, anywhere and with full security. FastestVPN is one of the best VPN service provider for UK channels. You can subscribe to FastestVPN to access BBC channels. It's Fast and reliable!
Take Control of Your Privacy Today!
Unblock websites, access streaming platforms, and bypass ISP monitoring.
Get FastestVPN