How to Set up and Use a Kodi VPN
How to Set up and Use a Kodi VPN
By Nancy William 2 Comments 47 minutes
Kodi is an open-source application that is popular amongst many users. Most users aren't aware that they could take Kodi to a whole new level when matched with the best Kodi VPN. A Kodi VPN opens the door to access different add-ons, channels, and shows that may have been previously blocked or restricted. All that is about to change! Head over to the table of contents to get started!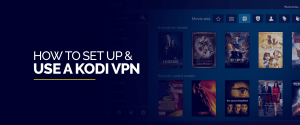 Kodi VPN Table of Content
What is Kodi VPN?
Kodi is a streaming service that allows you to watch movies, TV shows, sports, live TV, and listen to music. It has become a perfect source for all your entertainment needs, and by installing different Kodi add-ons, you can stream the latest media content on Kodi without any hassle.
However, when using Kodi, users may encounter geo-restrictions that stop them from accessing various channels. With that said, a Kodi VPN works as the ultimate software to allow users to bypass geo-blocks and stream unlimited blocked content securely without worrying about DMCA notices.
This article will explain everything you need to know about the Kodi and VPN and how you can configure it on different devices, so keep on reading.
Kodi has recently introduced the latest version of their service after a super long wait. Kodi Leia 18 comes equipped with a vast range of features including; radio data system, keyboard support, third-party game consoles support, Live TV features, global direct channel support, and a Python 3 interpreter, to name a few.
Download Kodi 18 Leia for Your Device
Windows
Mac
Do you need a VPN for Kodi?
You do not necessarily need  to use a Kodi VPN, but at the same time, yes, you do. Using a VPN for Kodi does come with a lot of benefits, which is why the answer is quite indecisive.
In general, Kodi is a media player or streaming device where you will be able to access loads of movies, TV shows, eBooks, music, you name it! However, without a Kodi VPN, it's completely pointless!
Why? The sad reality is that most Kodi content or Kodi add-ons aren't available worldwide due to geo-restrictions and other issues. It's something a Kodi VPN can fix! Using a VPN for Kodi will unblock unlimited content, even through add-ons that you would otherwise not have access to without a VPN.
So, in order to get the most out of Kodi and enjoy limitless streaming you will need to configure a VPN or you'll require a VPN add-on.
To enjoy the limitless streaming and get the most out of Kodi, you will need a Kodi VPN addon. It will give you unrestricted access to content that you may not find on Kodi.
Reasons to use a Kodi VPN
A VPN will not only stop ISP from tracking your internet activities, apps, and the websites you enter, but will also prevent them from knowing you use Kodi.
Avoid DMCA notices.
Prevents the ISP from throttling your internet connection
A Kodi VPN will help prevent hacking, cyberattacks or protect you from malicious Kodi add-ons.
Unblocks regional-restricted streaming channels such as BBC iPlayer, ESPN, Fox, and many other global TV channels.
Bypass geo-blocks on different Kodi Add-ons for streaming TV shows such as Game of Thrones (HBO), House of Cards (Netflix), Arrow, etc.
Avoid government surveillance.
With a Kodi VPN, you will be able to safely access Exodus Redux and other Kodi repositories.
A VPN That Works With Every Add-on and Device
FastestVPN is the best Kodi VPN that allows you to bypass all regional restrictions and enjoy unlimited streaming services without any problems. It can be used to change your IP address to a different one of your choice (USA, UK, Australia, Canada, etc.), where the streaming channel is accessible.
By using FastestVPN, you can easily enjoy unlimited access to your favorite movies, music, and channels from anywhere. It allows you to access the latest streaming content anonymously and protects your online identity from prying eyes while you watch your favorite video content.
FastestVPN servers are P2P supported and optimized for streaming, enabling you to enjoy videos in high-speed and music streaming.
Are there consequences of using Kodi without a VPN?
Kodi is an amazing media streaming application that lets you access movies, TV shows, music and much more easily. Using Kodi without a VPN can lead you to receive a DMCA notice if the content you are watching is protected by copyright, and even hefty fines and jail time in continued use.
Here are some of the consequences of not using a Kodi VPN:
Copyright Infringement Issues
Although we don't condone the use of Kodi for accessing copyright content, in reality, third-party add-ons that give access to copyright material, is the main reason why people started using Kodi.
If you use Kodi to access pirated content, you may find yourself in trouble due to copyright infringement. The Digital Millennium Copyright Act (DMCA) states that it is illegal to produce and/or disseminate any device, service or technology that is bound by Copyright contract. If you are watching or streaming live shows, sports, movies or TV shows on Kodi through third-party or illegal add-ons you may receive a DMCA notice.
Kodi Isn't Anonymous
Kodi doesn't have a built-in VPN, which makes your streaming session exposed to the ISP. It's no secret that ISP's start throttling bandwidth if they detect too much bandwidth in a short amount of time by a single user. To prevent that and stream on Kodi in complete anonymity, turn on FastestVPN on your device.
Stream Geo-Blocked Add-ons using Kodi VPN
Accessing geo-blocked streaming add-ons such as BBC iPlayer is easy with a VPN. Since BBC iPlayer is a UK based channel, switching to FastestVPN's UK server will allow you to unblock the channel instantly. Your IP address will be switched to a UK IP, thus allowing you to easily stream BBC iPlayer and other such streaming services easily.
Here is a quick guide on how to unblock and access geo-restricted channels using a VPN on Kodi:
Download and install FastestVPN app on your device
Launch the app and switch your server location to the required VPN server (i.e. for BBC iPlayer, connect to a UK VPN Server)
Make sure you are connected through IKEv2 or OpenVPN protocols
Launch Kodi
Install your favorite streaming add-on
When installed, you will be able to stream your favorite channel such as BBC iPlayer easily.
Android Boxes Supported by Kodi VPN
Android boxes are an excellent source of entertainment for streaming content on your TV. They turn your TV into a Smart TV, allowing you to access apps such as Netflix, Youtube, and BBC iPlayer. Kodi can be installed on all versions of Android Box. You can either get Kodi from Google Play Store or download its APK file from the internet.
\The best way of setting up FastestVPN for Kodi on your Android boxes is by downloading the FastestVPN Android App from Play Store. You can also set up the VPN with the APK file through ES Explorer.
How to Add Channels on Kodi (Legal Channels)
As an open-source platform, Kodi has a community of enthusiasts that has developed third-party add-ons for the application. Kodi comes preinstalled with a long list of add-ons, but the bulk of its add-on library comes through third-party repositories.
Installing an add-on on Kodi VPN is simple and can be done within minutes. Here is a step by step guide on you can easily add add-ons on Kodi:
Launch the Kodi
Click on the gear icon to enter Settings > Add-ons
Select Install from Repository
Go to Kodi Add-ons Repository > Videos Add-ons
Pick any add-on of your choice, click on it, then hit Install
Once installed, return to the home screen, now launch the add-on by navigating to the Add-ons menu
You can stream countless online channels on Kodi including BBC iPlayer, Fox News, ESPN, MTV.de, and many other by installing their add-ons. However, some of these add-ons may not be easily accessible and may require a VPN.
How to Set up VPN Manager in Kodi in Easy Steps
Since broadcasting networks and services are cracking down on Kodi VPN add-ons, devices, and servers which are hosting its content, there is a great need for an add-on that can manage Kodi VPN. Fortunately for us, there is a dedicated VPN manager available online for most platforms including:
Linux (OSMC, Raspbian etc.)
LibreElec (v7 onwards)
OpenElec (v5 onwards)
Windows 7 & above
Follow these simple steps to install and use VPN Manager for OpenVPN Add-on:
Download the Zomboided Repository first. (here is the Link)
Launch the Kodi app and click on the add-ons button from the main menu
Next click Add-ons browser
In Add-ons browser, select "install from zip file" and then select the Zomboided Repository zip file
Let the repo install and display notification.
Next, click on "install from repository", then select "zomboided Add-on repository", then "Services" and finally "VPN for OpenVPN".
Install the add-on and you are done.
To use VPN manager for OpenVPN add-on, go to add-ons >Program addons > VPN manager for OpenVPN.
The VPN manager only works with OpenVPN, but that wouldn't be an issue for you as FastestVPN features OpenVPN protocol.
Kodi Setup Guides: How to Set up Kodi on Different Devices
Kodi works on almost all devices including Android, Windows, Apple TV, Android Boxes, Firestick, Fire TV, and many others.
To install FastestVPN, you have two different options:
Install through App or manual configuration in the router (Recommended)
Install VPN on Kodi through add-ons
Option 1 – In this option, FastestVPN will be running in the background in your device, encrypting and securing all your online traffic, while you enjoy streaming on Kodi VPN. Use the FastestVPN app or configure VPN in the router for using any device.
Option 2 – You can install the VPN for OpenVPN add-on from Zomboided Repository which you can download from here. You will find a detailed step by step guide to set up VPN manager on Kodi already covered above.
Here are detailed guides on getting Kodi – as well as FastestVPN – on your devices
Setup a Kodi VPN on a router
Before you attempt to add Kodi on each device, let's first learn how to install or set up a Kodi VPN on a router. We'll be using DD-WRT for this tutorial. There is a bigger benefit of setting up a Kodi VPN on a router – connecting multiple devices to the Kodi VPN in one go, over one connection.
FastestVPN makes one of the best Kodi VPNs, and to install it on your router, you first need to make sure that your router supports DD-WRT firmware. Here's a quick guide to set up FastestVPN with OpenVPN protocol on your DD-WRT router and to use Kodi.
Setup Kodi VPN on FireStick
Amazon Fire TV users can now use FastestVPN on their Amazon device to enjoy unlimited geo-restricted content with Kodi. It gives you access to hundreds of channels on Kodi. Here is what you need to do:
Plug the Amazon Firestick into your TV
Go to Settings, select "Device" and click "Developer Options"
In Developer Options, enable all these options: ADB debugging, Apps from Unknown Sources, and USB debugging
Now, click on Search Box on top of Fire TV screen and type in "Downloader" and hit enter
Install Downloader app on your Amazon device
When done with the installation, launch Downloader app.
You will be asked to allow the app to access your media file on your device, click "allow" button and then OK.
When inside the Downloader app, type in "https://ftp.heanet.ie/mirrors/xbmc/releases/android/arm64-v8a/kodi-18.6-Leia-arm64-v8a.apk" if you want to download 64-bit version or "https://ftp.halifax.rwth-aachen.de/xbmc/releases/android/arm/kodi-18.6-Leia-armeabi-v7a.apk" if you want to download 32-bit bit version of Kodi and click Go
Once the downloading is finished, the installer will launch automatically, there click Install.
Once installed, Kodi will launch automatically and you're all set to stream all your favorite content on your Amazon devices.
Now, to install and setup Kodi VPN on Firestick, you will first need to:
Register for a VPN service, and then install its android app on your android device. We recommend FastestVPN for that.
Once you've signed up, go to your Firestick home screen, go to settings > system > Developer Options and enable ADB Debugging & Installation from Unknown Sources.
Use the same Downloader tool to download FastestVPN from here: https://fastestvpn.com/storage/downloads/android/FastestVPN/app-firestick.apk
Let it install after installation is complete.
Launch the app and connect to any server.
Set up a Kodi VPN on Windows
The best way to make the most of Kodi is by getting a VPN that will allow you to bypass geo-restrictions and give you access to unlimited streams on your device. You need to sign up for FastestVPN and install its app on your PC. Once the installation is done, sign in with your account, and follow these simple steps:
Inside the FastestVPN app, Click on the Servers tab, now select the server of your choice.
Click on it then click the FastestVPN button to connect.
Use this simple guide for an easy Kodi Setup on Windows:
Search for "Microsoft app store" in the bottom search bar of your desktop.
Click on the "Microsft store" icon which will launch the app store.
Search for "Kodi" in the search bar.
Download and install Kodi App for Windows
Alternatively, you can go to Kodi's website here and download the setup for Windows.
Setup Kodi on iPhone and iPad
iOS devices are undoubtedly the most superior in terms of design, features and security across all platform, but when it comes to Kodi, it is almost impossible to use Kodi like the way we do on other OS. Due to geo-restrictions, one can't simply access streaming channels and services on these devices. Configuring Kodi on iOS devices is also extremely difficult
Before, you start with Kodi installation, you must install these tools (mentioned below) needed to ease the Kodi installation on your iOS devices.
Here's how to install Kodi on iPhone (Without Jailbreak):
Download and install Xcode on your Mac, and then launch it
Now, plug in your iOS device into your Mac
Click on "Create a new Xcode project"
A new window will popup, go to "Application" from the left menu list. Select the "Single View Application" option and then click next to proceed.
Next, enter a name for the application i.e. Kodi. Then enter a unique name in the "organization identifier field" and proceed
Choose your preferred platform for Kodi installation i.e. Kodi for iPhone, Kodi for iPad, or Kodi for iOS, or if you want to, you can select Universal to use the app on multiple iOS devices
Now pick the finder location for the Github repository (iOS App Singer) that was downloaded earlier. After done with selection, don't let Xcode access the contacts
Next, you will get an alert displaying "no code signing identities found". Click the "Add" button and sign up using your Apple ID
Now, Pick a development team and go forward
Open the App signer folder and select the file that was saved when you unzipped the file on the desktop. In the input file field, select the Kodi deb file that you downloaded earlier.
The system will automatically fill up all the fields. Continue forward until your Apple ID details are displayed.
Here, enter your App ID and other information as required.
Click "start" to initialize the signing function. Save as the field when asked and continue with the installation
App Signer will unpack data and save the file. After that, press Done
Launch Xcode, click the Window button and select your preferred Device
You will now see your device with its detail. Click on the device and then click on + sign at the bottom-right corner of the page
Now, select the file that was saved earlier by App Signer. Press Open and wait until Kodi is installed.
Finally, unplug your iOS device and launch Kodi.
Enjoy streaming channels on your iOS devices.
Here is how you can get VPN for your iPhone/iPad:
Download the FastestVPN app for iOS.
Launch the app and connect to any server.
Kodi VPN for Android: How to setup Kodi on Android along with a VPN
Kodi is accessible on almost all Android devices. But – again – you will face geo-restrictions while trying to stream through certain sources.
FastestVPN makes you anonymous and highly secure over the web through military-grade encryption. An extensive list of servers by FastestVPN adds even more versatility to your Kodi experience. Not only will it give you unlimited access to blocked streaming services, but also secure your online traffic and encrypt your emails and chats, and many other advantages.
To install VPN for Kodi Android:
Download and install FastestVPN app on your Android devices from play store or through FastestVPN website
Open the app and change your server to US or UK to gain unlimited access to streaming services on Kodi.
To get Kodi for Android devices, follow these simple steps:
On your Android device, go to Settings > Security menu > Unknown Sources option, enable this option. This option will let you configure Kodi app on Android.
Now, go to Play Store and search the Kodi app.
Download and install the latest Kodi app.
(You can follow the same steps for installing Kodi on Android TV)
Kodi VPN For OpenELEC Setup Guide
OpenELEC is an open source, operation system for Kodi that boasts third-party add-ons through which you can setup VPN on Kodi. OpenELEC works with various VPN services and you can easily configure OpenELEC VPN easily using the below guide.
If you are running an OpenELEC version that still uses Jarvis then follow the steps below to add FastestVPN on Kodi:
Download and transfer the Zomboided Repository to your OpenELEC device
Open Kodi and go to SYSTEM > Add-ons > Install from zip file
Go to where you saved the Zomboided repository and select it
Now go back and select "Install from repository" and then "Zomboided Add-on Repository"
Select "Services" then "VPN Manager for OpenVPN" and finally click Install
Wait for the "Add-on enabled" notification
A popup will appear prompting you to configure VPN, click OK to proceed
In VPN Configuration Window select VPN Provider and scroll through until you find FastestVPN, select it
Now enter your FastestVPN credentials (Username and Password)
Go to the VPN Connections tab and select "First VPN connection"
A window will appear where the app tries to connect to FastestVPN When connected, a list with all available FastestVPN servers will appear and you can choose the server you wish to connect to as your main VPN server. You can add as many as 10 servers on the list.
For newer versions of OpenELEC with Krypton
Download and transfer the Zomboided Repository to your OpenELEC device
Launch Kodi and go to Add-ons
From here, Select the Box icon that can be found at the top left corner of your screens.
Now select "Install from zip file" and go to where you downloaded the Zomboided repository and select it
Wait until you see the "Add-on enabled" notification
Go back and select "Install from repository" and after that Select "Zomboided Add-on Repository"
Select Services > VPN Manager for OpenVPN, and then hit install
Wait for the "Add-on enabled" notification
Click OK when a popup appears that prompts you to set up a VPN
In the new window, click on VPN Provider button and look for FastestVPN and click on it
Enter your FastestVPN Username and Password
Go to the VPN Connections tab and click "First VPN connection"
A popup will appear in which it connects to FastestVPN A list will appear with all available FastestVPN servers. select any server you want to use as your main VPN server
You can add 10 different FastestVPN servers and use them to access worldwide content. You can also set some add-ons to not use the FastestVPN
Kodi VPN setup on Roku
Setting up a VPN on a streaming device or a gaming console isn't all that east to achieve, but you can still do it! With that said, Roku is one of the most versatile streaming devices on the market but it doesn't support Kodi.
However, it doesn't mean that you cannot use Kodi easily with Roku. There is one way called "Screen Mirroring" that you can use to stream on Kodi with Roku. However, screen mirroring Kodi on Roku is only possible with Windows and Android devices.
Launch Roku and go to Settings > System Updates and Update your Roku device (screen mirroring option is only available on Roku v 5.6 or above, so if you have a lower version then you need to update your Roku device immediately).
Now, go back to Settings and open screen Mirroring option.
Here, enable Screen Mirroring
This will allow you to connect your android or windows devices easily and stream Kodi without any hassle.
Here's how to enable screen mirroring on Windows 10 devices:
Launch the Start Menu of your Windows PC
Go to 'Settings' and then select 'Devices'
In the new window, look for an option with says "Add Bluetooth or other devices"
A popup window will appear, here select wireless display
You will find a list of devices you can connect to. Select your Roku device from the available sources.
You will see your Windows screen on your TV through Roku.
Launch Kodi windows and enjoy streaming content on Roku.
Enable Kodi for Roku via Android smartphone
On your Android, go to Settings > Display.
You will see a Cast option that will allow you to mirror your Android screen on your Smart TV through Roku. In some Android devices, you will get screen mirroring option with a different name like Smart View, Wireless Display, Screen Casting, Display Mirroring, or HTC Connect.
Now, plug in your Roku device on the TV, and enable Screen Mirroring just like we explained above.
Once you enable screen mirroring on Roku, your Android phone would display your Roku device on the list.
Select Roku device name on your phone's screen mirroring list.
When selected, it will connect your phone's screen to your TV through Roku
Launch Kodi on your Android device and enjoy unlimited streams on Roku for free
Configure FastestVPN on your Android or Windows devices and use screen mirroring (as explained above) to access geo-restricted streams with ease.
Setup Kodi on Chromecast
Chromecast is a very popular streaming device that lets you access various streaming services such as Netflix, PopcornTime, Hulu, Youtube, and much more. But when it comes to Kodi VPN, Chromecast does not support it. But you can still stream Kodi on Chromecast by casting your mobile device screen with Chromecast on your TV.
To Setup Kodi Chromecast with Android:
Download and install "Google Cast" app from play store
Launch the Google Cast app.
From the main menu, select 'Cast Video/Audio'
Here, select your Chromecast device under 'Cast to'.
Now launch Kodi on android and select the video you want to stream.
The video will now stream to Chromecast device on your TV screen.
Though there are other methods of streaming Kodi with Chromecast, this is the easiest one. However, this method will drain your Android's battery life quickly and you will not be able to use your Android for anything else until you are done with streaming.
How to Watch Kodi on Chromecast via PC/Mac:
Install the Chrome browser on your PC/Mac
Add the Chromecast extension to your browser
Install Kodi on your PC/Mac
Now, launch the Chrome browser and click on the Settings Icon (three vertical dots) from the far right corner of your screen
Then select "Cast to" and choose 'Cast Desktop'
Now, launch Kodi in your PC/Mac and select the video you want to stream
The video you have select will now stream to Chromecast on your TV.
How to setup Kodi on Apple TV
Apple TV is a versatile digital media device that can be used with Kodi to stream video content for better viewing. By setting up Kodi on Apple TV, you will be able to stream HD movies, TV shows, Live TV and much more directly from the internet. So for you to use Kodi with Apple TV, we have listed a step by step guide on how to setup Kodi on Apple TV.
To enjoy Kodi on your Apple TV, you must first sign up for an Apple developer account. Furthermore, you will also need the following software and files to install Kodi on Apple TV.
Plugin and connect your Apple TV to your Mac using a USB cable, and then follow the below steps:
When your devices are connected, run the Xcode app and select "Create a new Xcode Project". From the left menu section select Application and then choose "Single View Application" from the main screen before clicking Next
Now create a new Project and fill out the app name i.e. Kodi and organization name fields. Enter the same details while filling out the Bundle Identifier field. Here the details would be entered into a reverse-domain style, I.e. com.arcade.kodiappletv. Fill out all the filed before clicking Next. Lastly, save the project on your desktop so you can access the file easily
Now, go back to Xcode's main window. Here you will see an error that says "Matching provisioning profile cannot be found:"
To resolve this error, simply click on "Fix Issue". You may be asked to sign in with a developer account. So proceed to sign with your new developer account. If you want to, you can skip entering details as they are optional.
After signing in with your Apple ID, select your development team and click choose. Once done, the Xcode will fix the error to create a provisioning profile.
Now, choose Apple TV and other options including the Play and Stop buttons from the drop-down menu that you can find at the top left corner of the Xcode app.
Once done, launch iOS App Signer. Choose the correct Signing Certificate and Provisioning Profile. Select Kodi .deb file as the Input File you have already downloaded. Enter the app display name that you used for your project name on Xcode earlier.
After filling out all the details, click start. Once you do that, the app signer will create a .ipa file that you can install on your Apple TV.
Return to Xcode, Click on Window menu from the top and select Devices, then choose Apple TV.
Now then select the IPA file you just created to install it on your Apple TV.
Done! Enjoy Kodi and stream unlimited video content on your Apple TV with full confidence.
Setup Kodi on Smart TV
Kodi runs on a variety of hardware, including Smart TV, set-top boxes, PCs, smartphones. However, not every smart TV can run custom software like Kodi. Moreover, running a large app like Kodi will require high processing and storage that most Smart TVs lack. Many Smart TVs use their own OS, which makes them incompatible with Kodi.
So, installing Kodi directly in your Smart TV will depend on the type of Smart TV you have. If you have an Android Smart TV that includes a Google Play Store inside, you will be able to install Kodi from there. If you have an Android Smart TV without the Google Play Store, you won't be able to setup Kodi on your Smart TV. However, you can use other options such as Firestick or Roku to access Kodi on your Smart TV.
As we have said, some Smart TV support Kodi installation, some don't. Here is a list of some of the biggest Smart TV providers that are and are not compatible with Kodi:
LG Smart TVs: runs webOS, which is incompatible with Kodi
Panasonic Smart TVs: All Panasonic's Smart TVs run their custom OS and are not compatible with Kodi
Samsung Smart TVs: All Samsung Smart TVs run on Custom OS and doesn't support Kodi
Sharp Smart TVs: run a third-party OS and are incompatible with Kodi
Sony Smart TVs: Sony's Smart TV devices run a various different OS which includes Android. If you have a Sony Android TV and can access the Google Play Store, you can install Kodi easily.
If your Smart TV runs an Android OS, that includes Google Play Store inside, then you're in luck. It's really simple to setup Kodi on these devices. All you need to do is to go to the Play Store and install Kodi. Here is a quick guide on what to do to install Kodi on Smart TV:
Launch Google Play Store from the menu.
Search for "Kodi" and click install (make sure you are logged in to your Google account)
Depending on your connection speed, Kodi, when installed, will be displayed on your apps menu
Launch Kodi and enjoy streaming on your Smart TV!
Note: if you're using Kodi and want unlimited, anonymous access to hundreds of streaming services, use FastestVPN. Smart TVs with Android OS support VPN apps, which means you can use FastestVPN to stream on Kodi with complete privacy now.
Here is how to setup FastestVPN on Android Smart TVs:
Launch the Google Play Store on your Android Smart TV
Search for FastestVPN app
Download and Install the FastestVPN app on your Android Smart TV
Launch the App can configure by switching between servers according to your preference
Launch Kodi and enjoy streaming global content.
Even if you have a Smart TV which runs a custom OS instead of Android, you can still stream with Kodi on it with complete online privacy. How? For that, you need to configure FastestVPN via your internet router and use the same internet connection on your Smart TV.
Setup Kodi on Raspberry Pi
RaspberryPi is a tiny programmable computer. From a retro games emulator to a streaming device, Raspberry Pi can be programmed to your will. And now you can also setup Kodi on your Raspberry devices with ease.
Here's how to:
On your computer, launch the browser and go to OpenELEC website
Click on Downloads from the main menu and then Scroll down to Raspberry builds. You will find separate builds for Raspberry Pi 1, 2, & 3
Click on Raspberry Pi First-Generation build and download the zip file onto your computer
After downloading the zip file, extract it on your hard drive (remember the location where you are saving it)
Now, copy the extracted file to a micro SD card
Download "Rufus" software from your browser (Rufus creates bootable USB drives)
Once downloaded, launch Rufus, from here you only need to select your SD card from the device option and browse the extracted file from your hard drive, and finally hit the Start button. Rufus will create a file image on your micro SD card.
Now eject your micro SD card and plug it into the Raspberry Pi device.
Once you turn on your Raspberry Pi device, it will boot into Kodi automatically.
Enjoy streaming with Kodi on your Raspberry Pi.
To install Kodi on Raspberry Pi 2 or 3, instead of selecting first generation build, you need to select Raspberry Pi 2 (Disk image file) and download the zip file on your computer, then follow from step 4 till you have Kodi on your Raspberry Pi.
Note: since Kodi uses third-party add-ons that collects content from various online sources, you must use a VPN on Raspberry Pi to ensure your online safety and privacy.
To enable VPN, you need to setup VPN on router.
Kodi VPN on Chromebook
Chromebook users who want to use Kodi can now easily install Kodi on their Chromebook through this guide. However, before you go straight to the steps, you should know that there are different versions of Chromebook, due to that, we will show you two different methods to install Kodi on your Chromebook version.
Install Kodi on Chromebook through Google Play Store
If your Chromebook device has Google Play Store, you will be able to install Kodi instantly. Here is how you can do that:
Launch Google Play Store on your Chromebook
Enter "Kodi" on the search bar
Install the Kodi app on your Chromebook
Once the installation is complete, you can now use Kodi to stream thousands of channels and music on your Chromebook instantly.
How to Install Kodi on Chromebook without Google Play Store
Installing Kodi can get a bit complicated if you don't have Google Play Store on your Chromebook. However, you shouldn't lose your hope, because we are bringing you an easy guide to get started with Kodi on your Chromebook.
Step 1: Update to Chrome OS53
Check your Chromebook's setting to know whether you can update your Chromebook OS or not. Go to settings > About Chrome OS > for more info. Here you will find a "Channel" and a "Change Channel" button.
To find out which Chrome OS version you are using, see the numbers next to Version. To know if you can upgrade to OS 53 or above, click the "Change Channel" button.
Step 2: Get Arch Welder
Although Arch welder is a developer's tool to work on new software, you don't need to be a developer for it. You just need to install Arch welder and it will do the work for you. Get Arch Welder from here and install it on your Chromebook.
Step 3: Get the Kodi APK
Now its time for you to get Kodi's APK. There are many APK websites from where you can get the Kodi APK for your Chromebook. Once you have found the right version of Kodi, download it.
Step 4: Configure Arc Welder
To setup Arch welder, run the Arch Welder application on your Chromebook and click on the orange plus sign with the text "Add your APK" (this will open the file locator). Now navigate to where you downloaded the Kodi APK file, select the file and click open.
The software will load the file. Once the loading is done, you will see the "test your App" interface on your screen. Don't change or type anything, just click on "test" button on bottom right of your screen. It will take a couple of minutes to load the Kodi, but once done, you will be able to enjoy unlimited access to Kodi streams on your Chromebook instantly.
Transform the Kodi APK into a Google Chrome Extension
Moreover, with Arc Welder, you can also turn the Kodi APKI into a Chrome extension, so that you won't have to run the Arc Welder app and load Kodi APK all the time. You can simply run Kodi from your Chrome Extension.
To do that:
Go to Google Chrome extension by click on the three dots in the top right corner of Google Chrome.
Scroll down to more tools and then click Extensions.
Ensure that the developer mode on the top of the page is checked.
Now click on "load unpacked extensions" button in the top left corner.
You will find a file named "Kodi.apk_export", select it to add it to your Chrome extensions.
Once you have done that, you can use Kodi as a chrome extension.
Setup VPN on Chromebook
Setting up a Kodi VPN on your Chromebook is as important as any other software for your device security. By installing FastestVPN for Kodi, you will have guaranteed privacy and anonymity.
Here is how you can install FastestVPN on Chromebook:
Open Google Chrome browser
enter "chrome://settings" in the address bar
Under the "Internet Connection", click the "Add Connection" button.
Click "OpenVPN / L2TP" or "Add private network"
In the "Server Hostname" box, enter the server address you want to connect to from our list of Servers.
For Provider Type field, select "L2TP / IPsec + pre-shared key"
In the Pre-Shared Key field, type "FastestVPN"
For username and password, enter the credentials provided by FastestVPN when you signed up.
Check the box "Save identity and password" to save your login credentials in the Chrome browser
Leave everything else as default or unchanged
Now hit Connect
You can also add more FastestVPN servers to Chrome from our list.
Once you are connected to the server, open Kodi and start streaming media and access blocked websites you like with ease.
Setup Kodi VPN on Now TV
Now TV box is a media streaming device that lets you watch your favorite video content that includes movies, TV shows, sports, documentaries and much more. But there are many Now TV users who want more than just that. They want to get Kodi in their Now TV box as well. And for that, we are here to provide you the right method of installing Kodi on your Now TV box.
One thing to remember is that only those Now TV boxes support Kodi that come with pre-installed Google Play Store.
Here is a simple step by step guide to do that:
Launch Now TV box and go to the Google Play Store
In the search bar, type "Kodi" and click enter
Download and install the Kodi app on your Now TV box
Once done with the installation, launch Kodi on your Now TV box and enjoy watching your favorite content instantly.
Install Kodi Add-ons on Now TV
When it comes to installing Kodi video add-ons on Now TV box, users do not have to follow a cumbersome method. Here is the list of steps you can follow to attain your purpose without any hassle. The list of steps includes:
If you want to stream thousands of channels and Live TV on your Now TV box, then you must install third-party add-ons for that. Here is a simple guide you can follow to watch add third-party add-ons on Kodi:
Launch Kodi on your Now TV and go to add-ons
Click the Package Installer Icon from the top left corner
Now, navigate to Install from Repository > Kodi Add-on Repository > Video Add-ons.
You will see a list of video add-ons that you can install on Kodi. Click on any add-on you want to add and then hit Install
Wait until you get the "Add-on Enabled" notification
Now go back to your Kodi > Add-ons
Click on Video Add-ons and select the one you just installed
Setup VPN on Now TV
Kodi is an amazing open source media platform that allows you to stream your favorite content by through various add-ons. However, there is a huge security risk in using Kodi. Kodi use torrents or other online sources to fetch your requested video content, which means that you might be using content that has not been obtained legally. It can get you into trouble due to copyright infringement. Therefore, you need a VPN to prevent that.
Subscribe to FastestVPN and configure it in your router:
Configure FastestVPN on your router by following these tutorials
Launch Kodi on Now TV, install third-party add-ons with freedom and watch your favorite video content instantly.
Setup Kodi on Kindle Fire
Kodi doesn't come with a pre-installed app on Amazon Fire tablet. However, because Kindle Fire is based on FireOS – an Android-based operating system – it's possible to get Kodi up and running on Kindle.
Here is a simple guide to install Kodi on Kindle Fire:
On your Tablet, go to Settings > Applications > and enable Apps from Unknown Sources
Now launch Silk browser and download the Kodi (ARM). APK file from a trusted APK website.
Once downloaded, open the file and hit install
After the installation is done, launch Kodi and enjoy streaming your favorite content on your kindle fire.
You can also get Google Play Store and download Kodi on Kindle Fire, however, getting Google Play Store in your Amazon Fire table is a very complicated task, so it is better to download Kodi through the above method than through Google Play Store.
Since Kodi uses third-party add-ons, it is recommended that you use a VPN. Follow the below guide to install FastestVPN on Amazon Kindle Fire.
Note: Set up a lock screen password or PIN while setting up a Kodi VPN (if required)
Go to Wireless network settings.
Click on VPN and then + sign to add VPN configuration.
Enter these VPN profile configurations:

Name: enter a connection name (i.e. fastestvpn_UK)
Type: Select a security protocol (i.e. PPTP, L2TP/IPSec)
Server Address: Enter any server address from this list of FastestVPN servers
PPP encryption (MPPE): must be Checked (if you require PPP encryption)
Click on "Save" button to create the VPN profile

Now on the VPN screen, click the newly created VPN profile.
Enter username and password (provided by FastestVPN), and then click Connect.
You will be connected to FastestVPN servers straight away and then able to use Kodi without any restrictions and threats.
Kodi on Xbox
A new version of Kodi has been released for Microsoft Xbox One and it is available worldwide. Setting up Kodi on Xbox is really easy and can be done in minutes.
To setup Kodi on Xbox using the Xbox Store:
Launch the Xbox Store on your Xbox.
Search for Kodi app from the search option.
You'll be redirected to the Microsoft store. You'll see the Kodi App here and you can download it on your Xbox easily.
Launch the Kodi app and enjoy streaming global content instantly.
If you are installing Kodi on Xbox for the first time, it will be completely empty. You will have to install add-ons to be able to use Kodi properly. To stream global content or download blocked games on Kodi without being restricted or monitored, you will need a VPN on your Xbox.
Follow this link to configure VPN on your router for the Xbox. Once the router is VPN configured, all you need now is to connect your Xbox Wi-Fi to the router.
Here is how to do it:
Go to Settings > System Settings > Network Settings.
In the 'Network Settings' section, select your routers wireless network.
Now, type in the WPA key or Wi-Fi password (if you haven't changed the WPA key ever, you will find it written under the router).
Now, continue for a 'Test Connection'.
Once you are connected to the VPN, sign in with your Xbox account. And you're done!
Launch Kodi and enjoy downloading games and stream blocked content instantly.
Setup Kodi on Plex
Plex media server is a software that lets you access your library of movies, music, videos, photos, and much more remotely. For those users who use Kodi regularly, they can use Plex within Kodi and access their content from anywhere in the world.
To install Plex on Kodi, you must first install Plex media server on Windows or Mac in order to load your media file easily on other devices.
Here is how to install Plex media server:
Organize your media such as Movies, Music, Videos, Photos, etc., into different folders.
Name all your media folders just the way they are named in Plex servers
Install Plex Media Server on Windows or Mac.
Create Plex Server libraries.
Connect the Plex player to the Plex Media Server via the streaming
Don't forget to create cloud backup plan.
There are two ways through which you can install Plex on Kodi. You can install the official Plex add-on on Kodi or you can install a third-party Plex add-on for Kodi called Plex Connect. Both methods are simple and don't require Plex pass subscription.
For both methods, you must first register for a Plex account. Registration is free, so do it and then follow any one of the below methods.
How to install Official Plex Add-on for Kodi
Launch Kodi and go to Add-ons from the menu on the left
Click on the package icon from the top left corner
Now, go to install from repository > Kodi repository > Video Add-ons
Scroll down to find Plex in list, click on it and then hit install
Go back to add-ons and click on the Plex Add-on
Sign in with your Plex account by visiting the Plex website and entering the code you are provided in Plex Kodi add-on
That's it, now enjoy your own media content using Plex Kodi on different devices.
How to install Plex Connect Add-on for Kodi
Launch Kodi and go to Settings > System Settings > Add-ons and enable unknown sources
Go back to Settings and click on File Manager
Click on add source and enter this address "https://troypoint.com/repo"
Name the Repository anything (i.e. TP) and click on OK
Now go all the way back to Kodi home screen and click on Add-ons
Click on the package icon
Click on "Install from Zip File" and select the repo you added in earlier step (i.e. TP)
Now click on "Plex Kodi Connect Repository" zip file and wait for add-on installed message
Head back to package installer and click on "Install from Repository"
Select "PlexKodiConnect add-on" and then Video Add-ons
Now, click on PlexKodiConnect add-on
The add-on will install automatically and you will receive a notification as soon as it gets installed
Finally, go back to add-ons from the main menu and launch Plex Kodi Connect
Continue with the setup process and after that, you are good to go.
To view your media content safely on Plex, you need a VPN add-on that can secure your online traffic and let you stream your favorite content without any hassle.
Install and configure VPN on your device through our setup guide above and use Plex on Kodi anonymously and with absolute freedom.
If you're using Plex Kodi on Android, iOS, Windows, or Mac, then you can install the FastestVPN app on your device and connect to our FastestVPN servers to say protected and anonymous.
Read More: Installation Guide on Plex Plugin
Why you shouldn't get a free VPN for Kodi
Using a VPN is essential if you want to access unlimited streams and content. But that shouldn't come at the cost of your online security and privacy.
When it comes to choosing a Kodi VPN, most people naturally want a solution that does not cost them anything. While the word 'free' does have a nice ring to it, you should always opt for a paid option. The reasons for which we'll discuss below.
Online Security:
Online security is crucial if you want to secure your online credentials and payments, and a free VPN isn't big on delivering on those fronts. As a paid VPN, FastestVPN features different protocols such as PPTP, L2TP, IPSec, etc., to ensure best compatibility.
Speed:
Nobody wants a VPN that isn't fast. Free VPNs have slow servers or they will connect you to them to upsell you their paid version. FastestVPN holds true to its name, it gives you access to a network of 350+ high-speed servers available in all major countries worldwide.
Encryption:
A free VPN usually offer low-level or zero data encryption. Encryption is a way to securing online traffic so that any third-party cannot decipher the data.
FastestVPN uses AES-256 bit data encryption to protect your data against hackers. AES-256 bit encryption is a military-grade encryption protocol recognized worldwide and a standard among paid VPN services.
Privacy:
A VPN that doesn't offer privacy is not a VPN. Most free VPN can only connect you to a remote server and that it. Free VPN doesn't change your IP or protect it when you connect to their server, making you vulnerable to copyright infringement. A Paid VPN not only masks your IP but lets you connect to its secure servers worldwide without compromising your privacy.
FastestVPN uses advanced technology to protect your IP at all cost and connect you to its 95+ secure servers in various locations including the US, UK, Canada, Australia, Netherlands,  Luxembourg, and Singapore among many.
The Best VPN for Kodi – Features to Look Out For
Remember, a free VPN will not offer you features that can ensure security and anonymity online. There are several features that you must always keep in your handbook when choosing between a VPN.
Here are some of the features you should look out for:
Strong Encryption
Encryption protocols play an important part in protecting your online information. AES-256 bit encryption is one of the highest grade encryption available. What that means for you is that your online traffic such as banking details and other personal information will travel securely, so that only the receiver can decipher the content.
Multi-login
Most VPNs now offer the option to connect multiple devices at once. Your VPN purchase should allow you to use more than once device. FastestVPN gives you the ability to use 10 devices simultaneously without any added cost.
Adblocker
Adblocker is a feature that prevents unfavorable advertisements from appearing on your devices while you surf the web with a VPN. Many VPN providers don't offer this feature but there are some that do. So look out for this particular feature if you have ads.
FastestVPN offer adblocker feature in all its subscription plans.
Servers
Having a wide range of server locations to connect to can be a blessing for Kodi users. So a VPN must have enough servers worldwide to allow you to stream content from around the world easily without any restrictions and delays.
FastestVPN has more than 350+ high-speed servers worldwide and connecting to them is super easy and quick. Using the FastestVPN app, you can connect to any server location within second and access Kodi VPN add-ons freely and securely.
Kodi VPN Errors/Not Working/Issues
"OpenVPN Executable is not working on Kodi"
This error may occur if you run the VPN and VPN related add-ons at the same time. Once you have configured the VPN in Kodi and its running then you don't need any additional VPN add-ons.
Solution: Uninstall any VPN related add-on you have excluding the configured VPN, and this issue should be resolved.
"VPN Manager for OpenVPN is Currently Not Supported on this Hardware Platform"
This error will occur when you try to use it on an Android device.
Solution: Don't try it on android, if you do then you may get the error. Rather do it on any windows device or FireStick device. VPN Manager will run smoothly on those devices.
VPN for OpenElec Error
Kodi users using OpenElec are also starting to get various errors. Here are some errors that you may encounter and their solution:
"Check the Log for More Information"
Kodi users may continuously get VPN for OpenELEC error when trying to setup a VPN. The error suggests users check the log for further details.
Solution: To solve this error, you need to follow our guide of 'How to setup Kod VPN Manager in easy steps' to stop this error from occurring.
"Size Check Failed Error"
You may receive the 'Service Check Failed Error' while trying to update the ION system with OpenELEC 7 Jarvis beta.
Solution: Resizing the partitions will solve this problem. You can do that by using "Tuxboot". It'll create a bootable USB stick and the partitions would be made as SDA1 and SDA2.
10 of the best Kodi Add-ons
If you're looking to download the best Kodi add-ons to watch your favorite content then follow this list. Don't forget to also subscribe to FastestVPN if the add-on is geo-restricted in your region.
Exodus (Version 8)
The Magic Dragon
Loki
Exodus Redux
Tempest
Movie Theater Butter
Scrubs v2
ReleaseBB
Nole Cinema
7of 9 AIO
Installing Fusion on Kodi
Fusion is one of a kind add-on which allows you to download multiple adds-on on Kodi with absolute ease. Fusion is this all in one multi-tool, which also gives you access to indigo, and lets you search for and manage these official Kodi add-ons for no cost at all. Follow this comprehensive step by step guide to downloading fusion for Kodi.
Click on the Gear Icon on the home screen to access settings which is on the top left-hand corner.
From the menu bar, on the side click the add-ons option.
Select unknown sources option.
A popup box shall appear, click on yes to confirm.
Return to the previous menu bar after the option to enable unknown sources.
Click on the file manager icon.
Add Source.
In the 'None', option enter the following exactly as it is: http://fusion.tvaddons.co.
Select input box at the bottom of the screen, and access Fusion using the on-screen keyboard.
Confirm your choice by clicking ok at the bottom of the screen.
Return to the home screen after Fusion is installed.
From the menu bar, select add-ons once again.
Enter the add-on browser.
Install from the zip file menu.
Find the Fusion Installer.
The "begins-here" file installs Indigo, Kodi-repository folder holds numerous repositories, and the Kodi-scripts file holds dependencies such as (Meta handlers and URL resolvers).
FAQs
Is it a risk to use Kodi without a VPN?
In short, if you're not the developer, it might be a risk to use Kodi without a VPN. Kodi holds pirated content that also violates copyright laws. And, since piracy is considered as illegal, the safest option would be to use a Kodi VPN.
What is the best VPN location for Kodi users?
There is no "best" VPN location in particular for Kodi mostly because it depends on what you're trying to get access to. Some users, even while connected to a VPN location experience the error message that says "there are no streams available in this region." This usually happens when you're connected to the wrong server location or your VPN is leaking DNS.
How do you connect Kodi to the internet?
To get a wireless connection created between Kodi to the WiFi, here is what you can do:
On your homescreen, go to "Add-ons," and click on "Program add-ons." Now, select LibreELEC configuration.
Go to the Connections tab and select your WiFi network.
Now, a pop-up menu should appear. Click on "Connect."
A keypad tab should appear. When you see it, type in your WiFi network's password and click on "Done."
Double-check your IP Address to make sure you've connected to your WiFi network.
Is there a way to hide your IP address on Kodi for free?
There is no better way to hide your IP address on Kodi without a VPN. There might be free proxies or other tools available for certain IP masking abilities, but they're not as effective compared to a VPN.
How do you change your IP address on Kodi using a VPN?
Sign up for FastestVPN.
Download and install the VPN app on your device.
Launch the VPN app, and sign in.
Connect to the desired VPN server, preferable a US one or one closest to you. Either way the server should be in a region where Kodi is free to access.
Launch Kodi and start streaming! Your IP address will automatically have changed.
Are there any reasons why you should never use Kodi without a VPN?
Kodi is a third-party app that might be great for streaming unlimited content, but it does come with a lot of risks. It's why we recommend using or even consider to use a Kodi VPN with it. Here are a few reasons why a VPN is a good idea for Kodi:
A VPN helps encrypt all data and secure your online traffic, especially while downloading third-party add-ons.
Kodi is not accessible to everyone across the globe, nor are certain streaming content due to geo-restriction or blocks. A Kodi VPN will help eliminate these issues.
Using a VPN for Kodi or for any reason really, you will be able to surf, browse, or stream with anonymity or privacy.
Bypass ISP speed and bandwidth throttling.
How do you install a VPN on Kodi?
Subscribe to the best Kodi VPN.
Download and install the VPN on your device
Next, install the VPN add-on on Kodi.
Open the app, and click on "Configuring Your VPN."
Log in to your VPN account and click on start or connect to a particular server.
Note: Certain add-ons may also be geo-restricted in your area. Using FastestVPN will help alleviate this issue.
What is Kodi used for?
Kodi can turn any device into the ultimate streaming or gaming box. With Kodi downloaded, you will be able to smoothly access worldwide music, movies, TV shows, photos, and more, along with storing it on your device. Other than that, there are alot of other perks like allowing you to turn your smartphone apps into a remote device and more.
Conclusion
FastestVPN offers Kodi users the best security and access to unlimited streams on the go. In fact, it's one of the few VPNs to turn your Kodi Box into an ultimate streaming experience. Get FastestVPN subscription and configure our Kodi VPN settings on your Kodi app, and start using it the way it is supposed to be.
Take Control of Your Privacy Today!
Unblock websites, access streaming platforms, and bypass ISP monitoring.
Get FastestVPN