How to Maintain Online Privacy & Security
How to Maintain Online Privacy & Security
By Nancy William No Comments 4 minutes
In 2023, we're all likely to be online for many hours in the day. We'll use our phones, laptops, and tablets to shop, socialize, and stay connected with family and friends.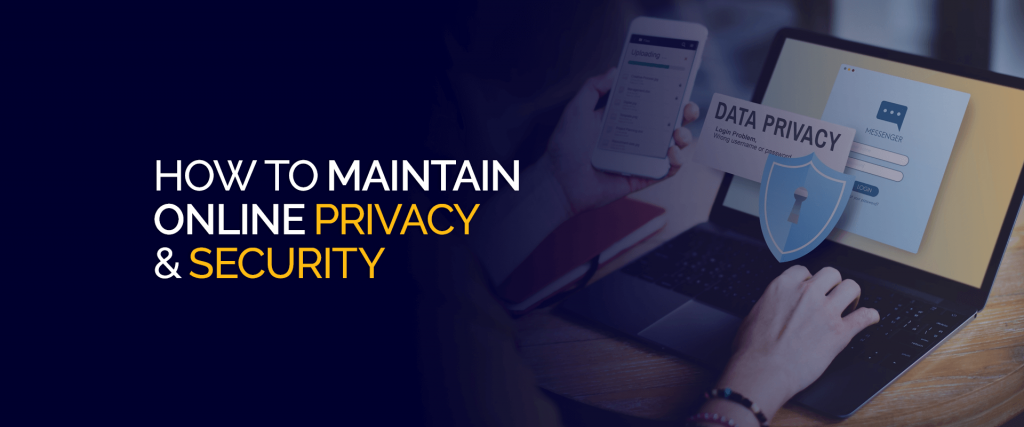 While this may seem like a wonderful technological advance, it comes with some risks. One of the biggest risks is data and identity theft. To protect yourself from these dangerous online threats, you need to know how to protect your data and identity online in 2023.
Take a look below and find some of the best tips to keep your information, device, or overall online presence safe even in 2023:
Steps to maintain online privacy & security in 2023
There are a few extra yet simple steps you can take to maintain online security and privacy. Here's what you should do:
1. Create Strong Passwords
Something as simple as creating strong, unique passwords can make a big difference in protecting your online identity. It may seem overwhelming at first, but it's actually pretty easy once you get the hang of it.
You should use a combination of capital and lowercase letters, numbers, and symbols. Your password should be long—try to make it at least twelve characters.
Do not use single words from the dictionary or proper nouns because hackers commonly use those to crack passwords. If you want an even more secure password that will be difficult for hackers to figure out, consider using passphrases instead of single words.
2. Hold on to Your Phone
One of the most commonplace ways people are hacked is by losing their phones. If your phone falls into the wrong hands, someone can easily access all the information on it.
To protect your data, keep your phone with you at all times. You can also use a combination of PINs and passwords to lock down certain aspects of your phone.
For example, you might have a four-digit pin for making calls but use an actual password to unlock sensitive apps like banking ones.
3. Make Backups of Important Files
If your computer or laptop crashes or gets stolen, having backups of important files will make recovery much easier for you.
To do this, simply create electronic copies (i.e., "backups") of your files and store them either on an external hard drive or in the cloud. That way, you won't have to worry about losing family photos, financial documents, etc., if something bad happens to your computer.
4. Keep a Small Digital Footprint
It's important to remember that everything you do online could leave a digital footprint. According to the Pew Research Center, 77% of American adults use social networking sites, and 60% of them have shared their email address with someone else.
For this reason, it's crucial that you don't share any information on social media or over email unless you know who will see it. Try not to put anything online (e.g., family pictures) that would make it easy for someone to track you down if your digital footprint got out into the wrong hands.
5. Protect Yourself from Phishing Scams
Phishing scams can be one of the biggest threats when it comes to data and identity theft in 2023. A phishing scam is a cyberattack where fraudsters send emails to people that look legitimate in order to get their information.
This may include passwords, social security numbers, bank account information, etc. These scams often seem like they come from a reputable company or someone you know.
If you want to avoid falling victim to one of these, don't ever click on links inside an email that asks for your personal data. Instead, hover over the link with your mouse and see what address it's directing you towards before clicking on it.
6. Make Sure Your Operating System is Updated
If you're using a dated version of Windows or macOS, it's important to update your system as soon as possible. Security risks are constantly evolving, and companies like Apple and Microsoft will release patches.
For instance, small programs that fix bugs in the operating system to keep up with them. Newer versions of operating systems generally have more security measures built into them than outdated ones, making them harder for hackers to get around. If you don't know what version of your operating system you're currently running, check the settings tab on your machine.
Conclusion
It's important to protect yourself, your data, and your identity online. This will give you peace of mind knowing that all the information you've put out there is safe.

Take Control of Your Privacy Today!
Unblock websites, access streaming platforms, and bypass ISP monitoring.
Get FastestVPN