Best Business Security Systems
Best Business Security Systems
By Christine Margret No Comments 5 minutes
Business security is often not given the attention it deserves, if not completely overlooked. Having the best business security system is crucial today for protecting the business itself and the data of customers, and the service the customers expect.
Find out why business security matters and what potential threats your business could face if it fails to manage security.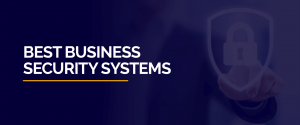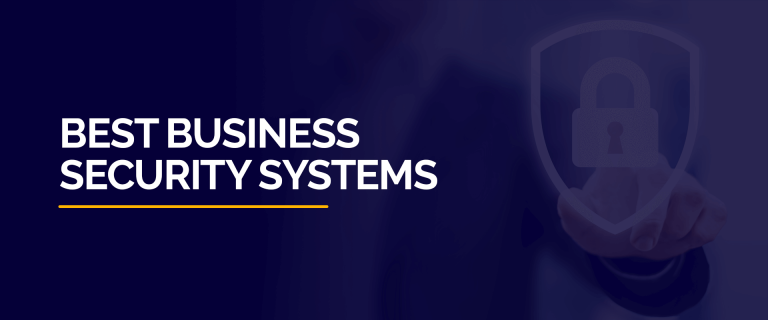 Why Business Security Matters
Whether it's a large enterprise or a small-medium business, threats are always present that could disrupt operations and even cause damage.
The magnitude of threats keeps changing. Sometimes you face financial threats, and at times there could be a potential for a data breach that steals customer data.

What Are the Potential Threats for any Business?
If you're running a physical business, then you will experience constant threats from all directions. Cat burglars, shoplifters, and stealers target your valuables for destruction.
Not only that, criminals involved in vandalism may harm your property for no reason. Besides that, some employees may also destroy important documents or other stuff due to workplace reprisal.
Therefore, to combat all these potential threats, you need a robust business security system as a precaution to avert danger.
What Role Business Security Systems Play?
You need well-rounded security to protect the business. A business security system is a collection of basic alarms, cameras, and sensors. These security systems are designed with a mix of technologies like motion sensors, window films, and security alarms.
You can even get 24/7 monitoring through camera surveillance to deal with intrusions immediately.
Selecting the best business security system could be overwhelming because there are too many options to choose from. Nevertheless, we have rounded up a list of the best business security systems to make your work easier.
The Best Business Security Systems
ADT- For Well-Rounded Business Security
ADT comes first on the list of the best business security systems, and there are plenty of reasons for that. It is one of the most up-to-date security companies that keeps integrating the latest technologies to protect your valuables. 24/7 surveillance camera, glass break sensors, security automation, remote access, and other features are available for the ultimate protection.
Features
Business security automation
Mobile App
Intrusion detection
Mobile enables remote control
Hold up alarm monitoring
Customized settings option
Option for remote access
Glass break sensor
Temperature monitoring
Downsides
Fee for installation
Automatic updates are not available
Price
Starts from $52 per month for 3-years.
SimpliSafe Business Security System- Affordable &Reliable
If you're on the lookout for a business security system that best fits any budget, then SimpliSafe is an affordable option. It has professional business monitoring services plus other built-in features to keep your security up to snuff.
The best thing is that it doesn't incur any hidden cost so, you can better know what you're paying for.
Features
24/7 monitoring services
Glass break sensors
Smoke detectors
Entry sensors
Motion detectors
SMS and email notifications
Wireless sensors
Security for the power outage
Downsides
Advanced costs for equipment
Old hardware support
Price
Basic plan starting from $14.99/month
Stanley Security – Tested by Experts
Stanley offers highly smart security solutions for all shapes and sizes of businesses. With Stanley, it's easy to find the most tailored security options to match your business security needs. In short, Stanley has everything for your needs, be it software, security products, or other integrated solutions.
Features
Video alarm verification
System integration
Access control system
Temperature and Fire Monitoring
Downsides
Pricing not available
Unclear options
Price
Abode – Impressive Security Suite
Abode is a good security option for home and business security. You can find various plans to select as per your security needs and budget. What's more? A wide range of security equipment is just right there to get started.
Features
Video surveillance options
Smart device integration
Professional monitoring
Motion detection
Downsides
Not affordable
Subcontracted monitoring
Price
The basic plan starts from $30/month
Vivint – Best Combination of Reliability and Security
Just like any other top business security solution, Vivint also offers various customized options to opt from. Vivint also provides a 24/7 monitoring facility with indoor and outdoor camera protection with all-time fairest pricing. You can craft your own Vivint program to cover all your security needs.
Features
Video surveillance
Remote access
Text alerts
Emergency management tools
Downsides
Complicated Nest integration
Lack of DIY installation option
Price
Starting price $29.99 per month ($99 one-time installation fee)
Frontpoint Security
Frontpoint Security is a reputed security company for homes and small businesses. It's an award-winning security service that offers various options for security. It also has phone and email support to resolve queries immediately. Moreover, you can also seek assistance via its 24/7 monitoring services. It's a risk-free security system available with a 30-day money-back guarantee.
Features
Heat and smoke sensors
Glass break sensors
Intrusion detection
Mobile app access
24/7 alarm monitoring
Downsides
Expensive plans
Lack of smart access for home equipment
Price
Interactive plan for $44.99/month. Ultimate plan for $49.99/month.
Verisure
Verisure is one of the industry-leading business security systems, serving businesses for 25 years. It helps you get many industry-specific security options like monitoring warehouse movements, watching outside activities, and more. SOS function is also available at client request. Verisure ensures installing security systems and sensors in the right places. You can control and check your security whenever you want with Verisure.
Features
24/7 monitoring
Professional installation
Anti-theft protection
Accident protection
Smart home integration
Downside
Installation fee required
Wi-Fi security issues
Self-monitoring service is not available.
Price
Monthly cost £47. Three-year cost £1971
Conclusion
These are the best business security systemsin 2021 for ultimate business protection. Hopefully, this guide has proved useful, and now you can secure your high-value goods by opting for the best business security provider from the list.

Take Control of Your Privacy Today!
Unblock websites, access streaming platforms, and bypass ISP monitoring.
Get FastestVPN