Top 5 Threats To Your Online Privacy
Top 5 Threats To Your Online Privacy
By Johan Curtis No Comments 5 minutes
Knowledge is a great power – if used efficiently. 52% of the world's population has internet access for business or entertainment purposes. In this digital age, there are increasing threats to online privacy. The key to tackle this is not to stop using the internet altogether, that would not only be impossible but instead to use this information and learn your way around it gaining high-level internet security. Online privacy becomes uncertain as more and more users are continuously connected to the internet through their phones, tablets, wearables such as Apple watches and smart appliances at home that require internet connectivity. We have brought forward a few platforms that pose the threat of exposing you.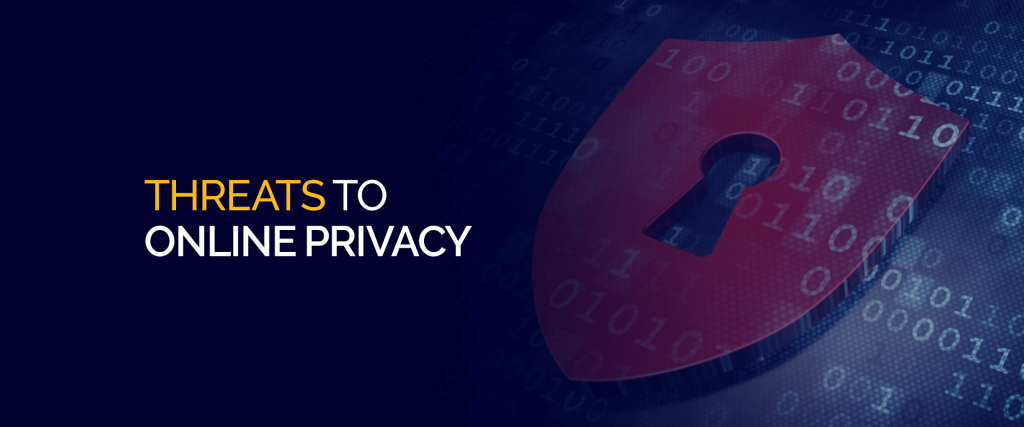 Be Aware of the Biggest Threats to Online Privacy
1. Cloud Computing
Cloud computing is in the limelight and for a good reason. The reason it raises so many concerns is that multiple users share a central server where their data is stored. While it is easier to fetch data this was from cloud-based drives such as Google Drive, One Drive, and DropBox; they are all prone to invasion of privacy. Anything that is put up on the cloud is easily accessible by you from anywhere which makes it so great. The loop is that is can also be accessed by someone else too. There is an open threat of hackers gaining access to your data. The employees at the cloud companies can too sell your information for a handsome amount. Your files and data should be as precious to you as anything else. So if you want internet security, you can either save it on external storage or better yet; connect to a VPN.
2. Easy Stalking!
Stalking is creepy when someone is following you around each step. Though it is creepier when it is done silently, and you are not even aware of it! With online privacy being compromised day by day, internet users are under constant threat.
Our smartphones have turned into tracking devices thanks to social networking while keeping location services on. Whether you check in or not, you can be tracked down. It can be startling if this information gets into the wrong hands for the wrong purposes! An easy fix to this is refusing applications to use your location and turn GPS off. However, an ultimate solution would be using VPN for entirely safe and anonymous browsing.
3. Not just data faces too!
Another thing that falls under the head of internet privacy issues is built-in facial recognition by Facebook and Google+. When faces are scanned in pictures to suggest tags, extensive data is simultaneously collected from millions of users. While it is claimed that the data is kept safe, it cannot be made certain how data would be used after it is in the hands of third-parties.
Even if you delete pictures from your accounts, it remains in the cache which makes it easy for hackers to breach your privacy. You are vulnerable when all your data, location and even facial recognition are in the hands of someone else, and you do not even know it! You should carefully read terms and conditions relating your privacy rights before you publish pictures on websites.
4. Troublesome Cookies
As delicious as cookies sound – in the digital world, they are malicious and pose a threat. Cookie files track your interests and buying patterns and send this information of value to websites that need it without your knowledge. This is where the danger lies. While some businesses use cookies for harmless activities that actually benefit the user, it is inclined towards thread when in the hands of malicious entities. To ensure privacy and security on the internet when it comes to cookies, you can use the browser functionality that allows to block and delete cookies. Also look for extensions that block cookie creation and identify tracking activities. To solidify this further, so it leaves no room for exposure, buy trusted VPN service that encrypts all your internet activity.
5. Save Your Finances
What's the point of all the planning and budgeting if it can easily be exposed and taken from under you without a single hint? With online shopping becoming popular, so are online transactions. 60% of the hackers are interested in financial theft. The data you feed to make sure that your online transaction goes through is safe until a hacker finds his way around it with phishing and malware software. Sensitive information is in jeopardy along with online privacy being at risk. The pool of shoppers continues to grow while at the same increasing pool of victims for hackers. Avoid having to face breach of security and take preventive measures. Take online privacy seriously and get Best VPN service to secure all your connections.
Better Safe Than Sorry
It is better to be cautious and to take preemptive actions than be regretful later. While we have highlighted some significant online privacy glitches, much more also exist. It is often said that 'casual leads to casualty'. Don't be a threat to yourself by being a part of this example. Your internet traffic and data is worth more than you may perceive it to be, so don't compromise your safety and identity. VPN has been the smart choice towards internet security, according to the experienced large business titans in the tech world. While the VPN is the solution to all problems, there are a few more handy tips. Update your phones with the latest Android or iOS versions. Updates may seem annoying initially, but they are aimed to bring greater security than last versions and tend to work better with VPN as well. Also, try to have backups on hard drives rather than the cloud. All in all – surf safe. Better be safe than sorry!