How to Use AirPlay on Your TV
How to Use AirPlay on Your TV
By Nick Anderson No Comments 4 minutes
One of the convenient features of smartphones is that they can mirror the phone experience on a TV. AirPlay is one such technology that allows Apple devices to be paired with other smart devices like a smart speaker or a TV. It allows you to project what you do on the phone onto the big screen, or play something like music on connected devices.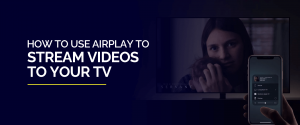 Learn how to use AirPlay on your TV using your Apple devices in this blog. We'll also explain why a VPN can help you make the experience better while streaming movies.
How Does AirPlay Work?
AirPlay is a proprietary wireless technology by Apple to let iOS devices connect to other smart devices. For example, if you wanted to show a video or photo on your phone, AirPlay allows you to mirror what you do on the phone on the big screen. It's not just app-exclusive; the entire iOS experience gets projected wireless on the screen. It means guests in the room will be able to catch everything, right down to each swipe. 
It works for videos as well. Several apps including Apple TV+ lets you stream the video playback onto a TV. It's seamless and requires no additional app or hardware. 
Because it is proprietary, not every smart device supports AirPlay. It was limited to just Apple devices when it was announced back in 2010. But with the introduction of AirPlay 2, non-Apple devices have adopted the technology. The devices include smart TVs from Samsung, LG, and more, and speakers from manufacturers such as JBL, Sonos, Bang & Olufsen, and more. 
Prerequisites
iOS device running iOS 4.2 at least for AirPlay. 

iOS device running iOS 11.4 at least for AirPlay 2. 

AirPlay or AirPlay 2 compatible device. 
How to Use AirPlay on TV with Apple TV
Apple TV is a media streaming device aimed at the living room entertainment for the big screen. It is powered by Apple's own OS called tvOS. Apple TV has seen various iterations over the years since its introduction in 2007. 
Because AirPlay 2 is newer, Apple TV generations before it don't support it. In short, you need at least the Apple TV 4K or Apple TV 4th generation to use AirPlay 2. The second iteration of AirPlay brought along several improvements, mainly better performance while off-device streaming. 
Note: The following process is similar across AirPlay and AirPlay 2 supported Apple TVs. It's up to you which generation of Apple TV and iOS device you use to take advantage of the latest iteration of AirPlay. The navigation process could be different for you considering the generational changes to the UI in iOS. 
Connect your Apple TV and iOS device to the same Wi-Fi network. 

Open Apple TV+ or any other app that supports AirPlay. 

Play any video that you want. 

Tap on the AirPlay icon in the video player and select your Apple TV. 
The video will now be screened on the screen linked to the Apple TV. Your iOS device will become the remote through which you can control video playback. 
How to Play Videos and Pictures via AirPlay on TV
If you have an Apple TV or an AirPlay 2 compatible TV, you can play videos and photos on the big screen through your iOS device. 
On your iOS device, open the Photos app. 

Open a video or a photo. 

Tap on the arrow button on the bottom-left corner. Scroll down and tap on AirPlay. 

Select your preferred AirPlay 2 device and start streaming on the big screen. 
How to Use AirPlay for Screen Mirroring
iOS also allows you to mirror your iOS device to the big screen. This is different from simply playing a video from within an app. When you use screen mirroring, the TV will receive every input from the iOS device. 
Pull up the Action Center on your iOS device.

Tap on Screen Mirroring, and select your preferred device. 

Enter the code from your screen if you are prompted. 
Your phone experience will now appear on your TV. Keep in mind that Screen Mirroring is restricted to a letterbox window. Any apps that you use will fit within that box. So, it's not ideal for streaming videos. Use the AirPlay option within apps to play content in fullscreen. 
Conclusion – Why Do You Need a VPN?
A VPN gives you a flawless experience when it comes to streaming. Due to geo-restrictions, much of the content on the web, including streaming services, might be inaccessible to you. Some of the services like HBO Max are outright unavailable outside of the USA. 
Connecting to FastestVPN will guarantee that you are getting the money's worth out of your streaming subscription. Moreover, you can connect and use up to 10 Apple devices – simultaneously.

Take Control of Your Privacy Today!
Unblock websites, access streaming platforms, and bypass ISP monitoring.
Get FastestVPN