How to Reset Roku Remote
By Nick Anderson 1 Comment 5 minutes
The Roku remote is your access to the world of entertainment. Whether you want to watch Netflix with FastestVPN or navigate through the menus to configure Roku, the remote control is an essential part of Roku. So it would break your experience if the remote stopped responding or did not work properly. Fortunately, these issues can be fixed by resetting the remote. Get to know how to reset Roku remote and other helpful tips to get the most out of your Roku device.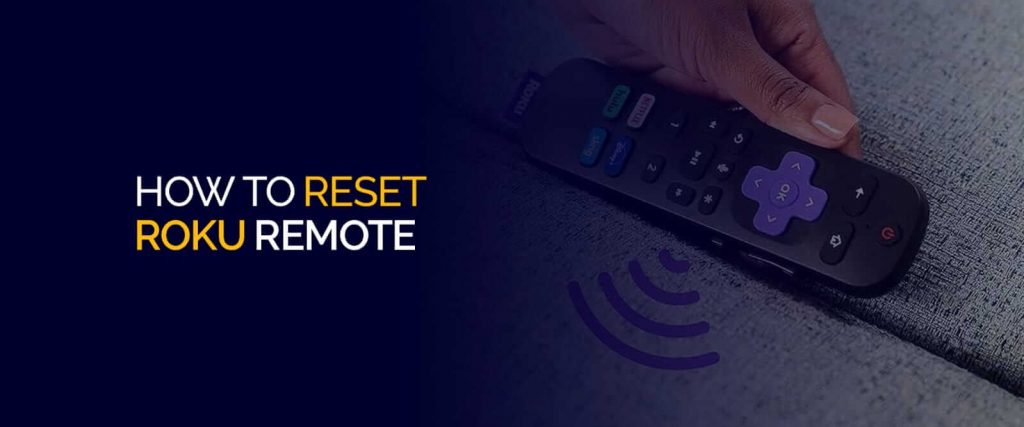 Every Roku Has a Remote
Roku is a family of streaming devices available in various forms and prices. You can pick up a Roku streaming device starting at $19.99 or buy a smart TV that includes Roku. Regardless of which experience you opt for, there is a Roku remote with every Roku device.
The remote is also available for sale if you lost your existing one or it no longer works. But before you send your existing Roku remote to retirement, it is possible that its issues can be fixed through some troubleshooting.
How to Reset Roku Remote
Before you begin to reset Roku remote, you first need to identify what kind of Roku remote you have. Roku devices come with two types of remotes: a simple remote and a voice remote.
Roku simple remote is very basic in terms of functionality. It operates using infrared (IR) light, so its range is limited and requires that the Roku device itself is not placed behind something. Roku voice remote uses wireless technology to pair with the Roku device. Another distinction between Roku remotes is that some use changeable batteries while others have built-in batteries.
With these distinctions in mind, the approach to reset Roku remote is different between the simple remote and voice remote.
To reset the Roku voice remote, simply take out the batteries from the battery compartment and put them back in to reset the remote.
For voice remotes, here is how to reset Roku remote:
Unplug the Roku device so that it's completely turned off.
Remove the batteries from the Roku remote.
Plug the device back in after 5-10 seconds.
When the Roku has booted up, press and hold the pairing button for approximately 20 seconds on the remote to pair the Roku remote. Stop pressing the pairing button once the light begins to flash green rapidly. Remove the battery compartment to reveal the pairing button.
Press the pairing button again but for 5 seconds. The light will flash and the pairing process will begin. It is advised that you wait approximately 30 seconds to pair. You should see the pairing process appear on the screen.
Before pairing with Roku, make sure that you have sufficient battery in the remote. The on-screen menu will display confirmation once the remote has paired.
What is the Difference Between Roku Simple and Roku Voice Remote?
The Roku simple remote is sold with the Roku Express: it is an entry-level device in the Roku family. The primary difference between Roku simple and Roku voice remote is voice controls. The second difference comes down to how both speak to the Roku device.
Roku simple remote uses infrared (IR) light to send signals as you press buttons on the remote. The advantage of the Roku simple remote is that it can be used with any Roku device. The downside is that the Roku device has to be placed at the front for the remote to send signals. If you have the Roku streaming device behind a TV or any other object, the remote will fail to work.
On the other hand, the Roku voice remote is paired wirelessly and can be used anyway.
Can You Jailbreak Roku?
Roku is a closed platform that runs a proprietary operating system. Unlike Chromecast and Firestick, you cannot sideload third-party apps or jailbreak easily. Roku jailbreak is not possible.
However, an exploit developed this year lets you jailbreak Roku if it meets some tough requirements. You can check out our blog on how to Jailbreak Roku.
VPN for Roku – Why Do You Need It?
As a streaming device capable of delivering on-demand and live streaming, Roku is only held back by geo-restrictions. It is the one thing that streaming users hate. Due to licensing issues and censorship, digital content like movies and TV shows may be inaccessible in every region.
If you want to stream Netflix, the best way to watch Netflix is by connecting to a USA VPN server. It will bypass geo-restrictions and get you access to the complete library of Netflix. It works flawlessly; just connect to a VPN server and start streaming your favorite movies and TV shows. Moreover, you can access streaming services such as HBO Max that are not yet available worldwide.
Conclusion
Resetting Roku remote might feel like a trivial matter, but it can save you the headache of buying a new one if you run into issues. Try unpairing and pairing Roku remote again before you decide to buy a new Roku remote.

Take Control of Your Privacy Today!
Unblock websites, access streaming platforms, and bypass ISP monitoring.
Get FastestVPN