10 Reasons Why You Need VPN In Indonesia
10 Reasons Why You Need VPN In Indonesia
By Nick Anderson No Comments 7 minutes
A VPN is an excellent tool for increasing your online safety, secrecy, and anonymity. Using a virtual private network makes it more difficult for hackers and other third parties to monitor or spy on your online activity by encrypting your data and redirecting it via remote VPN servers.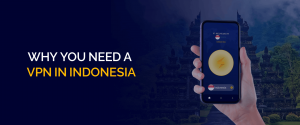 A VPN may be helpful in many situations. If you value anonymity and discretion in your online interactions, you may conceal your identity with the best VPN.
Perhaps you're visiting a foreign country and would like that neither the government nor the local Internet service providers monitor your online behavior, or conceivably you're trying to watch a movie or show that isn't accessible in your country.
No matter what your reason is, it would be best if you constantly keep in mind the primary reasons for using a VPN which are privacy and security. Among the valid reasons, the most search-based reasons are as follows:
Why Do So Many People in Indonesia Use VPNs
A recent study by Global Web Index found that Indonesia has the most VPN users. Indonesia has about 250 million people, which makes it the 4th country with the most people in the world. According to a survey in some magazines, 40% of people in Indonesia, or about 102 million people, use a VPN. It was told that "Overcoming government restrictions" is the main reason for this use.
Common Reasons Why You Need a VPN While in Indonesia
Indonesia is always a step ahead when it comes to censorship. What can and cannot be shared on the internet is strictly regulated, and authorities often demand that hosting firms delete anything deemed to be politically insensitive. Therefore, the use of a VPN is essential if you want to avoid government censorship in Indonesia and access the internet freely. We have looked at a few of the causes in the section below
1. Censorship of the Internet is Widespread in Indonesia
Indonesia launched A new internet censoring system that cost $14 billion in 2018. That system covers the whole spectrum, from obscene and LGBT content to gambling and "fake news" sites.
If a site is deemed to have "negative" content, it is immediately removed from the system's index.
However, using a VPN is the only way to get around Indonesian censorship and access the geo-restricted content from the country. A VPN works by encrypting your data to prevent snooping eyes from governments from seeing what websites you're accessing.
2. Some of Your Favorite Apps Won't Work Properly in Indonesia
Over the years, almost every widely used app has been regulated or outright banned in Indonesia.
The Indonesian government, for instance, banned the encrypted messaging software Telegram in 2017 by agreeing to implement a filter on its systems to block specific data. However, Telegram was able to get the ban removed in the end.
In addition, in 2019, three of the most popular applications in the world got banned because of political unrest: Facebook, WhatsApp, and Instagram. That's when the use of VPNs in Indonesia skyrocketed over the three days of the embargo.
VPN was the only way to access those social media platforms anyway because the encryption provided by a VPN allows you to access any website or app, regardless of whether or not your country permits such access.
3. The Nationwide System for Monitoring all Online Activity
Indonesia has been engaged in widespread monitoring and controlling of its citizens' online activities since 2012. That's the first known mention of the government-developed surveillance software FinFisher in the country.
The Indonesian government also established a "war room" in 2018 to keep an eye on online platforms as they evolve.
Your worries about being tracked across Indonesia are undeniably worth it. Therefore, make sure your data stays private by using a VPN.
4. Indonesia is Attempting to Develop its Own "Five Eyes" System
The Five Eyes information sharing and surveillance organization are notorious for its secret intelligence gathering and extensive monitoring of electronic communications. Indonesia isn't a member, but that doesn't mean they wouldn't enforce it.
Based on the Five Eyes model, Indonesia, Malaysia, and the Philippines formed the Our Eyes Initiative. Like the Five Eyes, Our Eyes conducts global surveillance and monitors online activity.
You may buy a VPN to prevent these shady intelligence organizations from gaining access to your personal information.
5. The Government Might be Spying on Your Data
When it comes to defamation, the law in Indonesia takes the internet extremely seriously. Furthermore, the government closely monitors your online activity to catch you in a slip.
A VPN may protect you from these far-fetched outcomes, yet you should still exercise caution while expressing yourself online. It disguises your IP address, making it more difficult for authorities to trace your online activity and identify you.
6. Anonymous Torrenting to Access Ultimate Content
It is common practice for copyright authorities to mine torrent peer lists for IP addresses in order to extort victims into paying a ransom. That means even while torrenting, you must choose to connect via VPN.
You can encounter any of those spying acts. If you use a VPN, It will hide your actual IP address, keeping your torrenting activities anonymous.
7. Get Around ISP Throttling and Website Blocks
ISPs in Indonesia are not regulated and may limit download speeds and website access. If your Internet service provider (ISP) does not want you to watch Netflix, it may slow down all Netflix traffic or completely ban the site.
If you connect to websites with a VPN server, then your ISP will have no control over your activity. Your ISP will not be able to monitor what pages you see by hiding your online activity with the help of a VPN.
8. Get Access to Spread over Streaming Networks
If you love streaming and watching videos online, but the hassle of geo-restriction has come a long way. Don't worry. It happens because the content libraries are limited to certain specific regions, so for that matter, using a VPN would benefit you to access geo-blocked content in Indonesia.
Use a VPN to dodge your location and access the content from anywhere. You'll have full use of the vast content libraries of the United States, the United Kingdom, Canada, and other countries.
9. Circumvent Office Internet Filters
While you should give your full attention to your job when you're on the clock, there may be occasions when you'd instead want some activities to have your hands on and avoid having your internet access regulated by your employer. As they block popular sites like Facebook and Twitter.
By connecting to the VPN server outside of your company's network, you can bypass all of your company's internet filters. The filters depend on the URLs you visit, but a VPN encrypts your traffic so securely that even the filters can't read your traffic.
10. Protect Your Data When Connected to a Public WiFi Network
It's preferable to take your online presence seriously, as online crimes and spying eyes are beyond your control. If you want to play it safe, assume that every public WiFi network you connect to has already been hacked.
Don't put your personal information, money, and security at risk by connecting to a public hotspot. Protect your data from prying eyes on any network with a VPN.
FAQs
Is there a good VPN?
Yes, there are a few good VPN services, such as FastestVPN. You can buy this VPN at a bargain price and unlock many rich features to protect your data on the internet.
How many devices can connect to a VPN at once?
Usually, you can connect five devices with a single subscription to a VPN. However, this FastestVPN allows you to connect ten simultaneous devices. You can also connect the VPN to your router to get more out of your plottable devices. This can protect all connected devices while only taking up one slot.
Does my phone need a VPN?
People are using their smartphones more and more to get work done. A VPN is a good idea if you often use public WiFi or if you plan to use your phone while traveling. Check out our extensive blogs for the best VPNs for iPhones and Androids to learn more.
How important is it to buy VPN before traveling?
Yes. A virtual private network (VPN) is a powerful encryption tool that can be used on your device through an app. A VPN service will help protect your browsing traffic from hackers, annoying ads, and other third parties.
Wrapping Up!
In simple terms, a VPN gives you an encrypted server and hides your IP address from companies, government agencies, and hackers who might want to steal it. Even if you are using public or shared Wi-Fi, a VPN will protect your identity and keep your data safe from anyone who wants to look at it.
Take Control of Your Privacy Today!
Unblock websites, access streaming platforms, and bypass ISP monitoring.
Get FastestVPN