VPN for College Students
By Nancy William No Comments 6 minutes
"Safety, protection, learning from home." Today, when we hear these words more often than usual, we need protection in the online world as well. The same needs to be applied at educational institutions. Among such tools for security, are VPN services and why they're necessary for college students.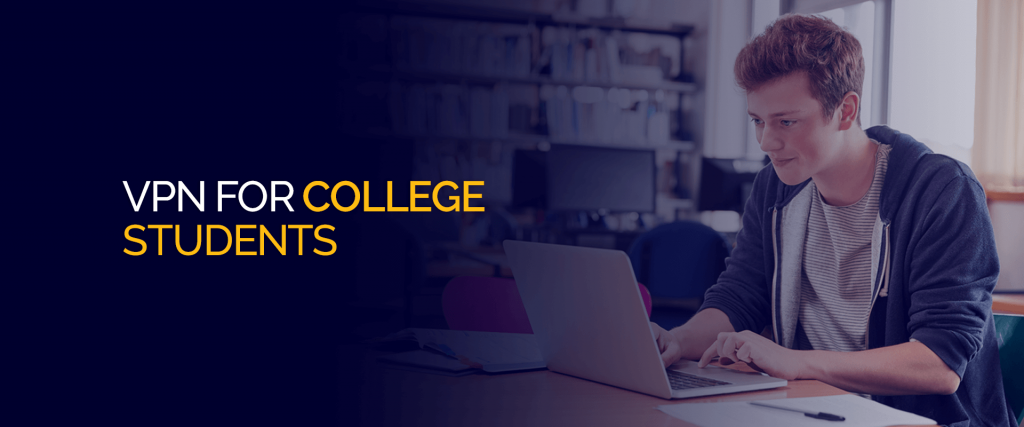 Due to the situation that requires us to work from home, it is desirable that you take your and the security of your data more seriously. Whether you want to protect your data or be anonymous, you can do so today via a virtual private network.
We all sometimes need to remain anonymous while browsing the internet for one reason or another. While most search engines offer privacy features, they still can't meet all our expectations.
In addition, social networks and other applications that use Internet access are completely unstoppable when it comes to tracking and sharing your records.
When talking about using a VPN for college students, we still need to answer a series of questions concerning legality, usability, and generally a need to rely on VPNs while at the university. So, let's see what it brings and are there any obstacles or restrictions that educational institutions may impose.
What is a VPN? Do you need a VPN for college?
Virtual Private Network is a form of encryption technology that creates safe and secured connections over the Internet, ensuring the secure transmission of sensitive records. It also prevents unauthorized wiretapping and allows the student to do his/her job safely and without giving personal data away – regardless of whether it's a VPN for college or any other institute.
Using VPNs is one of the best ways to browse the web anonymously. They encrypt your connection over a public network by hiding your IP address and dynamically transferring it to another web address.  For instance, most students nowadays use a VPN for college to access old term papers or other information
Better-designed solutions also have AES 256-bit encryption, a kill switch, NAT firewall, and support protocols such as OpenVPN, L2TP, IKEv2, and more. Consequently, such benefits of having a VPN give you access to content specific to a particular region. For students from certain countries and territories, this service looks rather good and promising.
Sometimes, governments forbid access to sites that could apparently jeopardize their proclaimed policy. More than often in such cases, scholars are kept away from resources important to their study or research papers.
Now, a VPN for college students to use, can also offer generic IP address masking and setup for third-party applications allowing you to customize it to any region you like. That way, third-party apps and websites can't track your movement because they can't determine your location or how you're navigating the web.
Is using a VPN for college legal?
In short – yes! VPN technology is legal, and you are free to use it without fear. If you don't use it to download copyrighted content or other illegal activities, you have no reason to worry.
But there are some exceptions and different reasons why they are in force. Countries such as China or Iran have strict censorship laws that prohibit the use of any non-government-approved VPN. Those who are approved often know how to be unreliable because they follow the rules of censorship and often forbid services such as Netflix, Twitter, and Facebook.
However, most other states do not consider this a crime. It often happens that VPN services are used by business people to protect their online business presence. Even hospitals and schools use this to allow their patients or learners to use the Internet without compromising their privacy.
As Elijah Smaltz, an expert on tech issues in education, who writes for papersowl.com said, "If the use of VPN is completely legal, the abuse on the other hand is not. So, if you abuse your VPN and connect to the Internet anonymously to make an illegal act, that does not mean that you will not suffer the consequences."
Long story short, if you find yourself in a region that has extra severe online constraints, you can still use a VPN to open pages that are blocked there. Because VPNs encrypt your traffic and leave no history in browsers, local authorities will not be able to link it to you.
Just choose a VPN that has been proven to work in that country and download it (with at least one backup option) before you leave. It works on multiple devices, including mobile phones.
VPN Users at Colleges and Universities
When we talk about the need to study or work remotely, which involves software-as-a-service (SaaS) resources, which belong to a particular organization or institution, it is necessary that such work is performed safely, not that there could be possible compromise of the info that the user accesses.
While studying or working from a distance, one connects to the Internet, usually via a Wi-Fi owned by a hotel, restaurant, airport, or another public institution. In these situations, you are practically unaware of who else is using the same wireless internet AP and may therefore be abused by intercepting online traffic.
The recommendation of the CERT bodies that deal with this matter is that you should use a VPN whenever you are away from the office or home and connected to someone else's Wi-Fi. This can be even when staying with a family member or friend, because you do not know if they were endangered. Considering FastestVPN solutions should help you address this issue as it has up to 10 connections and is compatible with multiple devices.
It is especially important if the user accesses services that require personal information. Keep in mind that a lot is happening behind the scenes that is not visible, and you never really know if one or more applications on the computer are authenticating in the background and putting it all at risk.
Another dimension of this technology is establishing a VPN connection when a student is away from the faculty building and needs its resources hosted on a secured server. In this case, a VPN provides a secure and easy way into computers at the faculty from any location. Clients connected this way have an IP address as if they were working from the faculty, so they are automatically granted entrance.
Typically, this refers to approaches to online databases and magazines otherwise prohibited to the average unauthenticated user. Also, it is important for teachers who use another service provider and may be excluded from the faculty's servers because of that.
Conclusion
VPN is a very useful solution that can be applied in various situations, starting primarily from protection from hackers, but also to facilitate the use of paid services around the world, no matter where you are.
In addition to individuals, VPNs are mostly used by companies, schools, the Government, and government agencies. The great advantage of this technology is that it is very easy to use. Accordingly, it does not require IT knowledge, but simple Internet connection, after which your records become encrypted.

Take Control of Your Privacy Today!
Unblock websites, access streaming platforms, and bypass ISP monitoring.
Get FastestVPN