How to Unblock DraftKings With a VPN "Quickest Way"
How to Unblock DraftKings With a VPN "Quickest Way"
By Johan Curtis No Comments 6 minutes
Are you a sports betting or online gambling fan seeking to unblock DraftKings using a VPN? If you enjoy daily fantasy sports (DFS) and favor the DraftKings sportsbook, you are indeed aware that it isn't available everywhere. DraftKings has gained much popularity in Canada and America through the daily and weekly Fantasy sports featured. However, you might need help accessing DraftKings fantasy sports within any other nation due to its geo-restriction. A VPN will likely be installed to unblock DraftKings in your location for easy access.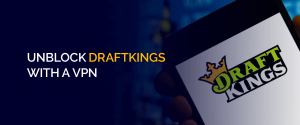 You will likely be receiving this message!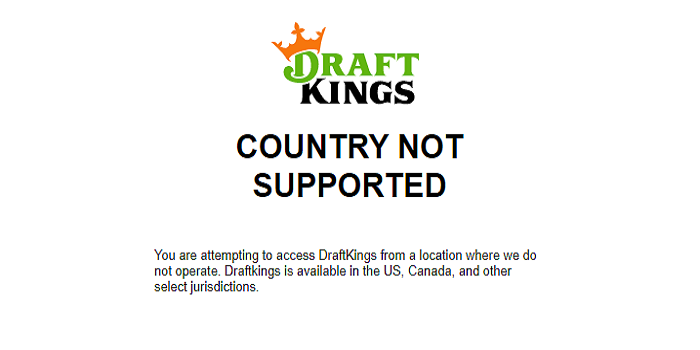 This Guide will assist you in securing access to DraftKings fantasy sports with a VPN in the US and enjoying playing one of your favorite games. However, even though there are some betting websites offered in the US, not all are accessible abroad. Say something like DraftKings, is one of the most popular sites, but it's not available in all of the States. This is where a VPN comes in. You can easily use one to access it. As you can see here, the DraftKings sports betting site isn't legally available in all US states.
VPN – Introduction and Functionality "Unblock DraftKings Geo-Restrictions"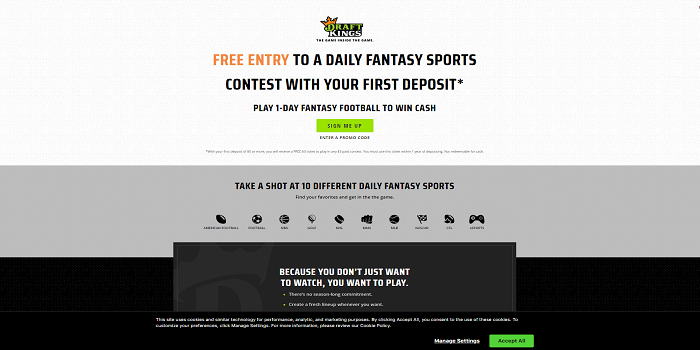 The internet has made gambling more accessible. So now, anyone can hop on the internet and play various fantasy games. Among the most well-known platforms comes "DraftKings," one of the most trending platforms for daily fantasy sports, casino games, and many more. The term "VPN" refers to a (virtual private network). The VPN is a proxy that changes your IP address to one from another location, replacing your current location and web address. This is accomplished by a VPN while establishing a new encryption channel between your device and the website you wish to view, enhancing your connection's security and privacy.
Why Do You Need a VPN to Hide Your Location on DraftKings
DraftKings allows you to use your sports knowledge and win significant money by offering daily and monthly fantasy sports competitions and betting on your favorite teams. Unfortunately, the platform is only available in a few restricted areas. We advise utilizing a top VPN for DraftKings to access the website if you're in a geo-restricted location. Most likely, the best VPN for lifting DraftKings geo-restriction is necessary to abide by the restriction made under your nation.
Why do you need a VPN being an enthusiast of betting or fantasy sports? The most VPN is used for is its changing virtual location feature that enables you to access geo-blocked content on the internet. Some online gaming platforms, like fantasy sports or gambling casinos, on the media like DraftKings, are usually banned in various regions. Therefore, to access these games from a restricted location, you must be physically in a geo-free location or sign up for a VPN to unblock these restrictions.
A safe and private connection between your device and real money online websites is also made possible by the VPN (a virtual private network). If, for instance, you don't want gambling sites to appear in your browsing history, a VPN could assist in obscuring your data as you play your favorite real-money-investment games.
Finally, gamblers or players can use a VPN to open several accounts on virtual betting sites to claim winning prizes on DraftKings.
4 steps to Unblock DraftKings Using A VPN
Here are the 4 essential steps to access DraftKings and start placing your bets on your favorite games and winning prizes using a VPN:
Choose a Reliable VPN
If you are in a region restricting you from accessing DraftKings, choose the best VPN to play on DraftKings with real money in the US region. Make sure that the VPN you choose is compatible with your devices, including PCs and Mobile phones with iOS or Android, provides a stable connection, has reliable security functions, and can bypass geo-restriction in the server locations it has provided you. FastestVPN has all the features to take you through geo-restricted web content.
Download and Install A VPN
Download an appropriate VPN onto your device as soon as you discover one. The instructions for downloading and installing a VPN for DraftKings on your PC may frequently be found on each VPN's official website. They also offer a mobile app, which you can download from the App Store and Google Play for iOS and Android devices. Install the VPN for DraftKings after downloading it to create a user account. Most VPNs that allow access to US-restricted websites need a monthly subscription cost. FastestVPN offers an exclusive plan of $40 for a Lifetime that you can use with 10 simultaneous logins.
Choose a Location to Unblock DraftKings
Once you are logged in to your VPN account and paying for a subscription plan, you next go through the VPN servers and join the US or Canada server, where you will find no restriction to Draftkings and can easily access the site with the quickest turnaround time.
Note: Choosing a VPN will give you access to the geo-restriction of DraftKings and encrypt your activity to keep your IP anonymous for the trackers or authorities and prevent your privacy and security from being caught. FastestVPN has the best AES 256-bit military-grade encryption to protect your privacy and keep your IP address anonymous from your ISPs or Legal Authorities.
Register for The DraftKings Website to play.
After you have activated the VPN with the US IP address, you can easily access any USA site. Next, you have to register for the DraftKings website.
Steps to Register on the DraftKings website:
To register for DraftKings, follow these steps:
Go to the DraftKings website (www.draftkings.com)
Click the "Sign Up" toggle at the top right corner.
Enter your email address and create a unique password.
Fill out your personal information, including your full or pseudo name, date of birth, and last four digits of your social security card number.
Verify your identity by providing a valid official ID card number.
Provide your residential address and mobile number.
Choose a screen name for your DraftKings account.
Agree to the terms of use and privacy policy.
Click the "Sign Up" button to complete the registration process.
After registering, you can make your first deposit, join contests, and start playing on DraftKings. Note that you get some restrictions to features based on your location and age.
Conclusion
Playing your favorite fantasy game, picking up multiple outcomes to go against other betters, or exciting your experience with live betting on games via DraftKings using a VPN is simple. However, it might come as a restriction of withdrawal of your winning prizes if you are not a resident of the US or don't have a valid US Identity. If you already have valid access to the authentications required and are traveling outside the US or in another region. We recommend you choose a VPN to Unblock DraftKings and start placing your bets.
Take Control of Your Privacy Today!
Unblock websites, access streaming platforms, and bypass ISP monitoring.
Get FastestVPN