5 Reasons Why Students Should Use a VPN
5 Reasons Why Students Should Use a VPN
By Nancy William No Comments 5 minutes
Privacy on the internet has always been an important issue, especially for anyone who browses online or looks at sensitive information. Fortunately, today, you can cloak your activities using a Virtual Private Network (VPN).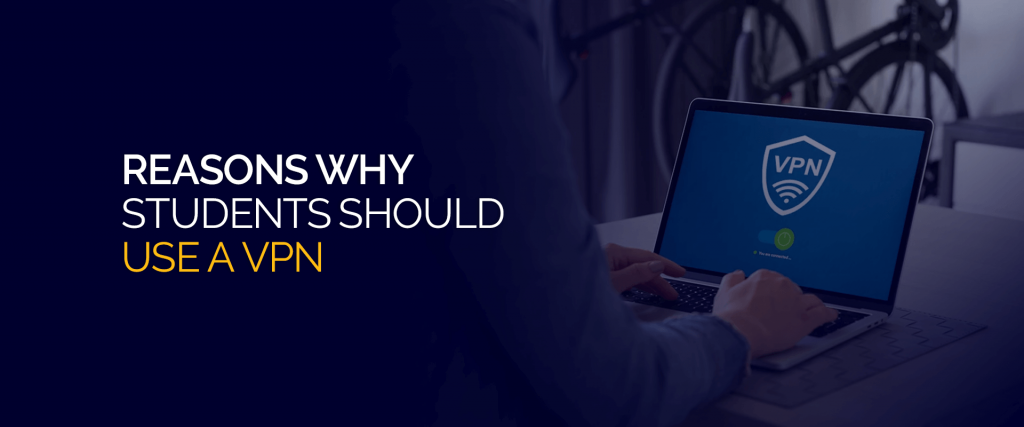 This is a tool that can cloak your online traffic with encryption layers, then route this through the VPN server. With a VPN, nobody can see what you do or where you are geographically based. As a student, there are many reasons why you should use a VPN.
Reasons why students should use a VPN
Even though some users abuse VPN services for illegal activities, there are other reasons why using a VPN is required for online protection and security. With that said, here are a few reasons why students should use a VPN:
Security and convenience
Keeping the data of users safe is the main function of a VPN. In most educational systems today, students need to connect to a shared Wi-Fi network together with other teachers and students. Since there is no sure way of determining the security of a Wi-Fi router, using a VPN at school will ensure that you have a safe connection even if the network itself gets compromised.
There are some terms and phrases banned in school networks and this can cause a problem for you. Firewalls that are word-based aren't sharp enough to detect what's offensive and what's not. Thus, they tend to ban words that are perfectly inoffensive by accident. With a VPN on your device, you can circumvent these restrictions to make it easier for you to access the resources that you need online for your coursework and school projects.
Easier access to various content
VPNs have the capability to spoof your location. This is very convenient when you need to access certain content as the VPN will make it seem as if you're browsing from a different place. This means that you can access various content even if it's not locally available. When you travel to a different country, you would like to have a constant connection to your family, whether you're traveling for a vacation or you plan to study abroad.
But what would happen if you discover that your local network isn't allowed in the country you've visited? In such a case, you can rely on a VPN. Then you can get an online connection allowing you to reconnect with your loved ones back home.
Using a VPN while choosing a writing service
Students like you can make the most of a VPN by knowing how to use it. Another benefit of a VPN in your education is that you can use it to find professional writers for students to help you with essay written work.
If you ever need help, you can visit college paper writing services by EduBirdie. By getting difficult writing tasks out of your way, you will have more time to study, which will then improve your learning process overall.
Bypass restrictions
Using a VPN will encrypt your data while you're online. This means that you don't have to worry when using potentially unsecured Wi-Fi networks. It doesn't even matter if your school uses subpar router security. With a VPN, your personal information will remain safe. Some school networks make use of firewalls that are word-based, which ban specific terms or phrases. If your school uses these firewalls, it can be a challenge for you to search for resources online.
A VPN will allow you to overcome these restrictions, which will then allow you easier access to the resources you need. For this reason, it's usually recommended to use VPNs for safe browsing, no matter what you plan to do online.
To keep your browsing history private
Those who use search engines like Yahoo, Bing, and Google aren't aware that they keep a history of their web browsing. This means that whatever you do online gets recorded by the search engine. The reason why search engines record your browsing history is to improve advertising campaigns. These records allow search engines to remember what you have searched for and clicked on while browsing.
Your computer's IP address is also attached to advertising campaigns so that you can see relevant ads that are close to your searches. Of course, this can sometimes be a cause of embarrassment for you. To keep your history private, you can turn to VPN. By using a VPN, your computer's IP address will get cloaked by the VPN provider. If you plan to purchase your assignments from online services, a VPN will keep you protected.
Conclusion
You should consider using a VPN as it will benefit you in many ways. A VPN will help you safely connect to public Wi-Fi networks or unlock content that isn't available in your area. A VPN will also cloak your online identity, even on public networks, allowing you to browse online securely, anonymously, and safely.

Take Control of Your Privacy Today!
Unblock websites, access streaming platforms, and bypass ISP monitoring.
Get FastestVPN