15 VPN Uses You Didn't Know About
15 VPN Uses You Didn't Know About
By Christine Margret No Comments 11 minutes
There are many VPN uses that you haven't even considered before. Therefore, this blog post aims to uncover plenty of VPN uses that you should know about.  At the end of this blog, you will learn the top VPN uses but before that let's understand what is a VPN and what are the best uses of a VPN?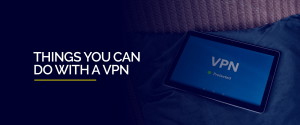 What is a VPN and What Are the Best Uses of a VPN?
VPN or Virtual Private Network is a connection between your computer and a secure server, through which you can access the web. It isn't a new term, many people are now aware of what it is and what it offers to internet users. The main features of VPN are how it allows for maximum privacy while you browse, and the security it offers against hackers and cyber attacks. A VPN also protects you from identity theft by hiding your IP address, making it difficult for third parties to track you. It allows you to bypasses firewalls and accesses web content privately without the issue of censorship. Apart from that, there are many secret VPN uses you may not know it could do. So, here are some main VPN uses that every internet user must know about.
1. Save Money on Travel
Saving money while traveling is very important for many people whether they are booking a hotel or buying subscribing to a service. But, sometimes it's possible that services from certain countries may not be accessible at your place. Seem unfair, right? But worry not because VPN allows you to access these services and websites from where you can get the most affordable deals. During your travels, using a VPN will allow you to access your favorite streaming websites, buy cheaper airfares, rent a car or book hotels online, or unlock cheaper Netflix and other digital media subscriptions.
2. Avoid ISP Tracking
Nowadays, everything you do online is tracked. Your ISP tracks your web activities and everything you are downloading. Marketers track your search patterns and history through cookies. Your IP address is being recorded every time you visit a website.
One of the biggest VPN uses is to avoid ISP tracking. When you use a VPN, it will encrypt your web traffic, and use your private DNS servers to stop your internet service provider from snooping on your internet history. VPNs like FastestVPN also help search engines like Google from tracking your search history.
3. Online Shopping
Online shopping has become more and more unsafe nowadays due to the increasing number of hackers and internet criminals, who are making it difficult to shop online while keeping your accounts safe. Many internet robbers are also creating fake shopping websites that may look like eBay, Amazon, or PayPal.  Sometimes even popular sites are not using the most secure methods, leaving your personal data and account information vulnerable.
The most important thing for these hackers is your IP address. It contains information that they can use to know what your credit card number is, your PayPal account details and other financial data. This is where VPN services play a crucial part. VPN creates a secure connection that protects you from hackers while you shop online. Using a VPN is easy; it doesn't require any hardware and can be controlled from any PC or mobile device. Sign to a VPN service, install their app or software and shop online as you normally would.
4. Make International Calls at Local Cost
VoIP is a service that allows you to make international calls. But in many countries including Middle Eastern and Asian countries, VoIP services are blocked. It is almost impossible to use VoIP service if you're living in these regions or any other country where VoIP is restricted.
However, thanks to VPN, you can now access to VoIP services and make international calls in regions where VoIP is restricted or is much more expensive. VPN locates your IP Address in a country where VoIP is available and costs much less on international calls.
5. Leave Anonymous Comments without Fear
Many organizations don't like it when negative things are being said or shared with them on the web. Some of them go even far as to sue the person who made negative remarks about them or shared any information that may damage that company.
By using a VPN, users can hide their real IP address when commenting on such websites. This allows users to share or say the truth anonymously without the fear of being sued or tracked down by an angry individual or organization.
6. Get More Out of Promos and Free Services
You may have visited a website before that allows you to view the limited number of articles per month or days for free before you have to pay for the subscription. These websites track every user by their IP address.
To view more articles or avail any other promotions, you will need to switch to a different IP. If you don't, the website will recognize you and will ask you for subscription immediately. Using a VPN to switch IPs on a new private browser will allow users to visit the same website as a new visitor, thus enabling you to avail promotions and more free services.
7. Post Ads in Multiple Cities
There many websites that allow users to post classified ads. Craigslist is one of the most popular ones with more than 3 million visitors coming to craigslist every day. Posting of ads on most of these sites is limited. A user can only post a limited number of ads as per his/her region. But what if you want to post multiple ads?
VPN is a great solution to posting multiple ads. When you use a VPN after you have already posted, it allocates a new IP address to you from a different country or region allowing you to post as many ads as you want.
8. Accessing a Home Network
Whether you are traveling around or just using public Wi-Fi at a local restaurant in your locality, VPN can be used anywhere, anytime. A VPN gives you access to your home network or other servers from anywhere just by hosting your own VPN server at home.
A VPN gives you an encrypted channel to use when you are on public Wi-Fi. It would also allow you to make use of country-specific services outside the country, meaning that you can use US Netflix when outside the states and you don't have to pay for it.
9. Public Wi-Fi Security
Be it in coffee shops, hotels, or other common public places, access to public Wi-Fi has become a standard nowadays. But, while it may seem extremely convenient to the people to use public Wi-Fi, one shouldn't overlook the security measures. Though not all public Wi-Fi services are harmful, this doesn't mean that you just openly connect to these public Wi-Fi's. Sometimes, you would have to bear the consequences.
If you want to use public Wi-Fi without the fear of getting harmed, you should use a quality VPN service. Whatever public Wi-Fi you are trying to connect to, a quality VPN will ensure you are secure and that your information is encrypted.
10. Privacy from Website Info Gathering
Internet privacy should be a very serious concern for every user. It's a fact that most ISP gathers data from every user's browsing history then sell them to advertisers who then market their products and services and pretend to know what customers really want. These ISPs collect information about your internet activities including every legal thing you do online. Such information can be used not just by advertisers but also by government agencies to spy on you, which is really devastating to hear. This is the reason every user need to keep their data safe. And by that, I mean – use VPN. Whether you trust your ISP or not, keeping your data safe should be a top priority for every you, and a VPN ensures online anonymity and location privacy against your ISP, hackers, law enforcement agencies.
11. Anonymous Downloads
Internet privacy has never been so easy and quick thanks to VPN that allows users to hide behind the VPN servers with just a click of a button. A Torrent VPN ensures network security by protecting your real network data when you connect to the Internet through using a VPN. Thus, allowing you to browse and download anonymously.
Using a VPN service allows you to download torrents and blocked content while maintaining online anonymity. For many users, VPN is the most effective tool to access torrent sites. What VPN basically does is that it diverts your web traffic through a different server while hiding your real IP address from the public.
12. Campus Connection
Every college/university wants to keep their databases, e-journals and other academic materials secure and only accessible by current staff, students, and faculty members without jeopardizing their network security. Using a VPN service creates a secure, encrypted connection between the university network and the user's device, allowing access to its resources from untrusted networks.
VPN enables users to access the university's secure, private and managed network on their personal devices while using off-campus networks. A VPN allows you to send and receive data through a dedicated connection across public or shared networks. It also allows you to access applications that require an on-campus connection such as academic resources or storage services, etc.
13. Streaming Blocked Content
One of the main reasons we all use a VPN is to get access to streaming websites and global content. Whether you are traveling or at home, accessing Netflix or Pandora without paying for subscription may seem impossible. But when you have the VPN enabled, you can access all your favorite streaming content without having to pay for it. Not just that, VPN allows you to watch HD videos by speeding up your bandwidth rate allowing you to stream YouTube or Netflix videos easily without buffering.
14. Bypass Traffic Shaping
We all know that ISP is always throttling our web traffic, which results in slow internet speed. This is especially true when you are streaming HD videos on Netflix or Youtube. Ask yourself, do you have a high speed but your video streaming keeps rebuffering? This is all because of the ISP who is throttling your web traffic and are not delivering the internet speed you have paid for.
Using a VPN makes it impossible for ISP to throttle your web traffic. Your internet service provider will not be able to read your web traffic and will be unable to throttle to low speed. As a result, there will be no other choice for your service provider but to give the right speed you payed for.
15. Beat The Hackers
Many people are unaware of the security risks of using an open Wi-Fi network. They may be convenient, but they are also incredibly unsafe. Anyone can connect to the open network and monitor the traffic web traffic coming from different devices. Worse, many hackers take advantage of these situations and they can easily spread viruses to connected devices and steal their data.
However, using a VPN will greatly improve your online security. It is the ultimate weapon for defeating hackers. When you use a VPN service, your internet traffic is encrypted with military-grade encryption, making it impossible for hackers to snoop on your web traffic and recover your personal data.
Other unusual VPN Uses?
Other VPN uses include speeding up online gaming, protecting mobile devices, accessing live sports for less, unblocking local sites when you're abroad, and protecting your identity and personal information.
Conclusion
So these are the best VPN uses and secrets you may have not known and it's absolutely clear now that VPN is the most powerful tool to ensure maximum internet security. It not only protects you from cybercriminals and online thefts but also allows you to maintain privacy and access blocked content without paying a penny. So, are you ready to get the best VPN services and avail all its secret features?
Get started with FastestVPN to take advantage of these best VPN secrets today!
Take Control of Your Privacy Today!
Unblock websites, access streaming platforms, and bypass ISP monitoring.
Get FastestVPN