How to Disable Cross-Site Tracking in Safari
How to Disable Cross-Site Tracking in Safari
By Johan Curtis No Comments 5 minutes
Have you ever felt like the internet is stalking you? For instance, you search for a particular thing or page, and soon after the search, you start viewing ads or page recommendations similar to that very initial search of yours. That's probably because almost every other website or application tracks your activity to improve your experience on their website and to make web browsing more relevant to you.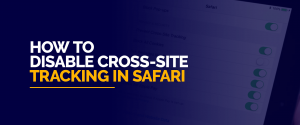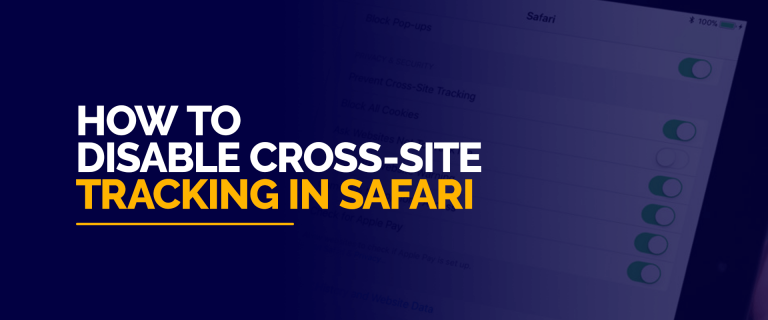 This could be done through the use of cookies or through what is called cross-site tracking.
Be it Safari or any other browser; it is important to take precautionary measures and prioritize your online privacy.

What is Cross-Site Tracking?
Cross-site tracking is fairly simple; it is when a website records user data across multiple websites. It helps them create better advertising campaigns and to improve their ways of targeting the audience.
When you switch from one tab to another, some trackers follow you around throughout your session, collecting all sorts of data such as what sites you're visiting, what actions you're taking on those sites. They save this data to create user profiles for targeted advertising.
How Does it Work?
You don't have to be an expert to understand the gist of how cross-site tracking works. Many websites have certain trackers or use cookies that store relevant information about your activity online to improve your experience on their site.
However, these trackers are not only limited to that specific page or website; they are also capable of following you as you switch tabs. For example, you must have noticed that when you visit certain websites, they have multiple share toggles such as the Facebook logo, which allows you to share to Facebook.
When you choose to share content to Facebook or any other social media platform from another website, it allows that particular website as well as the social media platform you have chosen to store your information. They usually claim to record only relevant data. However, there is no guarantee as to what is being stored exactly and whether that data is being shared with multiple third-party organizations without your consent.
The Benefits of Cross-Site Tracking
Cross-site tracking is known to be pretty helpful to some. Though, it is of more use for businesses and large brands rather than individual users.
Organizations that own multiple brands or more than one website usually opt to use cross-site tracking to compare and cross-check the actions performed on their pages. It saves their time and costs, as well as provide them with an easy way to keep a check on everything. Through this feature, they can keep track of the user's choices and further improve their navigation, advertising strategy, pricing design according to the results.
Similarly, many webpages opt to use third-party applications such as shopping carts or payment routes. You might have noticed that whenever you choose the option to pay online, in some cases you are redirected to a separate bank webpage, which then asks you to load your credentials. In such cases, the use of cross-site tracking is essential because if there are no trackers present, the redirected page will not be given any information and will not be linked to your shopping webpage. With the tracking feature, the redirected page is linked to the shopping webpage and is aware of your activities and the items and amount of your shopping cart.
Lastly, it helps businesses create a better user profile and improve your overall experience on their website. With such user data, they can understand your preferences, whether that means the way you like your layout or what items you add in your shopping cart; it makes your time spent on the internet way easier.
Is Cross-Site Tracking Safe?
You'd think that what could a mere tracking feature do? It's probably harmless. That's where you're wrong. Even though cross-site tracking can be extremely helpful in certain situations for certain users, it displays a huge security risk.
The problem with such tracking features is that they have a hold of almost all your online activity, and most of the time, it is all recorded without your understanding or consent.
This way, your data is available to anyone, first-party webpages could easily forward your data to third party sites to improve their navigation experience, etc. This is not always ideal; third parties could potentially misuse your information and cause you harm.
More importantly, if a webpage is ever hacked or compromised, the hacker will immediately gain access to the cross-site tracking feature and be able to view and further record your online activity; which can also include your passwords and other confidential credentials.
How to Prevent Cross-Site Tracking
Luckily for you, cross-site tracking can be prevented. With technology advancing and people becoming more aware, developers have realized the several security risks cross-site tracking presents. They have created the option to block or prevent cross-site tracking.
Here's how you can block cross-site tracking on Safari:
For Mac Users:
Open Safari
Click on Preferences
Open Privacy
Tick the "Prevent cross-site tracking" dialogue.
For iPhone/iPad Users:
Open Settings
Select Safari
Scroll down to the Privacy and Security section
Enable "Prevent cross-site tracking"
Conclusion
We hope this helped you realize the pros and cons of cross-site tracking and why you should limit websites from performing the said action. Your security and privacy are of top priority to us, which is why we are always providing you with the most relevant solutions.
When it comes to security and privacy; a VPN will not only provide you with the privacy you need by making activities online anonymous; it will act as a wall between you and anyone or any tracking features that wish to store your information.

Take Control of Your Privacy Today!
Unblock websites, access streaming platforms, and bypass ISP monitoring.
Get FastestVPN