How to Delete Yourself From the Internet
How to Delete Yourself From the Internet
By Christine Margret No Comments 6 minutes
The internet is in rapid expansion and so are the number of people using it. With this expanded internet volume, personal spaces are shrinking miserably.
Privacy invasion is at its best, and seemingly there's no online privacy left. Millions of users are exposed publicly with their personal information available, just a click away.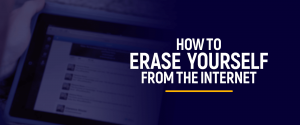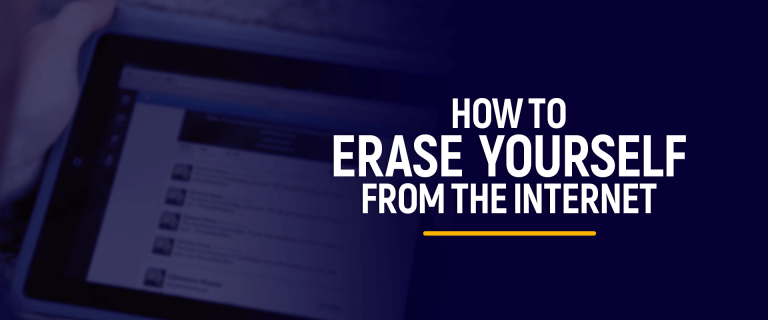 Therefore, here's a comprehensive guide on how to delete yourself from the internet. Let's explore more on the subject to get rid of your digital footprint.
Ways to Get your Information Off the Internet
For privacy-concerned individuals, online existence is painful. It just not only reveals your personal information but also makes it easy to find you.
Luckily, there are several easy-to-follow steps that you can take to delete yourself from the internet.
Be sure that these methods cannot completely remove you from the internet. However, these tips will lower the risk of personal data leak.
I will lay down all the approaches below in this article, but for now, here's the quick rundown:
Delete shopping & social accounts
Remove Dating Apps Profile
Wipeout yourself from Data collection sites
Contact Search Engines
Close your Email Account.
Why Do My Personal Details Get Leaked?
Various platforms give their fair share to leak personal information e.g. emails address, home address, and phone number. Thanks to the technology and data collection sites.
Data collection sites like Whitepages and BeenVerified trace and sell user data to third parties for advertising specific brands.
Besides data collection sources, online users also voluntarily share information on social accounts like Facebook and Instagram.
Ordering food online also requires a phone number, address, and credit card details. A VPN is highly recommended for the safest online shopping experience. Whether you're ordering food or shopping online, VPN is a must for safeguarding your network and banking details.
Internet users usually don't go through the Terms of Service and Privacy Policy and that's where they are at fault.
All these online services have terms and conditions where they mention that information that a user provides may be provided to the third-parties. It's how our information gets used for advertisement. One prime example is the Cambridge Analytica data breach that collected millions of users' information through a third-party app on Facebook.
How to Remove My Information from the Internet
Let's walk through the steps to remove information from the internet.
Delete Shopping and Social Accounts
Deleting your social and shopping accounts is indispensable for removing yourself from the internet.
To delete social accounts, you can go to the settings, then tap security and privacy, and there you will find options to deactivate close or remove an account. Deleting your account will be permanent. However, you can also provisionally deactivate it.
If you don't want to remove social media accounts, then you can change settings to the private mode or add in fake information. It will protect your privacy to some extent only.
Besides social account, removing online shopping account is also crucial. Find here how to delete Amazon Account.
Remove Profile from Dating Apps
Dating apps are the most frequently used applications in the mobile app domain. According to Statista.com, Tinder became the most popular dating app in the USA, reaching 7.86 million users in September 2019.
Many online users prefer not to add real information; however, these dating apps are sync with your mobile number and email that can ultimately fetch personal information. Therefore, if you're looking to get away from the internet, then you must delete your dating app profiles.
Wipeout yourself from Data Collection Sites
There are data collection sites that collect user data to sell to third parties. These sites are also called data brokers. The most popular data collection sites are:
com
BeenVerified
PeopleFinder
Spokeo
DOBSearch
These sites store your data from every possible online source then sell it. There are two possible ways to get you removed from data broker sites.
First is to find yourself on these sites and contact them via fax or email to request your removal. It will be a much longer and time taking process. However, there's another way around.
Request Google for Content Removal
Google will not always accept your content removal request. There are certain terms under which the giant search engine will take action.
If you find any outdated content that is currently appearing, then you can request Google to remove it from the Google cache.
To do this, you can search for the Google Remove outdated content page, then paste the URL of the old content source and select Request removal.
You can also request content removal in case of a copyright violation. There are legal removals page available where you can request content removal if someone is posting your copyrighted data.
Google will also help you in removing content that may lead to identity theft or financial fraud. It means that information that includes your social security number credit card or bank details, and any kind of nonconsensual explicit images will be removed.
Close your email account
Deleting all your email accounts is a big step that one should not take without realizing the consequences. If you remove your Gmail account, then you will not be able to access most of the sync services.
Also, remember that an email account is required to perform online transactions. There are many email services so you can find how to delete tutorials for each account. The best way is to create email accounts on Gmail and Outlook using a pseudo name, and information that doesn't belong to you.
More Tips to Stay Safe on the Internet
Use a virtual private network to maintain your online anonymity
Don't post too much of your personal information on social platforms
Create a separate account for online shopping and other activities. Your account should not contain your real name
Keep updating privacy settings for various social accounts
Always read app permissions and web privacy terms
Disable geolocation.
Conclusion
That's all you can do to remove yourself from the internet. Be sure that online privacy is paramount for personal safety; therefore, always try to be vigilant before sharing information online. Use a virtual private network and create accounts with little or no personal information.
Take Control of Your Privacy Today!
Unblock websites, access streaming platforms, and bypass ISP monitoring.
Get FastestVPN