Third-Party Cookies and Why You Should Block Them
Third-Party Cookies and Why You Should Block Them
By Johan Curtis No Comments 5 minutes
Have you ever noticed that the advertisements displayed to you somehow match your recent browsing history? Or you were just looking for this one thing, and it magically popped up in an ad? If so, then you've experienced third party cookies in action.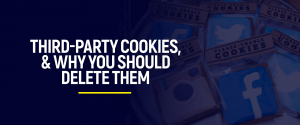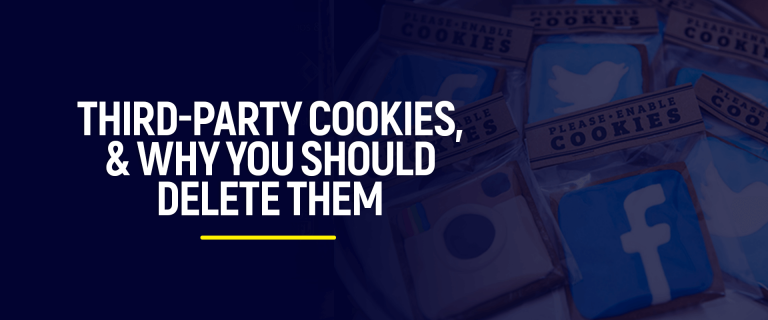 What Are Third Party Cookies?
Normally, first-party cookies are those which are used by the website developers to store user information such as login info, etc. Third-party cookies, on the other hand, are more like an advertiser's work and are not owned or controlled by the team of the particular website. They record the user's behavior and path on the internet, which makes for an effective online marketing tool.
Why Are Third Party Cookies Used?
Third-party cookies are usually used to analyze your web activity. Since a third-party cookie is mainly interested in user behavior, it keeps track of the user's internet activity. Once it recognizes you, it can store your browsing history. It is considered an effective way of targeted and personalized marketing.
How They Work
Normally, when you visit a website, they display a popup which asks whether you agree to the use of cookies to store user information to improve your experience on the website. When you select accept, you are accepting first-party cookies along with the third-party cookies from the advertiser's server.
When you're browsing on the internet for certain products or information, you likely have multiple tabs open; information that is stored on that particular website is known as first-party cookies. However, some info is also stored by third-party cookies, which might explain why you see adverts for things you previously looked up.
Even when you close all tabs, information is not necessarily eliminated; it is stored on the third-party's web server. So the next time you search for something else, you may notice that an ad is being displayed for the item that you previously searched.
What Data do Third Party Cookies Collect?
Third-party cookies collect data such as your personal information, previously visited websites, how much time was spent on the website, or during the search of a particular item. Similarly, they also gather information on subpages that you may have opened with the search of that item.
You can always check whether or not you have granted access to third party cookies. Here's how:
Open Chrome and click on the three dots on the extreme right.
Select "More Tools" then click on "Developer Tools."
Once that opens, choose "Applications."
On the left there will be a list, click on "cookies" from the list
The cookies which do not contain the domain of the website are most likely third party cookies.
The Risks of Third Party Cookies
Even though they seem like a good marketing technique, they do bring a certain number of disadvantages with them.
Some users may feel very exposed to third-parties since they do have access to your browsing habits.
Moreover, due to the controversies surrounding online advertisements, it can cause users to mistrust a website, which is a direct disadvantage for website operators.
Blocking Third-Party Cookies
As mentioned before, to enjoy a smooth browsing experience, you should enable first-party cookies as it will remember your choices on that particular website.
However, third party cookies can be invasive, so if you do choose to disable third party cookies, you will be disabling the act of tracking and targeting from several advertisers and third-party entities.  It will increase your privacy and security, very similar to how FastestVPN maintains your privacy and security by making sure that no one is tracking or blocking your internet traffic.
The best way to avoid irrelevant advertisements and to hide your identity while browsing is to subscribe to a VPN, and there is no better VPN than FastestVPN in this case!
How to Block Third-Party Cookies
If you wish to block and clear third party cookies, we have you covered. Here's a step by step tutorial on how to do it on different web browsers:
Google Chrome
Open Chrome
Click on the three dots on the right
Select "More Tools"
Press "Clear Browsing Data"
When the pop up for
When the pop up for time range shows up, select "All Time" and also click the box, which says "cookies and other site data."
Click "Clear Data"
Firefox
Open Firefox.
Click the menu button and press "Options."
Select the Privacy and Security Panel
When the Cookies and Site Data page opens select "Never" where it says "accept third party cookies and site data
Close the page, and your changes will be saved.
Apart from clearing your cookies, you can also opt to download an ad-blocker and also FastestVPN Firefox or Chrome extension to improve your browsing experience and prevent the invasion of your privacy.
Conclusion
Third-party cookies have created quite the controversy. While some believe that they may be a straight violation of the user data protection laws, some also believe that without the use of such cookies, browsing experience would never be as good. However, the choice is yours.
Take Control of Your Privacy Today!
Unblock websites, access streaming platforms, and bypass ISP monitoring.
Get FastestVPN