5 Most Secure Browsers to Protect Your Online Privacy in 2021
5 Most Secure Browsers to Protect Your Online Privacy in 2021
By Christine Margret No Comments 5 minutes
Your web-browser could prove to be a weak point when it comes to online privacy. A web browser is a place where most of your personal information, such as browsing history, gets stored.
A non-secure web browser gathers your personal information and sometimes shares sensitive details with third-parties that can cause severe data breach in some cases. Therefore, you need to select from the list of secure browsers in terms of privacy, customization, and speed.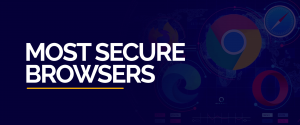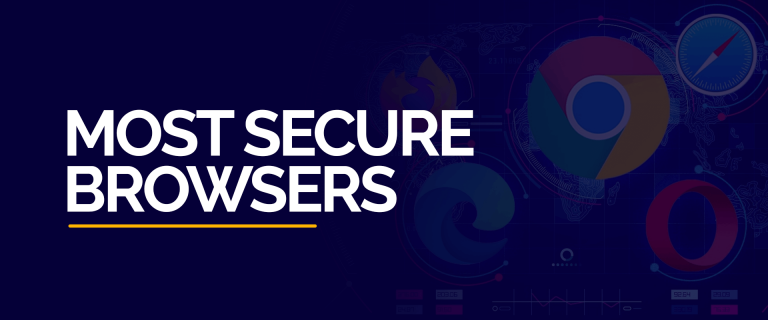 Most Secure Browsers for Privacy at a Glance (Index)
Types of Data that a Web Browser Stores
Unless you're using a secure web browser, your private information will be tracked and stored continuously by your web browser. Most of the information a web browser stores is personal and private. Here's what you can expect with an unsafe web browser:
Collects your browsing history including all the websites that you visit
Gathers usernames and passwords
Your visited websites set cookies and trackers on your web browser
Saves personal information for autofill (Address, name, number, email).
The possible solution to the problem is using a web browser that is secure. Only a secure and private browser will take care of your data and will give you the freedom to enjoy digital life privately. 

FastestVPN Guide- Most Secure Browsers for maximum Online Security
Mozilla Firefox
Mozilla Firefox is the popular and most secure web browser for Windows. The browser's level of customization is quite intense. It offers a huge range of extensions and plugins that you can use however you want.
The thing that makes Mozilla Firefox the safest browser to use is its private browsing feature that automatically blocks online trackers without keeping a track of user's browsing activities.
Since Firefox is a non-profit company, therefore they never sell users' data for advertisement purposes and keeps your browsing safe and private to you only.
Top Protection Features
Private browsing mode
Malware and Phishing protection
Anti-fingerprinting protection
Faster browsing
Chromium
It's not amongst the new browsers, Chromium has been released in September 2009 and up till now, it's one of the best privacy browsers.
This web browser is one of the best desktop browsers and it is powered by Google Chrome. Unlike Google Chrome, Chromium is an open-source web browser, but it's much more secure than Google Chrome.
Chromium is more private and independent. It's a great choice for users who have major privacy concerns.
Chromium can be used as a standalone web browser, and it is one of the best browser choices because it never shares your browsing history to Google just like the Google Chrome browser.
Chromium is an open-source web browser therefore, experts can personally have a look at its privacy state and according to them, it's a secure browser.
Top Protection Features
Built-in ad blocker
Tracking protection
WebRTC leak protection
One-click anti-fingerprinting
Opera
Although Opera is not the leading web browser, it's definitely a high-quality and one of the safest browser to use. Opera is a very quick browser that opens web pages very fast, plus the interface is also very simple and straightforward.
The best thing about Opera is that it has a built-in Opera turbo function that boosts up connection speed while reducing traffic. Not only that, Opera also comprises of a built-in VPN that automatically protects your data from being tracked online.
Top Protection Features
Tracker blocking
Built-in VPN
Adblocker
Tor Browser
If you're looking for a safer and secure browser then Tor is definitely a win-win product.
Tor is undoubtedly one the best browser to use and a top choice to get your hands on if privacy is everything to you. What makes Tor one of the most secure browsers is its hidden built-in servers with pre-configured security features that can function with a USB flash drive.
Tor Browser offers added layers of protection by encrypting your traffic through its special nodes. The powerful encryption makes it impossible to leak your traffic. It is also slower compared to other browsers as it routes your traffic through multiple servers.
However, it may come off as a complicated browser but can be used with preconfigured settings. It also lacks an anti-malware feature and does not allow design plug-ins.
Top Protection Features
Enables you to visit locked websites
Three-layered encryption
Lightweight browser based on Mozilla Firefox
Safari
Safari browser is Apple's own browser for its iOS and MacOS devices. It's another great good choice and easily one of the most secure browser for iPhone and Mac users. Safari browser scans and identifies suspicious websites and blacklists them.
Safari is a secure browser since it often sends alerts regarding internet vulnerabilities. It is designed with a password manager that informs users about weak passwords which are prone to hacking.
There's much more you can expect with Safari, it runs web pages in a separate Sandbox to prevent malicious code from affecting browser and data.
Safari supports macOS and iOS with specific customization options to even protect your device's battery life.
Top Security Features
Intelligent tracking prevention
Fingerprinting defense
Protection against fraudulent sites
Conclusion
Every browser has its respective strengths and weaknesses, but you can make your browsing experience even secure by adding FastestVPN in your arsenal. It adds another layer of protection that encrypts internet traffic and anonymizes browsing activities with a virtual IP address.

Take Control of Your Privacy Today!
Unblock websites, access streaming platforms, and bypass ISP monitoring.
Get FastestVPN