List of Most Secure Messaging Apps to Chat Privately
List of Most Secure Messaging Apps to Chat Privately
By Christine Margret No Comments 7 minutes
Choosing a secure messaging app is crucial to keep your chats over text private. A secure messaging app is end-to-end encrypted and protects your chat contents from being spied on by third parties. Meaning only you and the intended receiver can read the private messages.  
In this blog, I will show you a curated list of the most secure messaging apps in 2023. The listed best-encrypted messaging apps will keep your conversations safe and private. However, before exploring secure messaging apps, watch out for some significant features to understand how to choose secure messaging apps.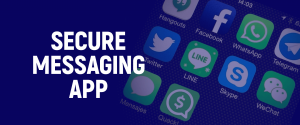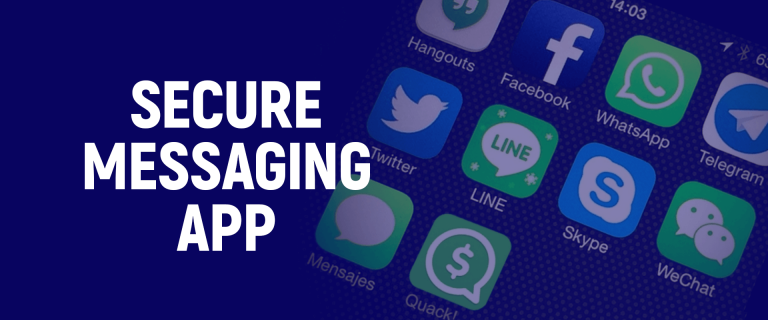 How to Choose Secure Messaging Apps
Well! Certainly, a set of specific features contribute to the making of secure messaging apps. 
Before choosing the right apps for your privacy, make sure that your chosen messaging app must have these privacy-focused features: 
End-to-End Encryption 
End-to-end encryption is the most significant feature of a secure messaging app. If your messages don't have encryption to hide their content, they can be read by the company behind the messaging app. 
     2. Multi-mode Communications
A secure messaging app with multi-mode communication support lets you send, receive and delete messages via various modes, including texts, videos, and audio. 

      3. Disappearing Messages 
A secure messaging app should support self-destruction or disappearing messages that automatically disappear after a specific time period, depending on the settings you choose. 
      4. Multi-Platform Support
With multi-platform support, users can easily sync messages across platforms, including mobile, desktop, and web platforms. 
      5. Open Source Code 
Lastly, consider choosing a secure messaging app that uses open-source code. It means that the app you're using is open for expert auditing from outsider security specialists. It can be helpful to draw attention to code vulnerabilities and weaknesses.
Note: Most of my listed best secure messaging apps tick all these boxes. 
Here is a complete list of the 8 most secure messaging apps in 2023:
Signal 
The signal is the most encrypted messaging app of 2023, and it's totally free. It uses advanced encryption methods to ensure that messages are kept private. Moreover, the end-to-end encryption is on the default settings, so you don't have to figure out how to enable it. 
Also, Signal is open source; the public can find and report bugs. Plus, the way it operates is upfront and transparent. There are no reported hacks or breaches. 
The company behind Signal, also called Signal, is an independent,  non-profit organization. The app works on all major platforms, including Windows, Apple, Android, MacOS, and Linux. 
You can send Text messages, share photos, videos, and files, do video and voice calls, and join chat groups. 
You can also set messages to disappear after a certain length of time. The only downside to using this app is that the sign-up isn't totally anonymous. So, you have to provide your phone number. 

    2. Wickr 
The next we have is the Wickr Me messaging app. This messaging app is also one of the most secure messaging apps of 2023. It has popular free versions and a couple of paid plans too. There is complex end-to-end encryption, and it is switched on by default. 
Wickr's apps are open source, and you can set a timer for deleting conversations. Other active features include Screenshot detection and Keyboard blocking. 
The company behind this app is Wickr Foundation, a US-based non-profit organization. It is regularly audited for security. 
Moreover, Wickr has never been hacked or breached. You can also use it on all the popular platforms, and you don't need private information to sign up. 
The free version allows file sharing, one-on-one voice and video calls, text messaging, and groups of up to 10 members.
The paid version has awesome, totally unique features that allow encrypted voice or video calling with up to 70 participants. 
There are a couple of drawbacks to using Wickr; one is that the messages don't sync across devices. It also has fewer users than other popular messaging apps. 
   3. Viber 
Viber is a solid service, but it has a few drawbacks. It's free, and the end-to-end encryption is default. There is a handy feature that uses color codes to show how secure your conversation is. 
It also has a popular self-destruct feature for destroying messages. Once again, you can use it on all major platforms, Android, iOS, Linux, MacOS, and Linux. 
With Viber, you can send text, photos, videos,  files, and voice messages. Also, start groups into video and voice chats. 
The best thing is that there have been no reported data breaches and hacks to date. Sadly, Viber is not open source, so it's more vulnerable to bugs, and it's less transparent. 
Viber is owned by Rakuten, a large Japan-based e-commerce company. Also, end-to-end encryption is only available for one-on-one messaging. Group chats don't have the same level of security. 
  4. Dust 
Dust is also one of the best-encrypted messaging apps of 2023. It's free, and the complex end-to-end encryption methods are the default settings. You can also erase messages in someone else's phone in real time. It's never been hacked or breached. 
Unfortunately, Dust is not open source, it only works on iOS and Android, and it doesn't support voice or video calls and messages. 
 5. WhatsApp 
WhatsApp is a highly popular free encrypted messaging app and has been using Signal's end-to-end encryption protocols since 2016. 
WhatsApp's encryption is by default; you can use it on four popular platforms (Android, iOS, Linux, and Windows) to join groups, share texts, files, photos, and videos, and do voice and video calls. 
Keep in mind that the encryption protocol WhatsApp uses is open source, but the app itself is not. Moreover, WhatsApp is owned by Facebook, a mega-giant in the online industry that stands to gain your data, and it is also famous for leaking huge amounts of private data from time to time. 
In fact, data about your online behavior on Whatsapp is shared with Facebook. However, your messages on WhatsApp are still private. 
Like many massive online platforms, WhatsApp has also been involved in some data breaches and hacking scandals; this includes the famous Jeff Bezos hack rumor in 2018. 
However, thanks to end-to-end encryption, cybercriminals are not able to read your messages.
 6. iMessage
iMessage is the default iOS messaging app, and it's a secure messaging option for iOS users. It's free, and end-to-end encryption is automatic. 
You can send text messages, photos, videos, and files and join chat groups. Any messages to a non-Apple device won't be encrypted. 
7. Threema 
Android users cant use iMessage but can use Threema. Also, you can choose to delete your messages from the Threema servers after the delivery. 
The apps are open-source and independently audited regularly. The company behind Threema is Threema GmbH, and it is independent of any major corporation. 
You can send texts, voice messages, videos, photos, and files, do voice and video calls, and join groups. You can even create polls Threema isn't free, though; its pricing starts at $10.99/ license/ year.
8. Telegram 
Telegram is also a popular app, and it's easy to see why. This free messaging app offers end-to-end encryption and some great features.
Unfortunately, Telegram is only available for Mobile.To use it, switch to secret chat mode. Also, the apps aren't entirely open source. 
It's not possible to see what happens on the servers.
These include several breaches which took place in separate locations in 2019. The most infamous of these was when activists in Hong Kong found law enforcement was using Telegram to track them. In response to the problem, the company up its privacy.
Conclusion 
This was the list of the most secure messaging apps in 2023. Signal and Wickr are the most secure messaging apps on this list. The disadvantages to using them won't affect your privacy. The other apps also have some pros and cons, but all of them will protect your messages from prying eyes. Remember, secure messaging apps are private tools, but you should know that they don't offer absolute security. If a person or group has enough time and resources, there's always a workaround. 
Take Control of Your Privacy Today!
Unblock websites, access streaming platforms, and bypass ISP monitoring.
Get FastestVPN