How to Remove Ads from Crunchyroll Easily
How to Remove Ads from Crunchyroll Easily
By Nancy William No Comments 6 minutes
It goes without saying that Crunchyroll is currently one of the best apps known for its huge collection of anime shows and movies. The only annoying part – the ads! This guide will show you how to block or remove ads from Crunchyroll!
Crunchyroll is also one of the best Firestick apps that allows you to stream unlimited content, specifically if you're an anime lover. It allows users to watch free content, as well as make a premium (paid) account. However, even though you can get in a few movies for free, there is always a cost. In this case, for free users, you will need to deal with a whole lot of ads. That's the only downside to this incredible service.
So, if you need to know how to remove ads from Crunchyroll, we'll help you out!
Also note, because Crunchyroll is partly free to watch movies and shows on, you should always consider using a VPN for added online security and privacy. FastestVPN is not just affordable, but is one of the best for online protection.
How to stream on Crunchyroll without ads via premium account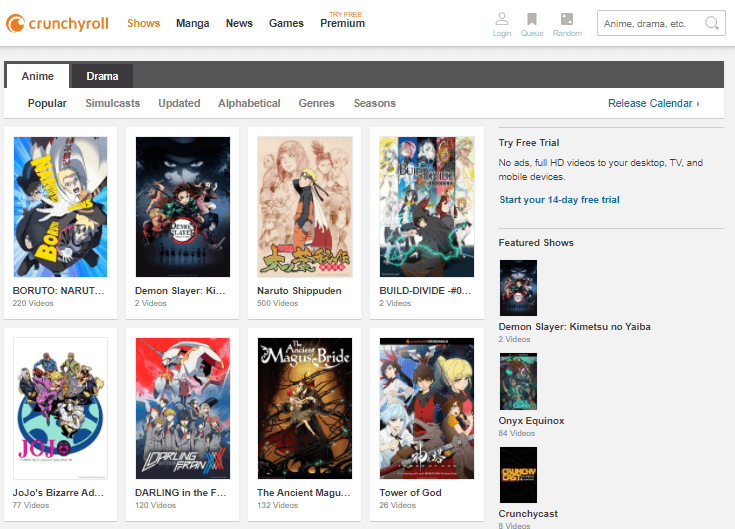 As mentioned above, the main issue on crunchyroll are the ads. Every free account comes with them, which means that in order to get rid of the ads on Crunchyroll, you will need to create a premium account.
If you head to the website, you will also see a small box, like in the image below that shows you an ad-free experience is only at hand, if you create your account.

To remove ads on Crunchy roll, you will need to create a premium account. There are 3 packages for you to choose from, with each plan coming with a 14-day free trial. This free trial should give you an idea of what the service feels like without those annoying ads.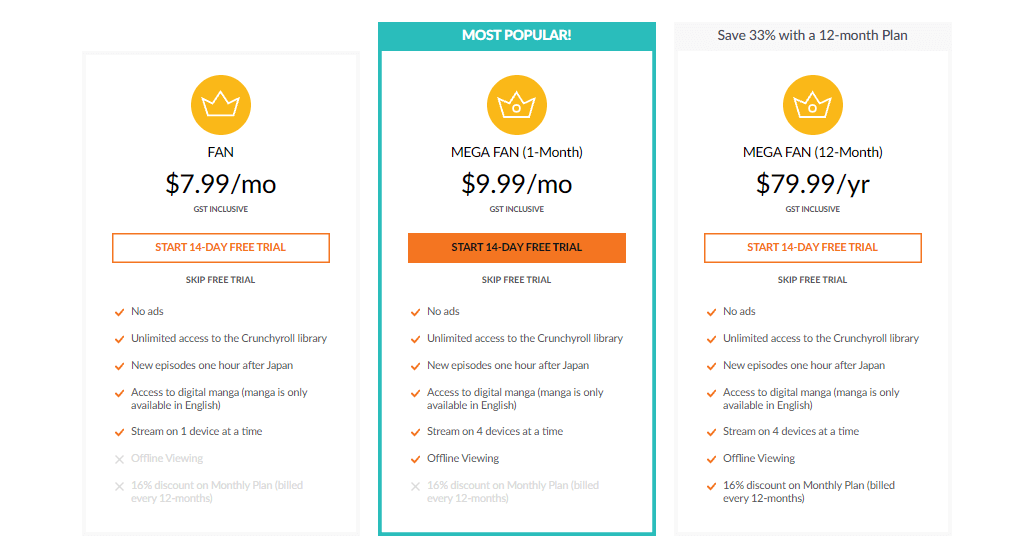 The most popular plan is the Mega Fan 1-month package that costs around $9.99/mo. However, there is something far more affordable than that, namely the Mega Fan 12-month plan, which costs around $7.77/mo. Either way, by signing up for either of the 3 plans, Crunchyroll offers you no ads!
Here's how you can get started with your premium account and watch Crunchyroll content without any ads:
Go to Crunchyroll
Create your account, by clicking on "Login" on the top-right side of the screen, or on the "Premium" tab on the top.
Select a package (Fan, Mega-Fan 1-month, or Mega-Fan 12-Months) and proceed to create your account.
Add in your card details when prompted, and click on the 14-day free trial. After the 14-day trial, you will automatically be charged for whichever package you applied for.
Other than this, there is another way for you to remove ads while watching Crunchyroll. It's through using a reliable and secure Ad-blocking tool.
How to remove Crunchyroll ads using AdBlock
In most cases, using an ad-blocking tool doesn't really work, but again, that is if the tool you use is not reliable enough. While we're talking about ad-blocking tools, one such extension is AdBlock.
With it, you will be able to use Crunchyroll for free and dodge all ads that come with it. However, the only reason a premium Crunchyroll account is recommended is because the free one offers limited content. Here's how you can remove it:
On your browser, go to the app store, and look for "AdBlock."
Click on "Get AdBlock Now" to get the extension.
The extension should take a few seconds to install.
Go to Crunchyroll, refresh the page, and the ads will automatically be gone. If you take a look at the image below, you will see the number of ads found on Crunchyroll, and how many were blocked.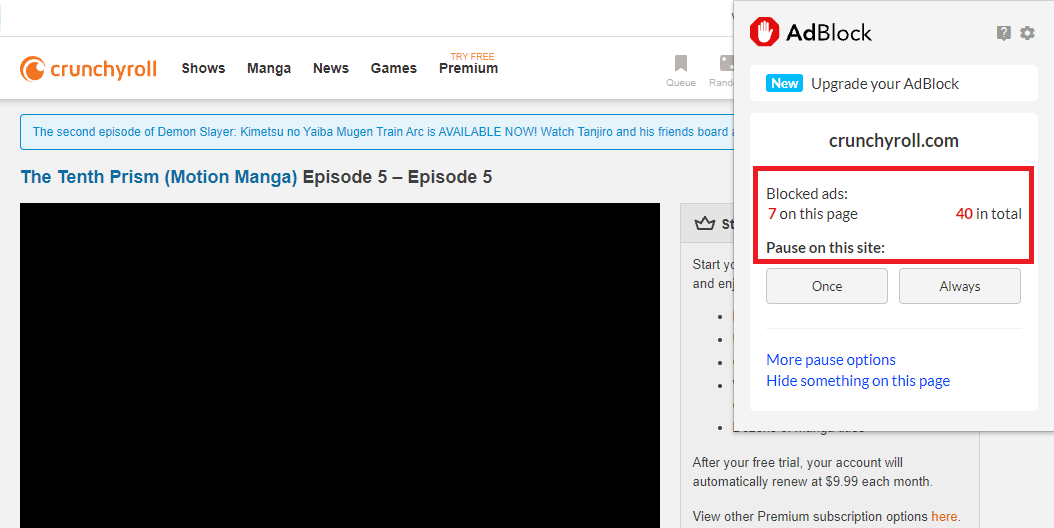 You can also download the extension from the AdBlock website too, here's how:
Go to the "AdBlock" website.
Now, click on "Add to Chrome."
Next, click on "Add Extension" and wait for the app to complete its installation process.
Open the Crunchyroll website, and click on any video to steam
You can then launch the AdBlock extension tool, and click on "Block ads on this site."
What's also great about AdBlock is that other than crunchyroll, you could also use it to block ads on other websites or apps like Facebook, YouTube and its alternatives, Twitch, and more.
AdBlock not working on Crunchyroll?
There were some complaints by users who mentioned that AdBlock doesn't work with Crunchyroll. If that is the case, you could always use another recommendation like AdLock, or, follow the simple fix below:
Open Chrome and click on the three dots next to your profile picture.
Click on "More tools" and then on "Extensions."
Next, enable "Developer mode" and click on "Update." This should update all extensions.

Go back to Chrome and launch the Crunchyroll website. Try to watch any content and check to see if all the pop-up ads have been removed. If some of the ads aren't blocked, you could always do it manually.
Remove ads on Crunchyroll with AdLock
Other than AdBlock, another great ad-blocking tool is AdLock. The tool is constantly being updated so as to detect the kind of ads that plague Crunchyroll.
Just to see a huge difference with and without the ad-blocker, first install AdLock, turn it off, and check how many ads come through while streaming some movies or shows. Then, turn the extension on, and take note of how many ads are blocked. What we also love about AdLock is the fact that it doesn't sell user-data to third parties.
What's more, there even is an Android version of the app. You can either use the free trial or the 1-year plan for multi-device users. All you need to do is download the app for Android, and update all filters if needed.
You can do this by clicking on the three dots, click on "Check updates" and then click on "update all."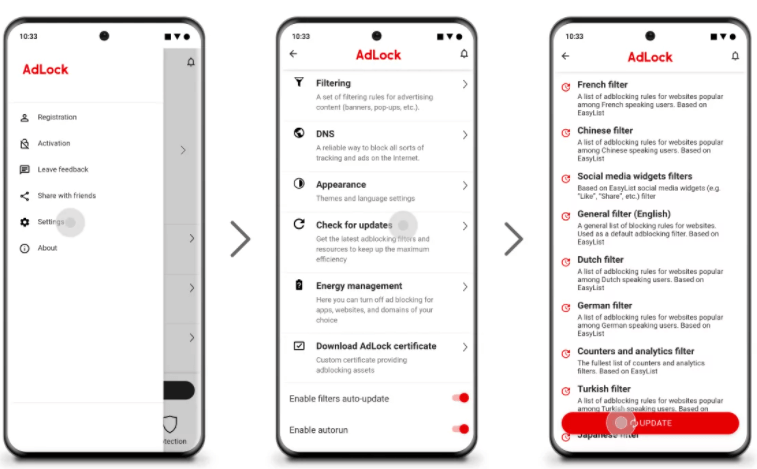 Next, you can also enable the HTTPS filtering, by going to the AdLocker tab, and click on "OK" when prompted, after enabling the feature.
That's about it! You can now enjoy Crunchyroll without worrying about ads!
How to remove ads on Crunchyroll via AdBlock Plus
You're probably assuming AdBlock Plus to be another extended package of AdBlock, but they're both completely separate products. AdBlock Plus is another great ad-blocking tool that works wonders! Here's how you can use it to remove ads from Crunchyroll:
Go to the "AdGuard" website from your Chrome browser.
Download and install it on your device.
Launch AdGuard and configure the settings.
Go to Crunchyroll, enable AdGuard, and check to see if all or most of your ads/pop-ups have been blocked.
To conclude
And that's about it! You now know how to remove ads from Crunchyroll! We've mentioned a few of the best methods and ad-blocking tools that are reliable! Plus, we also recommend using FastestVPN to bypass ISP throttling and other malicious vulnerabilities from reaching you while you stream on Crunchyroll.

Take Control of Your Privacy Today!
Unblock websites, access streaming platforms, and bypass ISP monitoring.
Get FastestVPN