How to Clear Facebook Search History?
How to Clear Facebook Search History?
By Christine Margret No Comments 4 minutes
Facebook saves your entire search history no matter whether you're using it via a browser or mobile. However, many people don't like the notion of leaving their search data behind. Hence, the best bet is to find possible solutions to clear Facebook search history.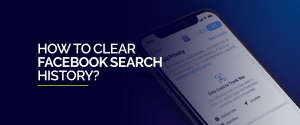 Clearing Facebook search history is a good option for privacy-concerned individuals. The easiest example is that you can easily hand over your phone to a friend without the fear of exposing your search history. It also ensures protection against any kind of unauthorized access to your Facebook account. 
Facebook keeps a record of your search history to suggest pages that might interest you. But Facebook allows you to clear your search history. 
You can clear your search history anytime, either search-by-search or all at once. We'll show you how to clear Facebook search history on Android devices, iPhone, PC and Mac. 
How to Clear Your Facebook Search History on different devices
Android
To keep your searches away from others, here's what to do: 
Open your

Facebook

App

Tap where you see the magnifying glass icon 

In the upper right corner, tap

Edit 

You should reach to the

Activity

log now 

Tap on Clear Searches, and that's it! 
iPhone
Using Facebook app on iPhone is pretty easy, and deleting search history on iPhone is no exception. Here's how to do it: 
Head to

Facebook

app on your iPhone 

Tap on the

magnifying glass icon

 

In the

Activity Log

, tap on

Edit

 

Now click on

Clear Searches

to delete the entire search history or select individually. 
PC/Mac Browser
If you like to use Facebook on your PC or Mac browser, then you can follow the steps below to clear your search history. 
Open your Facebook profile

At the top of the page you will see a Search bar

Click at the search bar 

Now, you will see the option for

Edit 

Click

Edit 

At the top right corner, click to select

Clear Searches 

Your search history will be deleted now, 
How to Clear a Single Item from Facebook Search History
If you don't like to delete your entire search record, then you can also clear single items from Facebook history. No matter which interface you're using, deleting single items from the history is easy. All you need to do is tap on the X icon next to the item you wish to remove. 
What Happens When You Clear Facebook Search History?
It should be noted that while deleting Facebook search history clears out records from the search box, it does not delete your history from the platform. Facebook uses your search history, likes and dislikes – and every other interaction – to serve you a tailored experience, which includes targeted advertisement. It also uses cross-site tracking through millions of websites on the internet. 
You can check what Facebook learns about you by requesting data from Facebook. Follow the tutorial here. It will take Facebook some time to prepare the data. Once it's ready, it will allow you to download the complete history of your profile. 
Why Should I Clear Facebook Search History?
There are a few practical reasons that might make up your mind for regularly cleaning up search history. First reason is to keep things a little private and not showing your search results to a friend or family member who might use your Facebook account. Secondly, if you have searched for a particular thing in the past, and now your interest has completely changed then you shouldn't be receiving similar pages or products. Lastly, frequently clearing search history will keep your interface clean and cluttered-free. 
To Conclude
As we explained, the instructions are only for clearing out your Facebook search history. It does not in any way influence what Facebook knows about you. If you want to receive less targeted advertisements, turn off personalized ads from partners in Ad Preferences in your account's setting. Using a web browser that disables cross-site trackers such as from Facebook also helps.

Take Control of Your Privacy Today!
Unblock websites, access streaming platforms, and bypass ISP monitoring.
Get FastestVPN