How to Clear Bluetooth Cache
How to Clear Bluetooth Cache
By Nick Anderson No Comments 4 minutes
Is your device failing to connect to Bluetooth devices? Clearing the Bluetooth cache might be able to help you. Bluetooth technology is mainstream today; it's used to connect earphones, portable speakers, remote controllers, vehicle navigation systems, and much more. Connecting to Bluetooth requires no prerequisite except a Bluetooth-compatible device.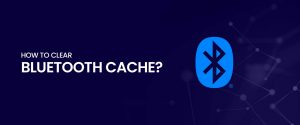 Follow through this guide to see how to clear Bluetooth cache on iOS, Android, or Windows.
Why Do You Need to Clear Bluetooth Cache?
A cache is temporary storage that allows for faster access to frequently-used data. In the context of Bluetooth, it can mean the devices that you have paired before. It will remember the devices until the next time you try to reconnect them. The process then will not involve scanning for available devices, then pair them with a passcode in some cases.
But at times, the pairing process might fail to reconnect devices or connect new ones. It may be an endless search loop with no result. Typically, clearing the Bluetooth cache may address that issue. 
How to Clear Bluetooth Cache 
Clear Bluetooth Cache on Android
Android has had several updates over the years. It means that the navigation process might be a little different, but Apps management is the destination at which you want to arrive. 
Launch the

Settings

app. 

Go to

Apps

management. 

Tap on the three-dot menu in the upper-right corner of the screen. 

Select an option to display system apps. 

Find

Bluetooth

in the list and tap on it. 

Tap on

Clear Cache

. 
For Samsung users, you need to go into Storage after tapping on Bluetooth to locate the cache option. 
Clear Bluetooth Cache on iOS
iOS does not give you as much freedom as certain operating systems out there. Because of this, there is no option to clear cache in iOS. However, unpairing a Bluetooth device might help you with pairing or connection issues.
Go to

Settings

, then tap on

Bluetooth

. 

Tap on the "

i

" icon next to the device and tap on

Forget This Device

.
This will force the phone to forget the device and pair afresh. 

Clear Bluetooth Cache on Windows 10
Click on the

Start

button and click on the

Settings

icon. 

Go to Devices. Click on the device you want to unpair, then click on Remove device. 
Once the device or peripheral has disconnected, click on the Add Bluetooth or other device, then add it back. If the device refuses to pair, here's another way to unpair it: 
Right-click on the

Start

button and select

Device Manager

. 

Under

Bluetooth

devices, right-click on your

Bluetooth

module and select

Uninstall

. 
It is possible that the Bluetooth drivers are somehow the cause. In that case, right-click on your Bluetooth radio in Device Manager under Bluetooth and uninstall it. The Bluetooth icon will disappear but don't worry, right-click on the computer name at the very top and click on Scan for hardware changes. The Bluetooth driver will reinstall. 
Clear Bluetooth Cache on macOS
Use

Finder

to locate the

Library

folder.

Go to

Preferences

and search for a file named

com.apple.Bluetooth.plist

. 

Delete the file and restart the system. 
It is better to make a backup of the file somewhere. Once your Mac restarts, you can begin scanning for devices again. You will need to pair the devices again. You can also try this method: 
Press and hold the Shift + Option keys and click on the Bluetooth icon on top. 

Scroll down to Debug, then select Reset the Bluetooth module. 
If the Bluetooth icon is not visible. Go to System Preference > Bluetooth, then check the box that says Show Bluetooth in menu bar. 
Conclusion
As technology improves, devices either transition to newer versions or shift to an entirely new standard. If you have a Bluetooth 5.0 compatible device and receiver to go along, you are unlikely to experience as many issues as in prior generations. Additionally, consider switching to wireless radio devices that have their own receiver. It will provide a much superior experience in comparison.

Take Control of Your Privacy Today!
Unblock websites, access streaming platforms, and bypass ISP monitoring.
Get FastestVPN