Best YouTube Alternatives
Best YouTube Alternatives
By Christine Margret No Comments 6 minutes
Every day, billions of users browse YouTube to watch their favorite videos hassle-free. In the online video domain, YouTube is definitely a top dog that any other service hasn't replaced as of now. However, it's time to explore some real facts and switch to the best YouTube alternatives for a secure and private browsing experience.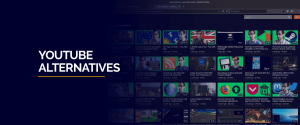 Why do you need a Youtube Alternative?
YouTube is a video-sharing platform powered by Google, and it's no surprise that Google snoops data to understand its users' interest to keep its services personalized as per users' preferences. So, just for the sake of viewing content, you can either use other YouTube alternatives that won't invade your data privacy the way YouTube does.
This blog post addresses the best alternatives to YouTube that you should try for once if you're a true privacy advocate. Compared to the YouTube privacy practices, the outlined options are way secure.
Note that although the following alternatives are safer than YouTube, no video hosting platform is completely secure. A VPN is highly recommended to keep your video streaming completely private from your ISP.
The Best YouTube Alternatives in 2021
So, here are the best YouTube alternatives that won't track your viewing activities and will let you win a safe, secure, and private viewing experience.
Dailymotion is one of the most popular YouTube alternatives, operating in France with a user base of more than 300 billion a month.
The video platform is on top of the best YouTube alternatives list because of its similar, well-maintained content quality.
You can almost find the same content categories that you can find on YouTube. Also, its interface is very much like YouTube with a search icon and other outlet functionalities.
Video quality is not an issue with the Dailymotion; however, Dailymotion videos have a restricted length of up to 20 min only.
Crackle is another good alternative to YouTube, where you can find different movies and TV shows from Hollywood.
You can easily find the most popular movies on the platform, and its collection also includes movies like Paranormal Activity, Rudy, Night of the Living Dead, and more.
Viewers may also enjoy Crackle original content since it's a streaming platform that also features original shows and movies.
Vimeo is a great substitute for YouTube that offers highly creative videos to watch. Content quality at Vimeo is excellent, ranging from 360p to 8K. It also has an auto mode that changes content as per a user's internet speed and player size.
The best thing about Vimeo is that it's ad-free and enables viewers to comment and share favorite videos on other social media platforms. You can also upload videos that you want to without any hassle.
And we consider it way more secure than Youtube. It has more privacy options than YouTube. For example, when you use Vimeo it gives you the power to control your privacy settings. It enables you to keep your shared videos public, private, or unlisted. Not only that, while using Vimeo you can also share your videos only with the users you follow.
Though this site is not so popular compared to its offerings, The Internet archives video section is a treat for those who are studying. It's a site where you can watch and find various documentaries, videos and movies as per topics, date, year, and language. It's a good YouTube alternative where you can also upload videos.
DTube is quite privacy-focused and a secure alternative to YouTube. What's so great about DTube is its decentralized servers that won't allow uploaded videos to be streamed from other centralized servers the way YouTube does.
The platform works with blockchain technology, where all the content is saved on blocks. Meaning, no hacker can temper videos, and your personal information is also secure and controlled by the platform community. Moreover, the interface is very much like YouTube, so the platform is quite easy to navigate.
Twitch is a video hosting platform, and the best choice for video game players to upload or record their gameplay. Moreover, Twitch also serves as the social platform for sharing games, tips, tricks, and interactions with other players.
Though, Twitch is a safe entertainment platform, as it never tracks users' activities. Yet, hackers might attack, and target your profiles to steal sensitive payment data. Therefore, it's highly recommended to connect a VPN before accessing any such platform. A VPN encrypts your online traffic and in this way, no hacker can ever snoop on your network traffic.
Metacafe is a region-restricted platform, available in the USA only. But you can access it anywhere with FastestVPN. It's a great video platform with a large variety of content. However, the content quality is not so impressive. You can find many TV shows, movies, funny clips, product reviews, and much more on the platform.
Ted (Technology, Entertainment, and Design) is a great platform to use instead of YouTube. On this platform, you can find many videos of the recorded lectures. The platform is full of speakers who are experts in their domains.
The content category is vast, covering everything from business to animation, from technology to entertainment, science, education, and much more. It's the best YouTube alternative for learners and creative minds.
For music lovers, Vevo is definitely the best go-to platform. The platform mainly deals with high-quality music videos from two music labels: Universal Music Group and Sony Music Entertainment. Artists are also encouraged to share their stuff on Vevo to get many views, and in this way, users can explore the latest music and a variety of music clips.
9GAG is a fun platform for social media users. It's a content-sharing platform where users can upload funny videos, GIFs, and images. The content is very well categorized, and you can easily find whatever you want. If you think that YouTube is no fun, then you can try 9GAG as its alternative.
Conclusion
There you have it! Hopefully, this list of the best YouTube alternatives will help you in boosting your entertainment experience when you have finally planned to bid a farewell to Youtube.

Take Control of Your Privacy Today!
Unblock websites, access streaming platforms, and bypass ISP monitoring.
Get FastestVPN