The Best Free Movie Sites for Streaming – Watch Free Movies Online
The Best Free Movie Sites for Streaming – Watch Free Movies Online
By Johan Curtis 3 Comments 8 minutes
The internet, as we know it, is an endless repository. A repository that contains links to websites fulfilling various purposes. And one of the leading space that enjoys heavy traffic are entertainment websites that deliver the latest in movies and TV shows.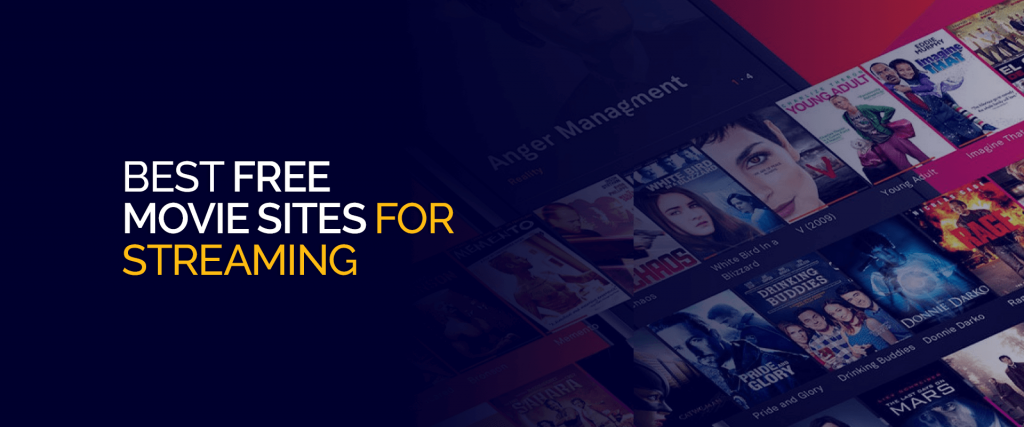 A lot of them are paid portals that require you to subscribe before you can access the breadth of its library, such as Netflix, Hulu, Amazon Prime. But many websites on the internet are free; they do not require any subscription. Just click on your favorite movie and begin watching. But here is the cusp of the problem which is identifying websites that actually do as they advertise.
Fortunately for you, we have compiled a list of the places to watch free movies online – as well as TV shows. Some of them do require a registered account as mandatory or an option but rest assured, they are free to stream.
Why Use a VPN to Watch Free Movies Online?
Many websites, not just the ones on this list, have either content curated on a region-by-region basis or are simply inaccessible outside of certain regions. As you'll explore our list here, it'll become apparent that some websites are geo-restricted, and can only be accessed in the United States in most cases.
VPN is necessary in this regard. It lets you spoof your virtual location with the one you want. FastestVPN has a global network of 550+ servers. These high-speed servers are scattered in major countries like the United States, United Kingdom, Canada, Germany, France, Portugal, Turkey, Malaysia, and more. Using FastestVPN, you get unrestricted access to the internet – not just these free movie websites.
Are Free Movie Websites Legal?
Some of them are and some of them are not. It depends entirely on if the content being hosted has been acquired legally. That is, the platform or service must have legal rights to deliver the content to you. With the exception of a few, a lot of the free movie streaming websites on the internet are under strict copyright infringement.
The way many of these websites avoid trouble from legal authorities like the DMCA is by not hosting the content, but provide links to content hosted on other websites. This way they can avoid trouble and continue operations. However, as a user, it's your responsibility to know which ones are what.
VPN protects your identity by making you anonymous on the internet. Your real identity remains hidden even to the Internet Service Provider (ISP). Not only that, the AES 256-bit encryption in FastestVPN puts a layer of security that's impossible to beat, thus making your internet traffic secure against hackers.
FastestVPN has dedicated apps for Windows, macOS, iOS, and Android. Furthermore, you can configure the VPN directly in your router, enabling you to bring VPN protection on any connected device.
How to Watch Movies Online Free
Popcorn Flix
Popcorn Flix is one of the popular websites on the list. Although it offers free movies and TV shows from a variety of genres, don't expect to get the latest ones. Popcorn Flix is very selective in what content they add to the platform.
But it has many movies and TV shows in its library for free that makes the case for giving this website a shot. There is even an app for iOS and Android devices which you can use to stream on the go.
Movies Found Online
This similar to Popcorn Flix in terms of the frequency of content update. The movies and TV shows hosted by Movies Found Online are not the latest. However, there are some notable additions which are completely free to stream.
You can view movies filtered by genres for easy access.
Crackle
Owned by Sony, Crackle is a video-streaming service that is also free to stream. Crackle features a wide variety of movies ranging from genres such as Action, Comedy, Horror, and more. Although not the most updated source, it has a sizable library that should serve you just fine, especially considering that it does not require any subscription or registration to proceed.
The only downside is geo-restriction; Crackle is limited to the United States region. But with FastestVPN, that will be no issue for you.
Pluto TV
Pluto TV is hugely popular thanks to its amazing library of content. In addition to On-Demand content that includes movies from multiple genres, you can use Pluto TV to stream live TV. And the best thing about it? It's neither geo-restricted or requires a registration to stream.
The UI is clean and uncluttered, thus giving you a pleasant trip down its library.
HDO
HDO is the very first on our list which actually updates its platform with new releases in movies and TV. At the time of writing, there are notable new releases like Avengers: Endgame, Aladdin, John Wick, and more.
The website does not require a registration for streaming. However, the streams are not certified legal. For that reason, you may end up in trouble with the DMCA if you're caught. Ensure that you're always anonymous before risking on watching a stream that is not legal. HDO to clearly outlines that it does not host the links on its servers.
123 Go Stream
Similar to HDO, this one is updated regularly with the latest release. 123 Go Stream also features a search bar at the home page for easier access to the content you want to watch.
You can also navigate through its menu to access content by freshness, release year, genre, or country. To prevent itself from DMCA's crackdown, the website does not store content on its server but embeds external links instead.
Snag Films
As Snag Films explains, the website features over "2,000 movies, TV show episodes, eye-opening documentaries, and exclusive original comedy shorts." The website also offers an app of the same name which you can use to stream on your iOS and Android device or Smart TV.
Tubi TV
TubiTV has an impressive UI that feels very polished compared to most online streaming websites. TubiTV app available for iOS and Android devices makes it easy to browse the platform's library.
Content is categorized by genres such as Comedy, Action, Family Movies, Horror, Thriller, and more. Tubi TV delivers those movies in HD, so expect to use your HDTV to its full potential. It does not require a subscription or registration to stream; simply pick a movie and click play.
Kanopy
Several reviews from reputable websites call Kanopy as one of the best – if not the best – places to stream free content. It's a platform that hosts an incredibly large collection of movies and documentaries. It even has other categories such as Global Studies & Languages, Health, The Arts, Business, and Media & Communications. So there's plenty for you to choose from.
You can either stream movies through the website or via a dedicated which is available for iOS, Android, Roku, and Fire TV. The platform features over 30,000 films that are completely free.
HotStar
Want to watch Bollywood movies? Hotstar has got you covered. This popular online streaming website allows you to stream movies. Moreover, the website hosts live streams of popular Indian channels like StarPlus on its platform.
Hotstar is popular among sports enthusiasts in the region. It delivers live stream of important events like the ongoing ICC Cricket World Cup completely free. That's not all, the list also includes Tennis, Football, Golf, Formula, and more. An app is also available for Android – iOS users are out of luck here.
Vudu
Although Vudu is an option that's known for delivering the latest releases in high-quality, it is not free. The service requires a premium subscription to access much of its library. However, there is a long list of movies available to stream for free.
There's a dedicated section that lists those movies, check it out. You could consider signing up as a paid customer if the service leaves you impressed.
WatchFree
As the name says, WatchFree allows you to stream movies and TV shows for free. The list is huge, and the library keeps on receiving regular updates. The front page of the website is populated with new releases and what's popular among visitors.
Content is free to stream but registration is required to stream in HD. It's a simple process which does not include a paid subscription, so consider signing up if you plan to stream in HD.
Conclusion – Watch Free Movies Online
That wraps up our list of the best sources to watch free movies online. The list represents some that don't require a registration. We highly recommend that you use a VPN to secure yourself before proceeding to stream through these free movie streaming websites – or any such website for that matter.
As we explained earlier, you can't always determine whether content on a particular website has been obtained legally. Keeping that in view, VPN ensures that you're protected against DMCA and ISP. Take advantage of FastestVPN's subscription that combines top-of-the-line features in affordable packages. Although, we would recommend going for paid streaming apps that offer the best and legal content. If you're not able to access it, you can connect with one of our servers according to the app you need access to. FastestVPN is the best Discovery Plus VPN, for Netflix, Disney+, and you can even use it for watching sports live events.
Take Control of Your Privacy Today!
Unblock websites, access streaming platforms, and bypass ISP monitoring.
Get FastestVPN