How to Watch SDCC 2020 Online
How to Watch SDCC 2020 Online
By Nick Anderson No Comments 4 minutes
Every year, the geeks of pop culture eagerly await for Summertime. The reason for this anticipation is the San Diego Comic-Con convention that is held like a ritual. The convention marks an exciting time for the entire entertainment industry and invites fans to participate on the show floor. But due to the ongoing COVID-19 pandemic that has disrupted the lives of many, the Comic-Con convention will join other events that have moved to web streaming.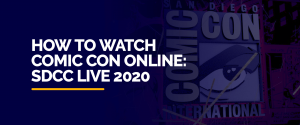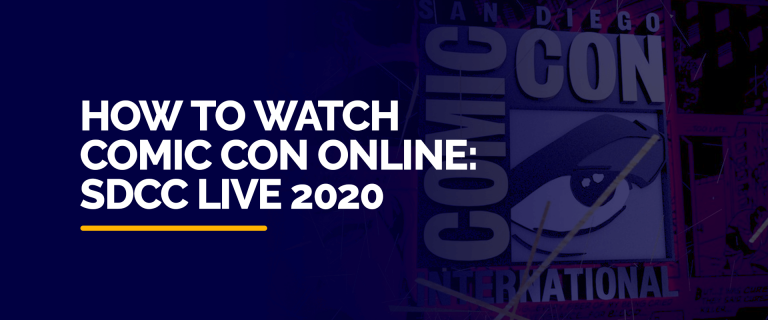 As much as fans would want to attend in person and feel the excitement as it throbs in live reaction, the safety of everyone is the first and foremost priority.
What is San Diego Comic-Con?
The San Diego Comic-Con is an annual event that initially began as a comic-book convention, but grew to attract other segments of entertainment – Hollywood and the video-games industry. Today, Comic-Con hosts thousands of attendees from around the world who prepare in advance to secure tickets online. Comic-Con is a four-day event, so many stick around for the entire experience and book hotels in the city. Cosplay is a special tradition of comic-book conventions that sees fans dress up as their favorite fictional character.
But this year is going to be different. The ongoing pandemic has pushed people indoors. Many events that used to be the highlight of the year have been cancelled, moved online or set as private events. Comic-Con will follow in the footsteps and deliver every announcement, every panel online. It's going to be a pre-recorded event, so the only reactions you will be able to see are YouTube reaction videos.
Comic-Con has always reserved something special for the attendees. Many trailers that follow announcements are kept strictly for the audiences in the hall and not released online – not immediately at least. Moving online benefits everyone, since all announcements will be public and for everyone to see.
When is SDCC 2020?
This year's Comic-Con is special because it marks the 50th anniversary of the convention. SDCC is trending under the new name of [email protected], signaling its move to the digital space.
Date: July 23 – July 26
Although, officially, Comic Con's schedule begins on July 22 (Wednesday) but the real action will take place starting July 23.
How to Watch SDCC 2020 Online?
The entire five-day series will be streamed online. As always, you will get to see the cast and directors of various movies and TV shows during their respective panels. The panels usually talk about what to expect from the upcoming movie or TV season, accompanied by trailers.
Since this is an online event, there is no pass or registration required to watch the streams. Some panels and announcement at SDCC – usually – don't get live-streamed and remain exclusive for people who paid to be there. But this year's different; every panel will be open to everyone at its appointed time. Comic Con's YouTube channel will stream the panels according to schedule.
Comic-Con explains that even though the majority of the panels will be accessible after July 26, some of them will be available for a limited time. So, take a pick of the panels that interest you and follow the stream link in the description. Currently, the YouTube links taking you to each panel are set to private.
Comic-Con is known for its panels and live reactions to the mega announcement that become the highlight of each year. The latter is now difficult due to the pre-recorded nature of the event, but nevertheless, there will be some exciting news.
Amazon Prime's original show The Boys received strong reception when it released in 2019. The TV show that centres around corrupt superheroes are set to release its second season on September 4, 2020. The cast will be present during the panel to discuss and share details about what fans can expect from the upcoming season.
Marvel Studios has always been one of the key exhibitors at Comic-Con. So it is unfortunate for fans to see them skip this year's event. On the other hand, Warner Bros. has also decided to skip SDCC in favour of its "DC FanDome" event in August.
Conclusion
The good news is that [email protected] will be not only free of charge but also free of any geo-restrictions. However, if for some unforeseen event, YouTube is unavailable at the time, you can try switching to FastestVPN's server and see if it solves the problem.
Take Control of Your Privacy Today!
Unblock websites, access streaming platforms, and bypass ISP monitoring.
Get FastestVPN