Is Dailymotion Safe?
By Johan Curtis No Comments 5 minutes
Over time we have seen many streaming platforms emerge, with more or less the same purpose where almost anyone can upload whatever content they like as long as it meets the site's terms and conditions.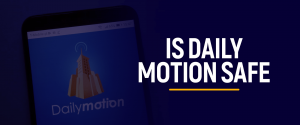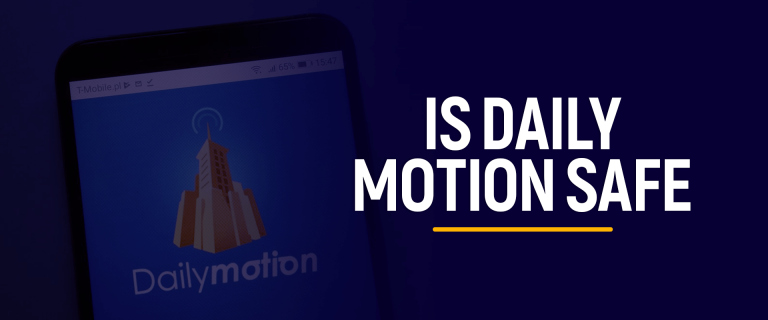 As social media progresses, the digital space expands, almost everything we want to see or learn is recorded and available on the internet. Moreover, videos have become one of the prominent ways of content delivery between influencers and their audience. This is where platforms such as Dailymotion and YouTube come in; they allow you to communicate with the rest of the world and put your stories out there.
However, with users rising daily, people often wonder: is Dailymotion safe? Keep reading to find out.
What is Dailymotion?
For people who do not know about Dailymotion, it is a French video-sharing platform owned by Vivendi. It is available worldwide in 25 different languages, with more than 300 million users. People often use Dailymotion in the same way as YouTube to stream content or upload their own videos in order to share it with the world.
It is seen as a great opportunity to either communicate with the rest of the world through your videos or to learn whatever you want to by watching the videos other users upload.
The Difference between Dailymotion and YouTube
You must be aware of YouTube and how to use it; it is one of the biggest streaming platforms on the internet. Dailymotion is right after YouTube, ranking as the world's second-largest video streaming platform. Both websites contain millions of hours of videos, across several categories.
Unlike YouTube, however, Dailymotion offers original content created in their very studio, Dailymotion Studios.
How to Upload Videos on Dailymotion?
If you ever need to upload content to Dailymotion, it is a very easy process. All you have to do is follow the instructions below:
Create an account on Dailymotion.
Go to Partner Space.
Open Media.
Select the Upload button on the top-left section.
Select a video file from the popup that shows up.
You can choose up to 10 files to upload together.
Your videos will begin uploading. You will need to fill out the required information.
Select the Publish/Save option.
Is Dailymotion Safe? The Threats and Issues of Dailymotion
With its booming popularity, most people wonder whether it is safe to use Dailymotion or not. We've made a list of all the potential issues that you may face.
The first and foremost problem that one faces with Dailymotion is their little to no censorship policy. Dailymotion is a platform where almost anything can be uploaded and viewed, including explicit content, or even triggering/sensitive videos. It makes the site extremely unsuitable for children.
Third-Party Advertisements
Similarly, to make money, Dailymotion hosts many third-party advertisements. These third-party advertisements contain external links or which may be intrusive to your experience, if not malicious.
Your Information May Be at Risk
When you decide to create an account and register yourself on Dailymotion, you are asked to fill in some of your private information, which is available to the website. The information can be exposed if the website experiences a breach.
It is an existing issue for many users as Dailymotion is currently available in almost 35 countries but is mainly blocked everywhere else due to copyright infringement cases and censorship. It means that not everyone in the world can access Dailymotion. However, FastestVPN lets you unblock DailyMotion or any other geo-restricted website effortlessly.
How to Tackle Security Risks on Dailymotion
We understand that Dailymotion comes with certain risks. We've compiled a list of solutions thatwill make your experience safe, especially for children.
Turn on Age Gate: Dailymotion offers an Age Gate feature that allows users to restrict adult content. You can turn this on by going to the Help section and selecting Age Gate. It will restrict you from viewing any mature content and will require you to confirm whether you are over 18 before viewing anything of that sort.
Download an Anti-virus Program: Websites can be susceptible to malware due to their use of third-party applications or cookies, which means that you could be at risk. To protect yourself against malware, it is always recommended to use an anti-virus beforehand, so it alerts you if something is suspicious.
Download a VPN: Similarly, one of the biggest issues that users may face is that their activity can easily be monitored on such websites through a hacker on an unsecure network or through the ISP. The most efficient way to hide your internet activity is by using a VPN. FastestVPN will mask your identity on the web by changing your IP address into one that does not let you be detected. Moreover, FastestVPN will also allow you to access geo-restricted content.
Conclusion
We hope that you take the preventive measure we have provided to stay safe and use this great content platform in a way that is also safe for children. Moreover, it's recommended to use a VPN to encrypt network traffic on public Wi-Fi networks, regardless of what website you visit – browse securely and privately with FastestVPN.
Take Control of Your Privacy Today!
Unblock websites, access streaming platforms, and bypass ISP monitoring.
Get FastestVPN