Why use VPN for Plex?
By Christine Margret No Comments 5 minutes
Many streamers haven't heard about Plex. It's a great source for anyone looking for movies and TV shows. The blog uncovers how Plex provides you with a variety of entertainment and why you need a VPN for Plex.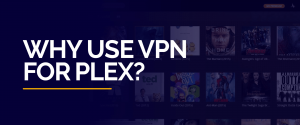 What Plex is Used For?
Plex is software for users with large media repositories. If you think you have lots of media files and your device space is no longer supporting you, then Plex is the way to go.
Plex is quite similar to Kodi media player. However, it has two main features that made it slightly different from what Kodi does.
Plex has a media server that enables users to categorize all media files to make them available on multiple players for streaming.
Besides that, Plex also comprises a media player client that allows you to stream content on whichever device.
Plex server supports desktop, whereas Plex media player lets you stream content across devices like set-top boxes, mobiles, smart TV, and many more. It is the best thing to try if you love to access unlimited media content on as many devices as possible.

VPN for Plex
Using a VPN with Plex will get you as many benefits as you want, and sometimes you can get even more. Virtual private networks are great for online security and privacy, but you can also enjoy other perks when connecting a VPN with Plex. Below, you can see how much you can have with a Plex VPN.
When talking about VPNs, then privacy protection comes first in mind. Using a VPN with Plex gets you the maximum online protection from ISP intervention. Whatever you watch or access through the internet, your ISP monitors it.
When you connect a VPN, it encrypts your traffic and transmits it through a secure tunnel. In this way, no one, including your ISP or Government, can monitor your browsing habits or content that you stream.
Access Geo-restricted Services
We all hate content censorship, but that's how it runs across the globe. Due to a country's policies and nature of the content, many broadcasters restrict content to specific regions only.
Many users fail to access their favorite international streaming sites like BBC iPlayer, Netflix, and others because of content censorships. But, you can easily combat geo-restriction restrictions with a Plex VPN.
A VPN changes your virtual location into your selected region and replaces your IP with its provided IP address. That's how you can access content from any region by selecting your preferred VPN server location.
Prevent Bandwidth Throttling
If your ISP finds that you're consuming too much bandwidth on specific activities like streaming, it will limit your browsing through a bandwidth cap. In this way, ISPs better maintain their systems by reducing system load, but you have to face slower speeds and even buffering while streaming
Using a Plex VPN, you can decrease your ISP's chancesof throttling your internet speed by hiding the activity.
What is Plex Pass?
Plex Pass is a paid subscription that lets you use the service to its potential. Plex is free to download, and you can even stream some channels without an account or subscription. But setting up a Plex server to be used from anywhere in the world will require a Plex Pass.
You can with the monthly plan for $4.99 or get the annual plan for $39.99. Plex Pass also offers the Lifetime plan for $119.99 – it's a one-time payment for a lifetime access.
How to Use a VPN with Plex?
Plex Server
If you're streaming through Plex server, then follow these quick steps to connect Plex VPN:
Set a static IP address for your Plex server.
Change Plex settings.
Setup router Port forwarding.
Setup VPN on router to access Plex.tv safely.
Plex Player
Using a VPN with Plex player is not complicated. Here's how to do it:
Plex and FastestVPN
With FastestVPN, you can stream as much as you want. Instantly connect to our UK servers and enjoy BBC iPlayer smoothly on Plex or connect to the USA server and use the Plex Netflix plugin to stream the complete library of Netflix. Besides that, stream away with unlimited bandwidth and online security with a robust 256-AES encryption protocol.
FastestVPN runs across devices, so you can use Plex on any device that you want. Moreover, you can also configure FastestVPN on the router to extend VPN on any device without an app.
Conclusion
Connecting a VPN with Plex will get you a seamless streaming experience. You can organize all of your media files in one place. Moreover, it's easy to securely stream geo-blocked content from anywhere using a VPN with Plex. Try FastestVPN, and elevate your Plex streaming experience.

Take Control of Your Privacy Today!
Unblock websites, access streaming platforms, and bypass ISP monitoring.
Get FastestVPN