How to Use VPN on PS5 and PS4
How to Use VPN on PS5 and PS4
By Nick Anderson No Comments 5 minutes
As video games continue to be one of the biggest entertainment sources, more and more people are joining millions of gamers around the world every year. PlayStation is one of the leading names in the video-games industry, owning to its massive popularity that dates back to the 90s. The latest console in the PlayStation family – the PlayStation 5 – has over 10 million customers worldwide. That means there are a lot of people searching online on how they can improve their experience on the consoles.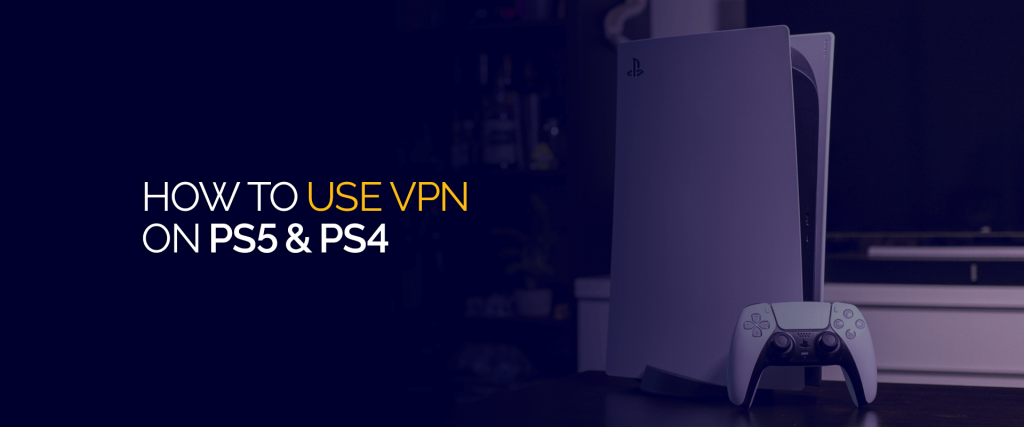 PlayStation 4 is more than just a video-games console; it's an entertainment system designed to give users access to various types of digital content, including streaming services such as Netflix, Hulu, Amazon Prime, and more. In fact, PlayStation 4 is one of the leading platforms for Netflix when it comes to the number of active users, according to Netflix.
If you are looking to watch Netflix on PS4 or any other service without running into geo-restrictions, then there's an easy workaround for that.
Why Do You Need a VPN for PS5 and PS4
As we've discussed, the PS5 – as well as the PS4 – are more than just devices to play games. They feature the ability to run popular entertainment apps. Whether we're talking about Netflix, Hulu, Amazon Prime, BBC, Disney+, HBO Max, the PS4 allows you to stream your favorite content on the big screen from the comfort of your couch. There's no other box required; download the app on your console and start streaming.
Although streaming is effortless, geo-restriction will hinder you from having a complete experience. A lot of content on streaming services such as Netflix is locked behind a geo-wall. It means that if you are outside of the United States, Netflix will offer you a curated library of shows. Many of the popular shows may not be available in your region, leaving you at a disadvantage of not being able to utilize the Netflix subscription to the fullest. However, Netflix works with a VPN. Although the streaming service began cracking down on VPN services to discourage users from accessing content that's not available for their consumption, FastestVPN gets around the problem with a dedicated Netflix server, plus, it's also currently one of the best gaming VPN services around.
Furthermore, your ISP may throttle your bandwidth if it detects high data consumption. All the Netflix shows in 4K and online gaming consume much bandwidth. So if a flawless, unrestricted experience is your goal, a VPN will help you prevent bandwidth throttling by hiding the activity.
Continue reading to learn how to set up a VPN for PS5 and PS4.
How to Setup VPN on PS4
FastestVPN works on all video-game consoles with router configuration;all you need is a router capable of running a VPN. The approach will allow you to connect any video-game console without requiring an app for each device. All connected devices will automatically use FastestVPN's privacy and security for accessing the internet.
To ensure that VPN is working, use the PS4's web browser and navigate to whatismyip.com to see results.
How to Setup VPN on PS5
PS5 is the latest PlayStation console to hit the market. With over 10 million users worldwide as of today, there are a lot of gamers who are using their PS5 console for more than just gaming. Getting a VPN on PS5 allows you to watch many digital streaming services that may not be available in your region. Here's how to setup VPN on PS5:
Get FastestVPN.
Setup VPN on router. You can find tutorials on how to set up a VPN on the router on our support page.
Connect your PS5 to the router.
Enjoy unrestricted streaming with VPN on PS5.
What a VPN Does Not Do
There are some unrealistic expectations gamers may have from a VPN, thanks to the flashy marketing techniques that try to upsell. A VPN lets you mask your geo-location, but it does not grant access to the PlayStation Store differently. The region of the PlayStation Store depends entirely on the address information you use during signing up for the PlayStation Network. Having a VPN running with a different region does not allow you to access the PlayStation Store of that region.
Online multiplayer is a fast-paced environment where precision, as well as timing, is key to victory. Online performance depends entirely on latency, which is the distance to the server. A VPN adds another hop in the routing because it has to travel to the ISP's server, then to the VPN server, then to the game's server, and back – in that order. It introduces latency and will more often than not degrade performance.
However, if routing to the game server is not optimal, then a VPN may help in such a case. You may be able to experience reduced latencies in some games. Though, such situations are rare. Using a VPN on PS4 outside of streaming video content will not yield favorable results. But if the ISP throttles your bandwidth at any point, then a VPN will help you mask the activity.
Conclusion
A VPN establishes a private tunnel between you and the VPN, preventing the ISP from observing what you do online. With Net Neutrality laws repealed, there's no guarantee of a consistent streaming experience. FastestVPN bypasses such concerns by making your activities private.
Take Control of Your Privacy Today!
Unblock websites, access streaming platforms, and bypass ISP monitoring.
Get FastestVPN