How to Setup a VPN for Home Network
How to Setup a VPN for Home Network
By Nick Anderson No Comments 6 minutes
VPN is the best way to protect your privacy on the internet. It makes you anonymous by spoofing your geographic location and lets you surf the web without restrictions. But did you know that it's possible to create a VPN on your home computer? The process may not be so complicated as you think.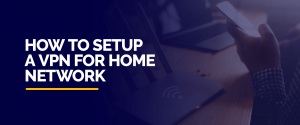 Whether you're running a Windows or Mac, it's possible to setup a VPN on your computer that you can even access remotely.
Why Setup a VPN for Home Network
Let's quickly go over what a VPN does to explain why establishing one at home could be helpful to you in certain situations.
Virtual Private Network creates a tunnel between you and a VPN server. The benefit of VPN is privacy. It encapsulates data passing through so that even your Internet Service Provider (ISP) cannot see what websites you are visiting. VPN utilizes encryption to further secure the data by making it usable for only the recipient; anyone else intercepting the data will see complete gibberish. The IP address of the VPN server allows you to browse that region's local content.
If you are on the move and away from your home computer, you can access local content and personal files by setting up a VPN server on your computer. It will let you securely access the computer at home through the power of the internet. You can also allow other people to access your VPN server for file sharing.
Furthermore, setting up a VPN for a router allows all connected devices to benefit from VPN protection instantly. FastestVPN lets you to connect and use up to 10 devices simultaneously.
Work From Home During COVID-19
VPN is especially helpful during the current times when nearly every business is working from home in the wake of the COVID-19 pandemic. The key to an efficient operation during this unprecedented time is constant communication between team members. It's why video-conferencing services have seen a significant jump in new users.
In the professional space, a company has a local network that includes computers and other devices such as printers. Usually, a filesharing folder is also present to allow different teams to share files swiftly. VPN allows the employees to continue to access such resources when they are working from home by connecting to the company's VPN. This VPN is very private, and grants access through credentials provided by the company.
Setting up the VPN
Before diving in, you should note that setting up a VPN at home is not recommended for inexperienced people. It will also require some level of moderation to keep it functional without interruption.
There are a couple of downsides to using a VPN at home, one of them being limited geographic selection. The VPN at home only gives you access to only one region versus 30+ countries that you can choose by using FastestVPN. Additionally, if you're running a VPN on a computer, then it will need to be active 24/7. There's a cost factor attached to running a VPN yourself. So bear that in mind.
Then, you need to have an internet connection with good upload speed for the computer running the VPN.
However, if you have decided that you need a VPN for work, then we'll show you how to set it up.
How to Setup a VPN at Home on Windows 10/Windows 7
Click on the Start menu, go to Settings > Network & Internet > Change Adapter Settings.
Click on File in the Menu bar and select New Incoming Connections. If you cannot see this option, then click on Organize > Layout > select Menu bar.
Now, select the user you want to allow access to the VPN. Check the box next to your local account's name.
Ensure that the "Through the Internet" is checked on the next page.
Ensure that Internet Protocol Version 4, File and Printer Sharing, and QoS Packet Scheduler are checked. Then, click on Allow Access.
Go to Change Adapter Settings again. Right-click on Incoming Connections and select Properties.
Double-click on Internet Protocol Version 4
Switch to Specify IP addresses. Enter an IP range to accommodate multiple devices. Be sure to make this range unique by ensuring it does not clash with your router's DHCP IP range. Click Ok.
Now it's time to forward a port in your router. If you don't know the default gateway of your router (the address you use to access its control panel), then type ipconfig in CMD and note the default gateway and the IP address of your computer.
Type the address in a web browser and use your login credentials to access the router's settings.
Go to Port Forwarding. Add a new one; select PPTP, enter the IP address, set starting port, and ending port as 1723.
Go to Network & Internet > VPN > click on Add a VPN connection.
Enter the credentials of your user account.
You are now connected and ready to access this Windows computer from anywhere in the world. Just ensure it's always on.
Setup a VPN at Home on Mac
The method requires the macOS Server app, which is a paid app available for $20.
Go to Applications > select the Server app.
Navigate to the VPN tab, but first, ensure it's turned off.
Enter the IP address of your computer in VPN Host Name. This IP address must be static and not dynamically allotted by your router.
Click on Edit Permissions. Now allow the users you want to give access to the VPN server.
Set a Shared Secret to allow your device and the VPN computer to authenticate each other.
Open your router's settings (see Step 9 in Windows setup).
Forward ports 1701 (UDP), 1723 (TCP), 4500 (UDP), and 500 (UDP) in the router against the IP of your computer.
Go back to the Server app and turn on the VPN. Save the Configuration Profile; you can send it to other devices for automatic configuration to allow connection to your VPN server.
Your VPN server is now ready to be connected remotely.
Conclusion – How to Create a VPN for Home Network
There's a takeaway at this conclusion; setting up a VPN server is not for everyone. Moreover, it limits you to the geographic location of the VPN server. If access to your personal files while you're on the move is not your goal, then it's much easier to rely on FastestVPN as an alternative for private internet surfing.
Setting up FastestVPN app only takes about two minutes – and it comes preconfigured out of the box. Simply connect to any VPN server and start browsing.
Take Control of Your Privacy Today!
Unblock websites, access streaming platforms, and bypass ISP monitoring.
Get FastestVPN