Effective Methods to Get Instagram Unblocked
Effective Methods to Get Instagram Unblocked
By Christine Margret No Comments 7 minutes
Social media has been on the rise for as long as we can remember, can you imagine living you life without social media apps? We can't. Okay maybe some apps, but can you imagine having to give up Instagram?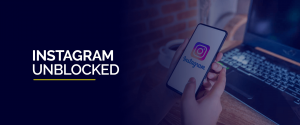 What is Instagram?
Until and unless you're incredibly behind, you're bound to know what Instagram is. Here's a quick description to refresh your memory; Instagram is a social media platform where one can share their photos and videos with the world.
Moreover, Instagram has become such an important part of our social media routines; it is hands down the best place to go to for inspiration, orto share whatever you want and keep up with your friends. It has become such a priority in our lives to check Instagram daily that we couldn't imagine not doing so!
Can Instagram be Restricted?
However, it is quite possible to block these applications and prevent the public from using them. Many times the governments of certain regions block the usage of such apps. A much known example would be Saudi Arabia and their ban on pretty much all social media applications; the users there have access to a very limited number of apps. The same is the case for residents in Dubai, China etc.
Similarly, this practice is quite commonly done in educational software systems (whether or not this should be done is an entirely different debate); students are provided with gadgets and internet access in a school although, they are given limited access. This means that they cannot browse the internet fully; they are only allowed to visit websites or applications that have been granted permission by the educational system.
Isn't this your worst nightmare? Having a smart device but not being able to access your favorite social media application!
Instagram Music and its Availability
Aren't you tired of watching stories with the notification that Instagram Music isn't available in your region? It's quite frustrating, watching others use a feature which is not yet accessible to you.
Instagram recently came out with a feature called Instagram Music which lets you play music in the background of any photo or video you story. However, the problem is that it is not yet available to every region which is why some of you may not be able to use this particular feature or be able to hear the music in some of the stories.
These geo-restrictions can be such a buzz-kill, but don't worry we have just the solution for you!
How to Unblock Instagram Music from Anywhere?
Instagram Music is only available in a few countries due to the music licensing concerns. Right now, Instagram Music is accessible in the US, the UK, Australia, New Zealand, Sweden, France, and Germany. Here's how to unblock Instagram Music with FastestVPN:  
Uninstall Instagram first as it logs the location 

Login your VPN app 

Select any server location mentioned above 

Once connected, install Instagram and now you can have access to Instagram music. 
How can you Unblock Instagram?
Here's a quick Rundown of how to get Instagram Unblocked and Running: 
Use a VPN

Use Smart DNS Services 

Switching to your Mobile Data 

Using a Proxy server 

Use Anonymity Browser 
No need to panic, your school or government may be able to restrict your access, however, they can't restrict you from using the internet as a whole and the internet always has a solution for you!
There are several ways you can unblock Instagram, we've listed 5 of the best ways for you:
VPN
A VPN is the most reliable method for you. It is your safest option when it comes to unblocking Instagram. A VPN will typically encrypt your device's internet traffic and masks your IP address making it seem like you are browsing from elsewhere. In order to get access to Instagram, you must have access to an efficient VPN. Lucky for you, we know just the one! FastestVPN is the best choice when it comes to VPN, all you have to do is subscribe for a small fee and connect to any of its multiple international servers in order to gain security and begin your insta-browsing. Although, if the application is simply blocked on your Wi-Fi and not in your country, we'd suggest that you connect to a local server only, in order to guarantee the best of speed.
How to use a VPN to Unblock Instagram? 
Here's how you can use FastestVPN to get your Instagram unblocked: 
Smart DNS
An alternative to VPN is getting a hold of Smart DNS services. A Smart DNS lets you view geo-restricted content, when you connect to Smart DNS it will replace your originally assigned DNS with a new Smart DNS server so your traffic will be routed through it. It will also like a VPN mask your identity and make it seem like you're allowed access.
Mobile Data
A more mainstream method is that you switch from Wi-Fi to your mobile network. This may not work in all cases, but it is worth a try and the easiest of all solutions. Normally, when schools block certain applications they tend to block those applications on that specific Wi-Fi network. So if you were to disconnect from that Wi-Fi and connect to your own mobile data network, it would grant you access to everything online. However, the chances for it to work are comparatively less and it may cost you a lot of data.
Proxy Server
Purchasing or using a free proxy server may also be an effective way to gain immediate access to Instagram. A proxy will provide you with a specific IP address that you can use for Instagram, once you connect to it the app will register this particular IP address and grant you access. You can find many proxy servers online just by searching on the web.
Anonymity Browser
An anonymity browser is usually a free and open-sourced software network that is used for anonymous communication. In this case, you could use a browser much like TOR browser and it will connect you to Instagram by switching between many of its servers making it impossible for whoever is restricting you to find out anything. You can also run by storing it on a USB and connecting it to your desktop.
How to Unblock Instagram at School?
You can unblock Instagram at school by switching on your mobile data. You can also use URL shorteners or http protocol to unblock Instagram. 
How to Unblock Instagram with URL Shorteners?
Another method to get Instagram unblocked is URL shorteners. However, this method is not effective for every website blocker. All you need is to find a URL Shortening service and place the keyword into the search bar of your browser. The service name will be self-explanatory. Your selected service will get you a short URL of the website making it appear as a wholly different website, and it will trick your browser to unblock Instagram. 
How to Get Instagram Unblocked at Work?
To access Instagram at work, try deleting the s from https.  https is a secure version of http. However, be sure not to share any personal information while using this protocol since http is an unsecure protocol.
Conclusion
Instagram is a great app, and has a lot to offer. We believe that one should never be restricted from creatively exploring or sharing themselves, and what better platform than Instagram to showcase it?
In the off chance that Instagram is not available to you, we hope that this article was of use. If you want immediate access to Instagram with guaranteed reliability we'd suggest you connect to FastestVPN and begin exploring!
Take Control of Your Privacy Today!
Unblock websites, access streaming platforms, and bypass ISP monitoring.
Get FastestVPN