How to Delete Your Search History – The Guide You Need
How to Delete Your Search History – The Guide You Need
By Christine Margret No Comments 8 minutes
If you have been searching for the easiest ways to delete internet history, then this blog is all that you need.
FastestVPN presents you with a guide in which you can instantly follow a few steps to delete browsing history on all the major browsers including Chrome, Internet Explorer, Safari, Opera, and Netscape Navigator.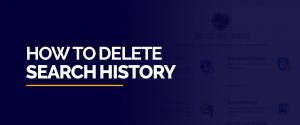 Before explaining to you the whole process of clearing browser history, keep in mind that your browser records everything you visit while exploring the internet.
Browser records search history to load your visited pages faster, but if you have some privacy concerns and don't want anyone to access your searches then here's how to clear search history Google Chrome and on other browsers.
Table of Content: How to Delete Search History on Various Browsers and Online Platforms:
How to Delete Search History in Chrome
If you're using Chrome browser and want to clear chrome history, then follow these simple and quicks steps mentioned below:
Click the three dots menu, appearing on the top right side of your browser window
Click History
Select History again
Click Clear Browsing Data
Select the time range of the data you want to remove
Click clear browsing data then click Clear Data
Done.
How to clear search history in Google Chrome (Android Mobile)
Open Chrome browser on Android mobile
Tap menu icon next to address bar
Tap History
Select Clear browsing data appearing on the center of the screen
Check on the boxes that you want to delete
Tap on the Clear button
Done.
How to remove search history in Chrome (iPhone)
Open Chrome browser on iPhone/iPad
Click on the three dots menu on the bottom-right corner of the screen
Tap on History
Tap on Clear Browsing Data
Select the items you want to delete
Done.
By following these instructions, you can easily clear the chrome search history. Now, let's find out how to clear all history in Internet Explorer.
How to Delete Website History in Internet Explorer
People are using both older and newer versions of Internet Explorer, therefore, you have to follow different approaches to delete browsing history.
For Internet Explorer versions below 10
Go to the top -right corner, click at star icon (Favorites button)
Select History along with the type you want to view it i.e. date or site
Select your option by clicking-right, then select Delete
Done. 
For Internet Explorer version 10 and higher
Click and open the Tools menu
Select Safety 
Click Delete Browsing History 
Mark the boxes you want to remove 
Click Delete 
Done. 
How to Delete Your Search History in Safari Browser
It's very simple to clear browser history in Internet Explorer. See below to find how to clear google history on the Safari browser.
Delete browsing history (Desktop)
Head to Safari Menu
Open the History tab
Click Clear History and Website Data 
Select the time range of the data you want to remove from the drop-down menu 
Click at Clear History 
Done
How to Delete Browsing History in Safari (Mobile)
Here's how to delete search history in Safari Mobile mode to make sure everything is removed follow the instructions below:
Head to Home Screen and click the Settings icon
Search Safari by scrolling down
Choose Clear History and Website Data
Done (All your data and browser cookies will be removed).
Now, we will explain how to remove browsing history in Opera browser.
How to Delete History in Opera Browser
First, you should know how you can view browsing history in Opera.
Go to the upper left corner of the browser window
Click the Opera menu button
Select History then Clear Browsing History
How to Delete Search History in Netscape Navigator
Open browser window
Go to toolbar then click on Edit > Preference > History
Tap Clear History Button 
Done
Read below to know how to delete search history in Firefox following quick steps.
How to Delete History in Firefox
Open Firefox browser window
Click at the three lines menu button
Click Library
Inside the library tab, click History icon
Tap on view history sidebar (select options from today to 6 months older)
Click right on the item you want to remove
Click clear now
Done.
Pro Tips
Browse the internet with an incognito mode, it makes it easier to delete search history discreetly by pressing Shift+Del keys. You can also press the Alt key to quickly find the view and edit menu in Firefox or Internet Explorer.
How to Delete Search History on Different Online Platforms
Besides browser history, you can also delete your search history on various online platforms. Read on to find how you can remove browsing history on YouTube, Netflix, Amazon, and Facebook.
How to Delete YouTube History
YouTube's watch history saves all the videos that you've viewed. It keeps recommending you stuff and makes it easier to search for all your favorites. However, if you're not liking the idea and worry about your history being seen by other people, then you can delete YouTube watch history.
If you're using a YouTube Android app then here's how you can delete YouTube history:
Open YouTube
Click at the Menu button, appearing on the top left corner
Click on History
Click on the "X" sign on the right side of a video to remove individually, or click on Clear All Watch History option that's more towards the right.
How to Delete Search History in the YouTube app
If you're using YouTube app on iPhone or iPad then you can easily delete YouTube search history on iPhone, read the instruction below:
Move to the toolbar appearing on the bottom of the app, tap the "Library" option then hit the "History" option
Go to History
You can either delete videos from history individually by clicking on the "X" sign next to a video or you can click on the three dots on the top-right corner to enter History Controls.
Once you are in History Controls, scroll down to find the Clear watch history Select that option then confirm your decision.
How to Delete Search History on Netflix
In case, you don't want Netflix to save your viewing history for recommendations then there's a way to erase Netflix's history with just a few clicks. Here's how to delete Netflix history:
Go to Netflix
Head over profile selection and click at "Account"
Under my profile, click at "Viewing Activity"
To delete items from watch history, click the "X" icon next to the items.
If you want to delete all the episodes of a show presenting in your watch history then click at "Remove series".
How to Delete Search History on Amazon
In case, if you don't like your Amazon account to save your product browsing history then you can delete it. Amazon recommends you with the latest products based on your search history, still you don't want to save what you've searched for on Amazon then here's how to delete Amazon search history:
Open and log in to your Amazon account
Move to the top left corner of your screen and click at "Browsing History"
To remove a particular product from the history, click "remove from view" under each product
To remove entire amazon history, select the "Manage History" drop-down menu and click on "Remove all items from view".
Note: You can disable history recording by choosing "turn off browsing history" from the menu.
How to Delete Search History on Facebook
Facebook saves your entire search history and if you're not very comfortable with it then it's easy to delete your entire or individual search history on Facebook.
How to delete search history on Facebook (Browser)
Head to your profile page
Click on " view activity" button appearing on the top-right corner
On the left corner, click at "More" under Filters
Click search history
Click "clear searches" to remove the entire search history on Facebook or select the edit button next to any particular search to remove it.
How to delete Facebook search history (Mobile)
Go to your Profile page, tap on the three dots below your profile picture
Tap "Activity log"
Filter the search by Search History in Category
Now tap on Clear Searches and you're all done.
In Conclusion
If you don't want your browser history to slip in the wrong hands then deleting it is the best way to ensure complete protection. People who usually don't like to clear browser history can consider incognito mode for safety.

Take Control of Your Privacy Today!
Unblock websites, access streaming platforms, and bypass ISP monitoring.
Get FastestVPN