Best Antivirus for Android
Best Antivirus for Android
By Christine Margret 1 Comment 6 minutes
Android has turned out to be the world's most popular operating system, and the amount of Android malware is also increasing at a rapid pace.
Android users definitely don't want to fall victim to the malicious scams and for that, strong virus protection for Android is needed.
Data leak is the constant threat to your device and alone a VPN for Android is not essential for maximum protection, you need to install one of the best Android antivirus apps to ensure protection.
Using Antivirus keeps your operating system safe from virus attacks, reduces system vulnerabilities and mitigate the risk of a data breach, therefore, installing a trusted android antivirus is compulsory.
In this blog, FastestVPN is highlighting the best antivirus for Android to try out in 2020. Here's a quick rundown of the best malware and antivirus for Android.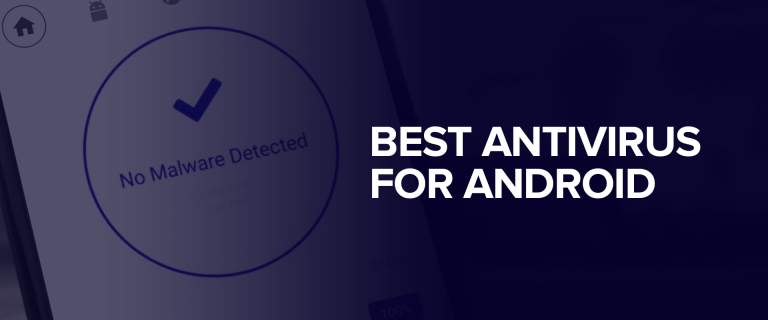 The Best Antivirus Software for Android Tablets and Smartphones
McAfee Security & Power Booster Free
Norton Security and Antivirus
Avira Antivirus Security
BitDefender Antivirus Free
360 Security
Lookout Security & Antivirus
Google Play Protect
Kaspersky Mobile Antivirus
1. McAfee Security & Power Booster Free
McAfee Security is one of the most dominant names in the Android security space. With its range of the most advanced features, you can expect to have top-class android protection through:
Anti-theft feature
Wi-Fi security
Security Lock
Memory cleaner
Battery optimizer
You can find easy tutorials to expertly use each feature of the service plus, its pro version lets you access some more advanced security features without ads.
The paid version of the Android antivirus app is quite expensive compared to its other counterparts.
However, you can enjoy the best security features with its free version that includes some ads but works well with Android devices.
It also offers an incredible feature called "Thief Cam" that captures the photographs of a thief or intruders.
| | |
| --- | --- |
| Premium Version | $30/year |
| Free Version | Available |
| Setup | Complicated |
2. Norton Security and Antivirus
Norton Security and Antivirus for Android devices is the one solution for antivirus and malware protection. The malware detection rate is 100% and all the offered features are good to go which include:
Remote phone lock
Malicious website blocking
Anti-theft
Call and SMS blocking
The free version of this antivirus for android works great and a paid feature called "Unique App Advisor" works impressively. This feature monitors the apps in the Google Play Store even before you install them.
The unique app advisor offers a good level of protection. All in all, Norton security and antivirus is amongst the best phone security apps. You can also try Norton security with secure VPN. 
| | |
| --- | --- |
| Premium Version | $30/year |
| Free Version | Available |
| Refundable | Yes |
3. Avira Antivirus Security
Avira Antivirus Security is a seamless Android malware scanner that provides unparalleled mobile protection. The top security features of the android security app are:
External storage scanning
Automatic blocking of malicious websites
Cell phone tracker
The premium version of the app offers more advanced features for the best mobile security. Some of its paid features include additional browser security and protection for the camera.
Its payment protection feature also protects you against Trojans. Moreover, the external storage scanner is a very unique feature that makes this app the best antivirus for android. 
With its external storage scanner, you can better analyze the security level of your SD card applications.
| | |
| --- | --- |
| Premium Version | $9.99/year |
| Free Version | Available |
| Protection rate | 90% |
4. BitDefender Antivirus Free
BitDefender Antivirus is a very smart and light virus protection app for android that never runs in the background and ultimately saves you space and battery life. However, it automatically scans your newly downloaded apps. It has more offerings like:
Privacy advisor tool
WearOn technology
Anti-theft features
App locker
Web Security
You can also try its paid version to get the more advanced level of android protection.
| | |
| --- | --- |
| Premium Version | $15/year |
| Free Version | Available |
| Free Trial | 14 Days Free Trial Available |
5. 360 Security
360 security is also a considerable player when it comes to android antivirus comparison. The catch is its real-time protection that contains a special multi-function lock screen that displays your phone status on your lock screen. Some of the other major security features are:
Lock screen
Antivirus protection
Junk cleaner
Speed booster
Anti-theft protection
CPU cooler
The only downside with this best free antivirus for android is that it's full of ads.
| | |
| --- | --- |
| Free Version | Available |
| In-App purchases | Yes |
| Installs | 100,000,00+ |
6. Lookout Security & Antivirus
Lookout Security & Antivirus gives you a quality virus scan for android. But, it's not that great because its paid version offers some of the basic features that you can avail for free in other virus protection for android apps. Here's a brief list of the core features:
Identity theft protection
Simple user interface
The active scans of this service work really slow.
| | |
| --- | --- |
| Premium Version | $30/year |
| Free Version | Available |
| Premium Plus Plan | $100/year |
7. Google Play Protect
It's a built-in Android protection software that requires a third-party protection app because of its weak malware detection ability. It contains no ads and is very light for your system.
| | |
| --- | --- |
| Free Version | Available |
| Anti-theft tools | Yes |
| Malware protection | Poor |
8. Kaspersky Mobile Antivirus
Unlike Google Play protection, Kaspersky mobile antivirus offers optimal level of malware protection. It offers a free version with in-app purchases and provides a paid version too for added protection.
The best thing is that there are no ads in the free version. It offers some of the vital security features which makes it one of the best free malware removal for Android. Here are its major features: 
Call blocker
Strong malware protection
App locker
Anti-theft
Phone tracker
Kaspersky mobile antivirus also offers a free trial for 30 days that enables you to access a few more premium features.
| | |
| --- | --- |
| Premium Version | $15/year |
| Free Version | Available |
| Wi-Fi Network Scanner | No |
Mobile Security is Important
As mentioned earlier, Android is one of the most commonly used operating systems and it's now more vulnerable to malware and threats. Although mobile devices are not as robust as PCs, it's still important to have some degree of protection. Therefore, we have compiled and presented you with the list of the best antivirus for Android smartphones and tablets. Hopefully, our readers will find this guide useful and make the most of it towards maximizing their mobile security.
Take Control of Your Privacy Today!
Unblock websites, access streaming platforms, and bypass ISP monitoring.
Get FastestVPN