FastestVPN Mac App New Version Release And Updates
FastestVPN Mac App New Version Release And Updates
By Johan Curtis No Comments 2 minutes
We are releasing a major update to the FastestVPN app for macOS. The updated version 1.0 will introduce an overhauled user-interface that is more polished and intuitive. The update also addresses several issues, some of which have been addressed by the new UI.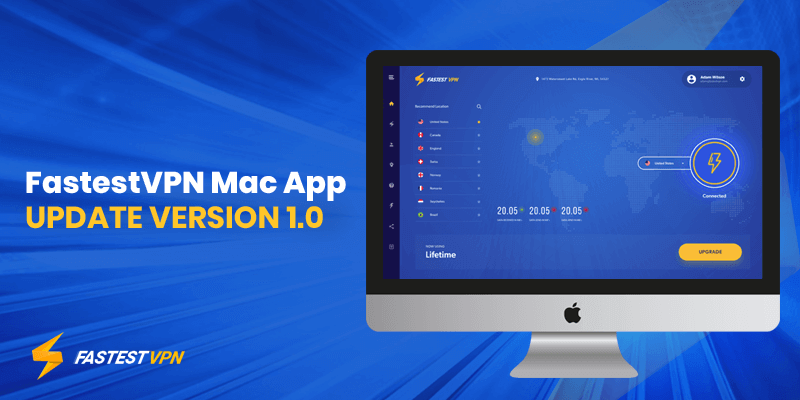 Fixes:
IPv6 gets blocked from Network Settings.
System notification prompts the user to "Allow" the FastestVPN configurations on each connection request even if the user clicks on "Always Allow".
The app would not display what the notification is but display "(null), You got a notification".
Connecting to IKEv2 prompted the user to enter a password on each connection request and the cancel button in the dialogue box did not work.
On macOS version 10.12 and above, the VPN connects switch in the app would not show the status as "Connected" when the VPN is visibly connected in Network panel.
When the user clicked on "Upgrade", the app would tell the user to switch to a paid subscription even though the user is running a paid subscription.
Fixed the issue where FastestVPN does not get added in macOS "Applications" folder automatically.
The app does not automatically switch to IPv4 if the user is using IPv6.
FastestVPN app would prevent system shutdown until it has been exited even when the user clicks on "Try Again" from the dialogue box.
Fixed the error where FastestVPN app would report "No or Slow Internet" repeatedly while the network is working fine.
Connecting to a new server does not reset the bandwidth usage meter.
The app would not let the user select locations by clicking on the location box at the Home Screen.
Fixed the "Trying to get property of non-object" error.
Improvements:
New User Interface of Mac App
Kill Switch is now enabled by default.
Server names are now listed alphabetically.
Servers can be looked up using the new search function.
VPN protocols are now under Settings and work universally on all servers.
Added an exit button in the app window.
We will be introducing new updates in the weeks to come. If you have feedback or want to report any issue with FastestVPN, please reach out to us at fastestvpn.com/support.