Internet Safety for Kids-How to Build a Safe Online Experience
Internet Safety for Kids-How to Build a Safe Online Experience
By Christine Margret No Comments 8 minutes
Maintaining internet safety for kids is a new challenge for every parent these days. One reason for this unprotected environment is that the digital and physical worlds are connecting more than ever before. Though, this quick merger is responsible for remarkable inventions like cab booking, online food delivery, online shopping, and much more.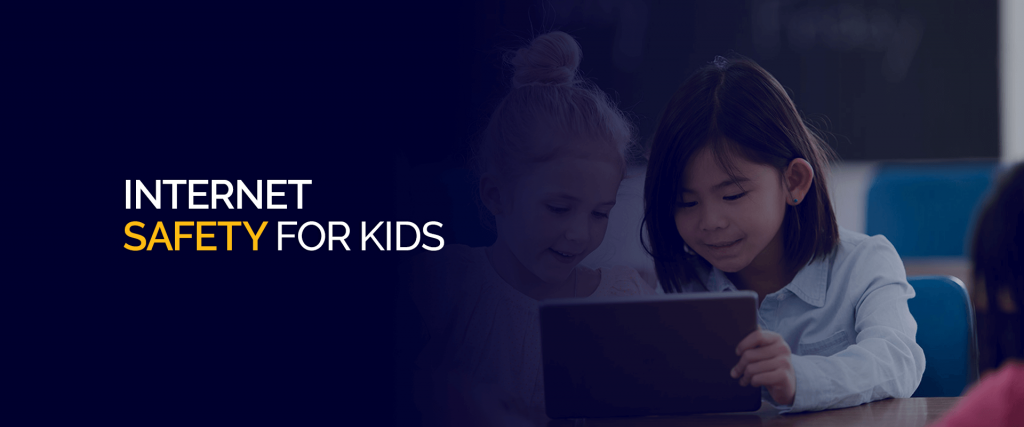 However, it has its own kind of associated risks. Before the advent of the internet, we never had heard the terms like phishing attacks, data breach, spam emails, online privacy threats, and many more.
With the quickly moving time, businesses and individuals understood the right use of this extremely sensible technology. But, what we often overlook is internet safety for kids.
The Internet has unlimited vulnerabilities, and space is ruling by some expert cybercriminals that your kids are not aware of. Therefore, it is quite crucial to pay attention to internet safety for kids.
In this blog, FastestVPN will share some tips to help your kids not to be exploited by internet abuse.

What is Internet Abuse?
Internet abuse is simply the wrong use of the internet. It can be categorized into so many types. One of the most common internet abuses is cyberbullying.
Cyberbullying refers to bullying through digital devices, including tablets, mobiles, laptops, and computers.
Other than cyberbullying, there's much more that you can expect to be a part of internet abuse. Some more common examples are, hacking, phishing, sending adult content, cyberstalking and etc.
Top Internet Dangers For Kids
Internet technology is quite enticing for adults and kids. The only difference is adults know the goods and bad of the internet, but kids are all unaware of the fact. 
The vulnerable internet connection will let your kid fall victim to the following potential dangers.
Public Wi-Fi is constantly a target of various unseen cybercriminals and hackers. If a child gets connected to the public Wi-Fi without using any security measure like a VPN, then he may be exposed to the hackers.
These hackers can easily access all of his personal information, including IP address, location, name, email id, and password.
Even a child's pictures can be stolen from social sites like Facebook. Later, these pictures can be used to create other fake profiles to trap other users.
Try not to forget to review and update your kid's profile settings from all of their social accounts.
The trend of ordering online shows no signs of stopping, and hackers continuously find security holes to disrupt. Scammers launch fake websites to steal users' bank details.
Teenagers often use credit cards to shop online. In this way, there's always a risk of bank detail tracking.
Also, it's been noticed that a number of forged e-commerce sites selling replica items with original product prices.
These scams can easily fool teenagers and steal credit card details to take control over bank credit.
Online malicious actors send malware in the form of software that gets installed into the system and steals users' private information.
Children unintentionally click on the malware links, and malware enters into the system.
Usually, malware download takes place in a system when a user clicks or downloads content from unauthorized sources.
The Internet is full of inappropriate content that can affect your kids' mental health. Such content may change your child's behavior at an early age. It may provoke violence in children. Depending on the type of content, it can disrupt the kid or can leave an impact on his mind for a longer time.
The wrong use of internet technology has no limits when it comes to loss. Besides online identity and banking details, it can even take away your child's life.
In 2016, an online suicide game named "Blue Whale" appeared on the web, due to which 130 teens lost their lives in Russia. This was a game that encouraged teenagers to complete different tasks.
In the last task, the kids were supposed to commit suicide. Such games can be dangerous, and here internet safety becomes mandatory.
How To Protect Kids On The Internet
The internet world is vast and contains several online threats that can disrupt your children without even realizing it. The only solution to the problem is to ensure internet safety.
Below, you can find a list of the best internet safety measures for kids. Make sure you are following these internet safety tips and tools to keep your kids well-protected.
Online Protection Tools for kids Safety
Parental control is the system that you can use to limit your child's internet access. It is one of the best cures to make the internet safe for the kids.
By using parental control, you can set the limit of the websites and content that your child can access. Your child cannot watch or access anything other than your selected online websites. You can add games and educational sites for your kids' learning and betterment or restrict usage based on time.
A VPN will protect your connection, even if there are hackers around. When you use a VPN, it encrypts your data, and no one can read or access your IP address.
FastestVPN ensures ultimate user privacy by offering encrypted connection and a zero-logs policy.
It keeps your connection secure and gives your kids the freedom to use public Wi-Fi without the fear of being traced.
Review and Update Privacy Settings
Parents must review and update their kids' social privacy settings. Make sure that your child is not sharing too much of his personal information on social platforms like Facebook.
Use Anti-tracking software
Whenever a user browses the web, the website stores cookies into the browser server. These cookies track users' online activities to offer them a better online experience.
However, some cookies may steal your browsing history to sell it to the advertising agencies.
You can use anti-tracking software to keep websites at bay from tracking your kids' browsing history.
Install Antivirus software
Protect your kids' safety with the best antivirus software. Antivirus software offers strong virus protection and protects users from various malicious scams.  Antivirus software protects your kids from various online threats, spyware, malware, and other security flaws.
Guidelines to Share with Kids for a Secure Online Experience
Parents cannot always monitor kids' devices to ensure online safety. There has to be a practical way to control cyber threats. One solution to the problem is to share certain rules to follow while using the internet. Keep sharing the following guidelines with your kids to provide them a safer and responsible online environment.
Always hide personal information including name, address, phone number and institution name or location
Don't post personal pictures publicly
Never share passwords with anyone
Don't click on unknown links
Never reply to threatening email.
Internet Safety Laws for Kids
The Federal law COPPA (Children's Online Privacy Protection Act) is made to protect kids, less than 13 years of age.
This law bounds websites from collecting a child's personal information without parents approval.
COOPA restricts websites to present their privacy policies. Also, the law confines websites not to collect information including name, address phone and social number without parents permission. No website can ask for excessive information to provide access to the games.
How to Know If a Kid Is Being Cyberbullied?
There are no surefire ways to figure out if a kid is being bullied. However, by paying a little attention to your child's behavior you can find some clues. First thing is that if a kid gets cyberbullied then he will probably stop checking or using his phone. Moreover, a child may also get stressed while receiving notifications for emails or messages. In severe cases, a child will completely ignore attending social gatherings or may get lost in suicidal thoughts.
What to Do If a Child Falls Victim to Cyberbullying?
In case, if you've noticed any changes in your child's regular behavior then immediately pay heed to the matter and if you've found something fishy then report cyberbullying to the web or app which your kid has been using. It is suggested that as precaution, always limit your child's web activities and use VPN and apps to protect the child's safety.
In Conclusion
Being a parent, it's your responsibility to limit your kid's internet access. Following all the internet safety measures is the need of the hour today; otherwise, you may find your child being victimized by cyber threats.
It's your time to take the matter seriously and follow all the web safety tips to protect your kids on the internet.

Take Control of Your Privacy Today!
Unblock websites, access streaming platforms, and bypass ISP monitoring.
Get FastestVPN