15 Most Common Online Scams to Watch For
15 Most Common Online Scams to Watch For
By Johan Curtis No Comments 11 minutes
The internet makes it easy for us to so many things – shopping, banking, research, and traveling with just a click of a button. On the other hand, it also makes it very easy for scammers and internet thieves to carry out online scams and virtual crimes. These online scams are really affecting our finances, security and our lives. They use false promises, misinformation, and fake identities to target users across the internet. Their entire industry is built to profit from false tricks to fraud the common internet users.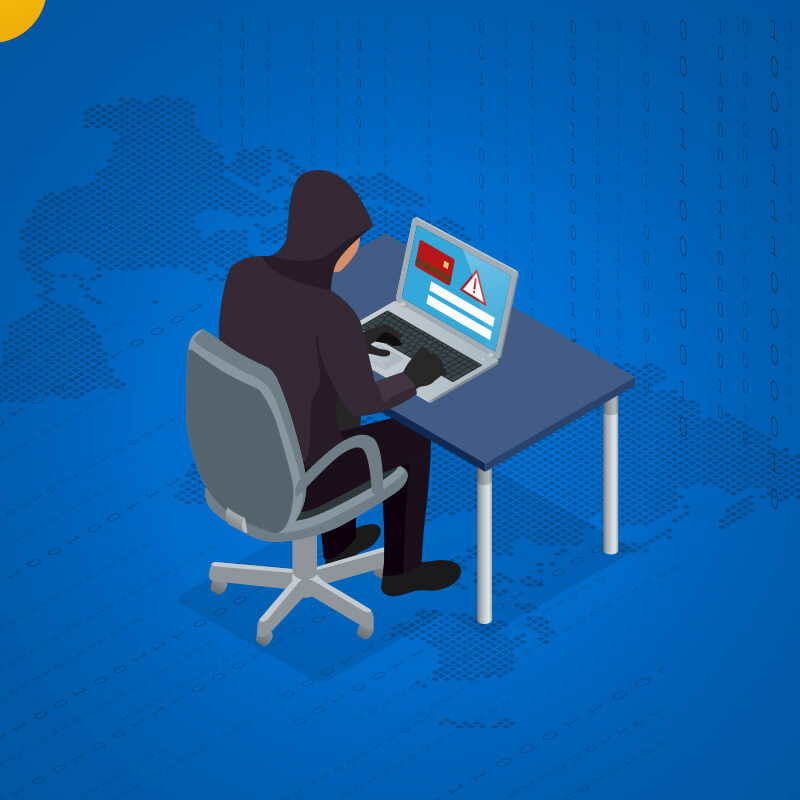 ---
Online scamming is constantly evolving, and if you want to avoid these online frauds in future at all costs, then here are the top 15 online scams that con artists and scammers can use to fraud you:
Most Common Online Scams
---
1. Phishing Email Scams
Phishing is a very dangerous practice in which websites act to be to be something they are certainly not. Phishing scams are done through emails or over social networks. Scammers will send messages and try to trick the user into giving them their login credentials. From your social network, work account, bank account or any other data that can benefit them.
This way, they will persuade the user to open a website link that looks legitimate or real, but it is actually controlled by these criminals. You will then be directed to a login page that may resemble the real website. If you didn't pay any attention, you will end up giving them your credentials and personal information.
Many times, scammers create a sense of urgency in order to fool and persuade the user to do something stupid. They will scare the user by informing them how their bank account is under threat and how they should access a webpage urgently, where the user has to provide their login credentials to confirm his/her identity or verify their account. After the user has filled in his/her banking credentials, scammers use them to breach their real bank account or forward them to other interested parties.
It's one of the most common scamming techniques used by scammers to spread malware that can steal your online data. Every user needs to be well prepared for such scams.
---
2. The Nigerian Scam
Nigerian scam is an online scamming technique that was used by a wealthy Nigerian to trick different internet users. Also commonly known as "Nigerian 419", it comes as an email from your friend who is living abroad and needs your help.
The main aim of these emails is to make you send money to your friend and help him get out of the sticky situation he is stuck in. Whenever you find such mail in your inbox, all you need to do is to never respond to it and delete the message immediately.
---
3. Charity Scams
It's always devastating to see disasters kit the world but there are some people (scammers) set up bogus charity websites to get free donations that they will spend on helping survivors or those people who got affect from it. If you ever receive such emails, closely examine and always verify its authenticity. Never ever give your personal information to these charities until you're absolutely sure that it isn't a scam. Try to contact the organization directly before giving any sort of donation.
---
4. A Guaranteed Bank Loan or Credit Card Scam
Hard times drive people into getting trapped by unrealistic bank offers that guarantee huge sums of money and has already been approved by the bank itself. If such unrealistic and "too good to be true" loan or money is offered to you, just use your brain and judge if it's real or not.
Ask yourself, how is it possible that a bank wants to offer you a large amount of money without knowing your financial situation?
As soon as you gave them your bank credentials, it will be all too late for you to stop them from robbing you. So, always be careful whenever you get these emails from an unauthentic source.
---
5. Lottery Scam
There is a large number of scams happening around the world in the name of the lottery. You may receive an email that says you've won a huge lottery but before you can get it, you will be asked to pay some amount and give personal information. Once you pay them, you will never be answered back and their objective of looting you is achieved.
Though it is unlikely that people can get fooled by this scam, still there is a huge number of people who lost their money by paying the mandatory fees required by the cybercriminals.
---
6. Online Dating Fraud
The online dating websites are not safe from these scammers now. For instance, you meet a person on a dating site but after a while, you feel that this person is not right for you. What you don't realize is that this person may be nothing but a scammer, who is emotionally tricking you to give him/her money since he/she is not financially stable. This fraud may take place for a couple of months or even more in order to gain your trust. In many cases, it even goes to the point where they want to arrange a meeting with you.
Online dating sites have offered a huge platform to many scammers, allowing them to fool people with love for money. The internet may be an excellent place to make new friends or even partners, but don't every become prey to those who ask for money.
---
7. Fake Antivirus Software
Fake antivirus software is sent to you through pop-ups that are created to resemble actual notifications that you usually get from windows or from a security software.
This scam takes advantage of user's awareness that malware and viruses are all over the web, and then plays on their fears. In this scam, you will be offered a free scan and you will be asked to download or purchase the antivirus program. If you're not careful, you will end up with the virus inside your system. These popups can also come from many dangerous ransomware threads which can easily block and encrypt your system and ask you for money in exchange for the decryption key.
This could be a clever virus or theft, either way, you need to avoid it.
---
---
8. Facebook Impersonation Scam (Hijacked Profile Scam)
Facebook is, without a doubt, the most popular social media network, with more than two billion active users each month. It's also the platform where many brands and corporations communicate with their customers and promote their products and services. When so many people and industries are on Facebook, it is normal to see it attract the attention of cybercriminals as well. And most of these scammers target user profiles and then impersonate them for their own gain. Most scammers use encrypted links that they send to you via message, and if you click on them, it will either direct you to an unsafe page that has no relevancy or send a malware to your system.
Since privacy and online security is really important for every Facebook user, everyone should be careful in opening fake links and talking to someone who seems suspicious.
---
9. Make Money Fast Scams (Economic Scams)
The economic scam is an extremely popular online scam over the internet. Scammers will bait you into believing that you can make quick money on the internet. They will show you fake methods of getting rich from official government sources. It's a very effective approach to fool anyone since it addresses every individual's basic need for fast money, especially in unstable financial situations.
Using different job types such as work-from-home scams, the victim is persuaded into giving away bank details and personal information with the promise of getting him a high-salary job that could bring lots of cash in a short period of time.
---
10. Travel Scams
Travel is a rich online business, so you should expect scams in it as well. These online frauds mostly happen in summer months or during vacations for Christmas or New Year. If you ever find those unrealistically cheap deals for luxury flights or top hotels then maybe they are either fake or are loaded with many hidden costs that you might be paying when you try to avail them.
The scam is usually like this: you will receive a mail that includes an amazing deal of an exotic place that is hard to get to and the deal expires in a short period of time and you must avail it quickly. If it sounds unrealistic to you, then it most definitely a travel scam, so don't fall for it.
---
11. Delivery Scams
The delivery scam is another online fraud that happens to be infecting the user's system through malicious emails. These emails are sent by cyber criminals who have a link that dynamically generates a folder on the compromised server to extract information from the victim's system.
Scammers can customize these emails according to the targeted country so that they can convince you to click the link containing the virus. Whatever bait they offer, never fall for these scams.
---
12. Fake News Scams
The spreading of fake news over the web is a danger to everyone because it can impact the way we react to the information we found on the internet. It is a serious concern for all of us, especially the misleading resources we find online, making it impossible for us to distinguish between what's fake and what's real.
This is why you should always access reliable sources of information that comes from people you know or only read regular feeds from reputable sources like industry experts or bloggers in order to avoid the fake news.
This type of scam comes in the form of an authentic website that you often access, but is a fake one created to rip you off. It can also be a spoofing attack that is involved in fake news and refers to a fake website that will link you to a product buying page, tempting you to place an order with your credit card.
The thing is, once you click on such websites, you could open a malicious URL that bombards you with viruses to infect your system. A fake news scam can lead you to an infectious payload that is aimed at your system and targeting your sensitive data.
---
13. Stock Market Scams
The stock market scam is another online scam that you should stay away from. Whether it's in the form of an email you receive that promises large sums of money, or callers who try to lure you in making huge investments, there are too many stock market scams on the internet and you can become a target of it.
It's not easy to spot a stock market scam, but one can always be careful and vigilant of these frauds, and avoid becoming a victim.
---
14. Job Offer Scams
Sadly, scammers also come in the form of recruiters and employers using attractive but fake job opportunities to fool you. Their approach is very simple. They either call you or send you a message on LinkedIn claiming to be a recruiter from a renowned company who saw your CV and says that they want to hire you. Whether you have applied or not, they will try to lure you with an appealing offer but don't fall it, it's a trap.
You need to watch out for this kind of job offers you can get from scammers dressed as employers.
---
15. SMS Scams (Smishing)
Smartphones have become an essential part of our daily lives, using it for banking, shopping, or to communicate with our relatives. However, the amount of data we store in these devices makes them vulnerable to scammers and cybercriminals who are ready to steal your online identities and empty your bank accounts.
Scammers are trying different methods to attack you, and recently they have introduced a new one called smishing (SMS scam). Smishing is similar to phishing, but, instead of emails, scammers send text messages to potential victims. You will receive an urgent text on your phone with a URL saying it's from your bank and says that you need to open the URL to update your bank information, or about your bank account that will be blocked. They may also send you promotional offers that are nothing more than fake deals to lure you to open that URL link.
---
---
Always remember that most text messages like these are either fake or if you think they are from authentic sources, then you must first verify its authenticity and then act accordingly.