How to Install SolarMovie Kodi Addon with Few Easy Steps
How to Install SolarMovie Kodi Addon with Few Easy Steps
By Johan Curtis No Comments 4 minutes
Movie enthusiasts are on a never-ending quest for the best sources that deliver a large collection. From the perspective of an enthusiast, this is an important factor because jumping from app-to-app is quite the hassle. Enter Kodi and its SolarMovie add-on.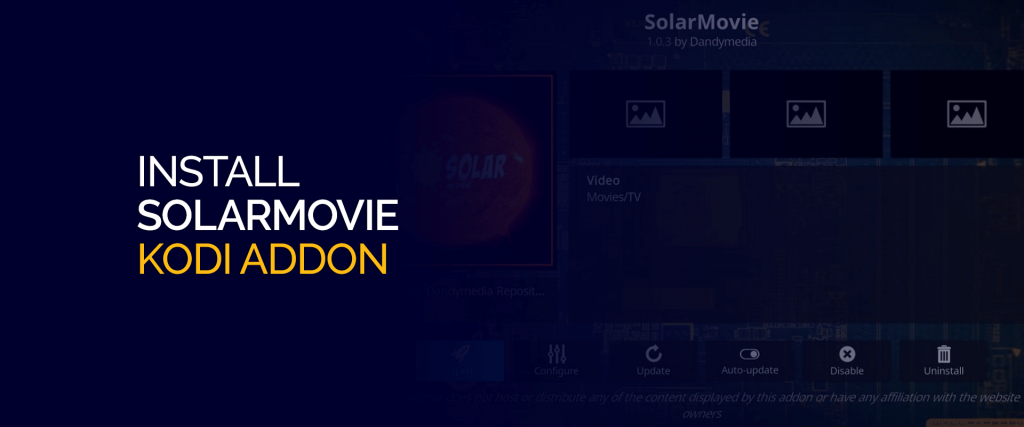 Before we go on explaining what SolarMovie is and what makes it one of the best available for entertainment enthusiasts, let us take a brief tour on Kodi.
What is Kodi
In short, Kodi is a digital media-streaming application. But you may wonder what makes Kodi special in a time where there are literally dozens of media applications fighting for your attention.
For one, Kodi is light-weight and very responsive. It is backed by its developers with frequent updates that continues to improve the app. And secondly, its open-source nature has sparked a community that is always developing some new addon for it.
Open-source is a type of license which allows anyone to take source code and make modifications. Kodi is an application which runs addons to deliver its intended functionality. On top of the long-list of official addons, the Kodi community has developed hundreds of addons through the freedom on open-source license.
Remember what we said about making modifications to the source-code? Thanks to that, there are customized builds of Kodi with pre-loaded add-ons. That's how popular Kodi has become.
SolarMovie Addon for Kodi
Like most Kodi addons, SolarMovie aims to deliver latest movies and TV shows in high-definition. You can expect to browse through multiple genres, from action to comedy. It scours the internet and collects live streaming sources.
Movies and TV shows offered are categorized by genres. From old classics to the latest releases, SolarMovie app is a one-stop addon.
It's quite convenient when you don't have to look up the best sources online. So, let SolarMovie Kodi addon take care of that. Follow the guide and we'll show you how to download and install it. But before Kodi can accept third-party addons, we first need to enable an option. Here's how to do it:
Download and launch Kodi on your device
Click on the gear icon on the top-left corner
Click on Settings
Select Addons tab and toggle the option for Unknown Sources
Go back to the System screen and click on File Manager
Select Add Source and click on None
Now enter this URL address in the dialogue box: http://dandymedia.club/repo/
Click OK and return to the System page
Click on Addons and select Install from Zip File
Pick the zip file you just downloaded and install it
Go back and select Install from Repository this time
Navigate to Dandy Media > Video Addons
Browse through the list until you see SolarMovie
Select it and install it
Once done, SolarMovie will be waiting for you in the Addons section, so head over there and launch.
VPN for Kodi – SolarMovie Addon
Before you head off, all excited about the addon, we must tell you an important piece of advice: use a VPN for Kodi.
Kodi is a perfectly legal application but third-party addons like SolarMovie share links to illegal live streams. The live streams are illegal because the content featured is protected by copyright laws. Streaming copyrighted content illegally is a criminal offense under the Digital Millennium Copyright Act (DMCA).
Your ISP has the authority to track online activity and record them. It is a huge breach of privacy; exactly why you need a VPN.
VPN makes you anonymous on the internet using a private IP address. The ISP cannot know what you're doing if it's not handling your internet requests. VPN server assumes control of your internet traffic, thereby eliminating the possibility of ISP intervention.
Final Words – SolarMovie Kodi addon
You can rest easy that SolarMovie Kodi addon is one of the best there is. The vast library of movies will keep you hooked for a long time. You can always check out the various other Kodi addons for your entertainment needs.
Regardless of which Kodi addon you end up using, ensure that you are protected by VPN. It's not worth the risk of getting caught under the DMCA, especially when FastestVPN costs as low as $0.83 per month for a 5 Year plan.
Take Control of Your Privacy Today!
Unblock websites, access streaming platforms, and bypass ISP monitoring.
Get FastestVPN