How to Fix Pair Error on Kodi – Olpair, TheVideo.me and More
How to Fix Pair Error on Kodi – Olpair, TheVideo.me and More
By Johan Curtis No Comments 7 minutes
Streaming content is the vital aspect of Kodi as a digital media streaming application. There are literally hundreds of add-ons that serve entertainment from around the world. Watching TV channels from other regions is no problem at all with Kodi. But folks who use Kodi will know that it's a common sight to run into errors. One such common error is when Kodi would fail to connect with streaming source, also known as pairing error. We'll show you how to fix pair error on Kodi in this guide.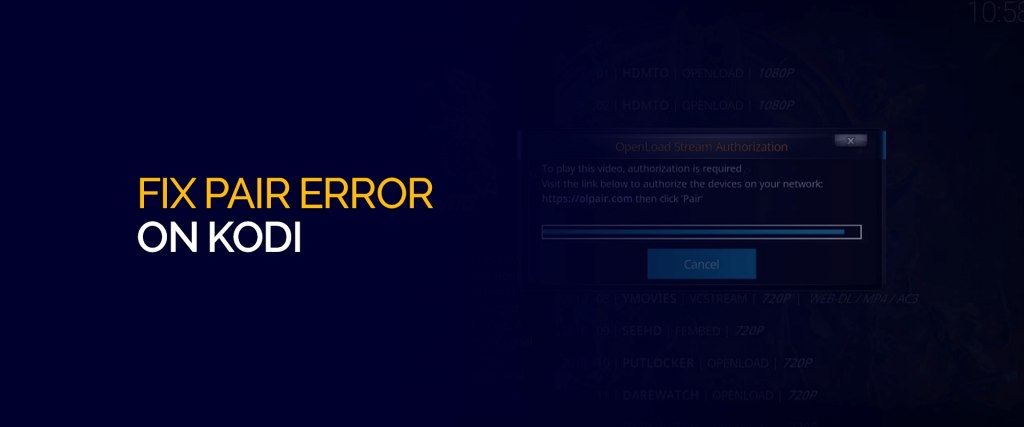 It's more common to see the error when using Olpair, thevideo.me, and tvad.me. These streaming hosts require that you pair with your Kodi using a process on their website.
In this guide, we'll explain to you how to fix pair error on Kodi with a few simple steps.
What is Pair Error and Why Does Kodi Need Pairing?
Although it's commonly referred to as an error, it actually is not. Some websites require that you authenticate your request by pairing your Kodi with the source. This is accomplished by entering a time-sensitive code generated by the source which you have to enter in your Kodi.
One such streaming host which asks you to pair is Openload. The website is one of the prominent online video streaming sources on the internet, featuring just about every category. The pairing procedure is worth going through because of the number of high-quality video links Openload has to offer.
The pairing requirement is also to ensure that the requests coming to their servers are legit, so as not to get bombarded with fake ones that will render the server under heavy load.
There are two ways to fix pair error on Kodi. We'll show and explain each one of them.
Method 1:
First method to fix pair error on Kodi is similar to setting up VPN in your Router, this one procedure will enable access. Pairing your IP address instead of the device means that all devices on the network can easily pair with the website since the IP record will show up as authentic.
Do note that this is only for devices connected to network the IP address of which you have authenticated with the website.
Follow the steps below to pair your IP address with Olpair or any other website and fix pair error on Kodi. Turn off VPN before proceeding.
Use a web browser to visit pairing webpage, https://olpair.com, for example.
Continue by verifying the I'm not a robot dialogue box
On the next step, click on Pair
If the pairing was successful, you will see a message notifying as such.
Your IP address will remain authenticated for the next 4 hours. Meanwhile, you can enjoy streaming on your device without interruption. You will need to repeat the steps again to regain access to Openload or whichever source you're trying to pair with.
Method 2:
The second method to fix pair error on Kodi isn't exactly a way of solving the pairing problem but a way to overlook the websites which prompt users to pair their device. There's a feature in Kodi which allows you to skip all such websites which require captchas.
The feature is in the Settings of Kodi and we'll show you how to enable it. You should know that this method will prevent access to certain sources like Openload, you'll be missing out on content that's available on these sources but not elsewhere.
The option to skip hosts with captcha needs to be set on an add-on-by-add-on basis. For our example here, we'll use the popular Exodus addons. Exodus relies on Openload as well and we can configure the add-on to hide sources that require pairing.
Here's how to do it:
From the Kodi home-screen, navigate to Addons then Video addons
Find Exodus in the list, if it's not installed then use our guide here to install Exodus on Kodi easily
Select Tools from the list then SETTINGS: Playback
On the Playback menu, find the option Hosters with captchas and disable this option by turning on the toggle switch
And that's about it. Go back to Exodus and you should now see a list free of Openload links.
Is Olpair safe to use? – Kodi Openload Pairing
Oplair (Openload) is completely safe to use. It hosts hundreds of videos uploaded by users and it's absolutely free to watch. Just visit Oplair, pair the device, and start streaming no matter where you're in the world.
Though, much of the content is copyrighted content. What that means is that the content is served by the creator with exclusive rights and you do not have express permission to access it in the form of a purchase. It does not matter it the uploader owns the right or not, he does not have the right to distribute the content.
And because of that, such activities fall under copyright infringement. Internet Service Providers (ISPs) are actively working with the DMCA identity to identify such people. This is why we highly-recommended using a VPN.
VPN (Virtual Private Network) is essential to prevent such risks. It masks your identity on the internet using a private IP address granted by the VPN server. Your internet traffic is handled by the VPN server instead of the ISP's server. There's a virtual tunnel that establishes between your device and the VPN server, allowing internet traffic to flow through. Encryption is an added layer of security.
It's a way of protecting data by using complex algorithms to convert them into an unreadable format. It can be deciphered by using a key which only the user's device and the VPN server share. It makes outside interference impossible.
We recommend using FastestVPN to secure yourself. You may not have heard of it but let us assure you that it's very capable. And the best thing is that it doesn't put a dent on your wallet. At the time of writing this article, FastestVPN is running a sale in which 5 years of VPN is being offered at $0.83 per month. There out there packages here. You can ask for a refund using the service's 7-day money-back guarantee.
Anyways, like we were explaining the need to have a VPN backing you while you watch content from around the world. It also unlocks geo-restricted streams. FastestVPN can be configured directly into the Router. This will allow you to protect not just one but every device connected to that Router.
Conclusion – Fix Pair Error on Kodi
Although we have provided you with both options, we would suggest you continue with the first option. Skipping on high-quality links that sources like Openload provide are worth the little inconvenience. There's a reason why Openload is one of the prominent online streaming websites on the web.
And also, using a VPN is highly-recommended. Think of VPN purchase not as something that's required for Kodi but as a tool for keeping you secure. Your internet traffic is susceptible to third-party intrusion, especially while using public Wi-Fi hotspots, VPN protects you in such situations.
Take Control of Your Privacy Today!
Unblock websites, access streaming platforms, and bypass ISP monitoring.
Get FastestVPN