How to Install Fusion Repository on Kodi 17.6 Krypton
How to Install Fusion Repository on Kodi 17.6 Krypton
By Johan Curtis No Comments 8 minutes
Fusion is one of the oldest sources from where you can download various addons and repositories on your Kodi device. It has been providing tons of Addons for streaming content and tools like Indigo ever since it got developed by TVAddons.co. However, back in 2017, it was taken down and has left Kodi users in dismay and many are wondering how to install Fusion on Kodi and if there is any possible way to get Fusion on Kodi.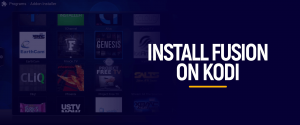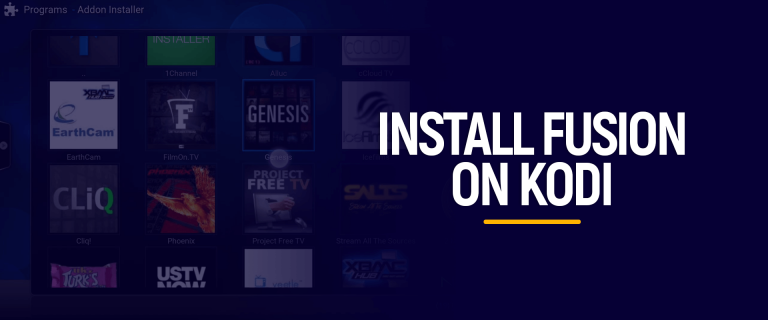 Fortunately for all Kodi fans, it is back and there is a way to get Fusion on Kodi and that's what we are going to show you in the easiest way possible. We are going to present you a detailed guide on how to install Fusion on Kodi and how you can install other famous Addons using Fusion. The methods we are going to explain in this guide works on almost all Kodi supported devices including Windows, Linux, Android smartphones, Firestick, Fire TV, etc but if you're going to setup VPN in your router so don't need to worry which devices are supported by the VPN.
Kodi is one of the best streaming platforms right now that allows you to stream your favorite content for free, but that is only possible when you have compatible addons installed. Good thing about Fusion is that it offers all the popular addons and various utility and maintenance addons that can make the streaming player more useful and effective. You can install the Fusion and then install your favorite addons on your Kodi devices.
Step-By-Step Guide for Installing Fusion on Kodi
As we said earlier, Fusion is not a repository or addon but a source from where you can download tons of repositories and addons. So, first we are going to show you how to install Fusion on Kodi then we will look in to how you can install other addons using Fusion.
The first thing you need to do is to enable third-party addon installation by turning ON "Unknown Sources" option. Here is how to do that:
Launch Kodi and go to settings (gear icon) at the top left.
Select System settings
Then go to Addons tab from the left-side menu.
Now Click on Unknown sources
A popup notification will appear asking you to confirm that you want to allow installation of addons from unofficial sources. Click on the Yes
Now that the "Unknown source" is enabled, you can go back to the main Kodi screen.
Now the below guide will show you how to install Fusion on Kodi:
From the Kodi Main Screen, Click on Settings (gear icon)
Select File manager.
Click on Add source from the vertical menu on the left
Click on <None>
Now enter this URL "http://fusion.tvaddons.co"
Hit OK
Click on a blank field under the "Enter a name for this media source" title.
Enter "Fusion" and then Hit OK.
Click on OK at the bottom of the window.
Now the fusion source is added to your repository source list, you can go back to your Kodi home screen and install your desired addons and tools from the new Fusion source.
That's all you need to do to add the fusion source on your Kodi device. Now you can either install the Indigo program addon which is an addon installer itself and will allow you to install tons of popular addons from around the world, by which you can watch your favorite streaming content and make the most out of your Kodi media player. Or you can install different other repositories from the Fusion Source to widen your addon directory.
We have shown you how to install Fusion on Kodi, now we are going to show you how you can install Indigo addon on Kodi with Fusion.
Note: Depending on your current location, some Kodi addon might be geo-restricted, some might not, but both will most probably be offering copyright content for free, which is a serious crime in the online world. You accessing such content on Kodi can get you in trouble or worse, behind bars. To avoid such trouble and access geo-restricted content for free, you need a Kodi VPN and what's better then to use FastestVPN as it not only gives you instant access to all geo-blocked content with complete anonymity, but also give you incredible speeds to stream and download your favorite content.
How to Install Repositories using Fusion on Kodi
Fusion offers a wide selection of repositories from popular one to international repositories from around the world. We are going to show you how you can access the Fusion library and install your preferred repositories on Kodi.
First of all, click on Addons option at the left side menu of your Kodi Home Screen
Now click "Package Installer" (box-shape icon) on the top left corner
Now Select Install from zip file
Click on Fusion

As the Fusion library loads, you will see three options:

Begin-here
Kodi-repos
Kodi-scripts
Select Kodi-repos
You will see three different options with English, International, or xxx-adult.
Choose your desired repository category and you will see a wide collection of repositories available in the Fusion library.
This is where all the Fusion repositories are available. You can choose to install your preferred one or popular ones to add them to your addon repositories.
How to Install Indigo Addon from fusion repo on Kodi
If you're not interested in installing different repositories to then install different addons, you can choose to simply install Indigo addon which is itself an Addon installer which also offers tons of addons and allow you to install them on your Kodi device.
Indigo is the most popular and best addon in the Fusion library, which is why it is available at the top in the fusion library. It is a program addon that brings various tools and adds new functionalities to your Kodi media player. It is popularly known as the Kodi addon installer as it allows you to install tons of addons from its broad addon categories.
Installing addons with Indigo is extremely easy. You can simply click on your desired addon from its huge library and the addon will automatically install in a few seconds.
Here is how you can install Indigo addon.
From your Kodi main screen, Click on Addons.
Click on the Package Installer (box icon) at the top left corner of the screen.
Now Select Install from zip file.
Select fusion source from the list.
Choose begin-here
Select program.indigo-x.x.x.zip
Wait until you see the Addon enabled notification at the top right corner of your screen.
Once you see the Addon enabled notification, return to your Kodi Home Screen and Select Addons, then choose Program Addons from the left menu list of Addon categories. A List of program addons will appear (if you have install some before) including Indigo. Click on Indigo to launch the addon.
Once the addon is launched, select Addon Installer and then navigate your different addon categories in available in alphabetical order.
Fusion Kodi Alternatives
Fusion is back there is no guarantee that it won't go down once again, which brings us to this point that you need to look for a couple of Fusion Kodi alternatives in case Fusion is taken down. There are various contenders to consider as top Fusion alternatives such as the following:
Kodil Repository
Kodil repository is currently the most popular Kodi repository and it offers one of the biggest libraries of addons including official and third-party addons. You can use add this repository from the below link and then browse through its wide range of addons to install.
URL: http://lazykodi.com/
Adryan List Addon
Adryan list repository also offers various addons including popular ones like Acestream which was previously available on Fusion until its shutdown. Now Acestream is available through Adryan repository and you can install it only from this repository.
Here is the URL: http://gruponetai.com/adryanlist/
Dandy Media
As you know Fusion was a place where you could access a wide range of streaming content including cartoons, but then it was taken down. Now that the addon isn't available anymore, you can use Dandy Media to access super cartoon content of various genres.
Conclusion – How to install Fusion on Kodi
Installing Fusion on Kodi is super easy and doesn't take long to setup. Its library host a wide range of repository as well as the popular Indigo addon which allows you to install different video and music addons of your liking. Installing Fusion is a must if you are one of those who install addons on a regular basis. This guide has shown you how to install fusion on Kodi and other ways to get the best of the popular Fusion library. Always remember to use a Kodi VPN before streaming on Kodi as it is not safe to stream content that is copyrighted and available for free. So, you need to use a VPN to stay anonymous to the world and stream on Kodi with complete privacy.
Take Control of Your Privacy Today!
Unblock websites, access streaming platforms, and bypass ISP monitoring.
Get FastestVPN