The Importance Of Having A Good Inventory Management Software
The Importance Of Having A Good Inventory Management Software
By Nick Anderson No Comments 4 minutes
Businesses of different types usually have to deal with managing their activities effectively as they grow. Whether it is in manufacturing, logistics, shipments, warehousing, or other essential aspects of business, proper inventory management is imperative for business success.
For an online business, one of the biggest challenges lies in inventory management. When your orders increase and you expand into new markets, managing your inventory manually can become problematic. You may have to consider software that can help you effectively keep track of your activities and processes.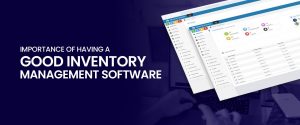 As the business grows, cybersecurity needs to be scaled accordingly. Good cybersecurity is essential for the survival of any business that has digitized processes.

But What Is An Inventory Management Software?
Doing inventory management by hand can be difficult and time-consuming, and if you make any mistake, it can have significant consequences on your profitability and reputation as a business.
An inventory management software is a digital tool that helps track your goods throughout your entire supply chain. It automates inventory and warehouse management aspects and helps to streamline the tasks required to effectively track inventory, manage orders, and update accounting data.
Inventory management is critical for any business that maintains a stock of goods or raw materials.
Why it is Important to Get a Good Inventory Management Software
Tracking your inventory with a pen and paper could be seriously holding back your business. And perhaps you have been considering managing your lists digitally, and you want to know why you should get inventory management software.
Good inventory management software helps business owners automate their inventory tracking, planning, manufacturing, and other essential business activities. Any growing business must consider getting software for inventory management to stay on top of their manufacturing inventory, stock movements, shipments, and much more.
An inventory management software can benefit your business in several ways. Some of which are:
Inventory and stock management comprise several internal management processes. When these tasks are done manually, there are chances for inaccuracies such as duplicity and overselling. But adopting inventory management software will automate all the data recording and tracking processes.
Also, an essential benefit of inventory tracking is that it reduces the amount of inventory that companies have to keep while improving order accuracy.
Avoid Stockout and Excess Stocks
A business needs to minimize the number of days that an item is out of stock. Good inventory management software helps to avoid stockout and excess stocks. By doing this, your business can profit by preventing losses from lack of supply and saving money on adequate warehousing.
Improved Productivity
They enable good inventory management software with analytics and reports that allow you to perceive what items are selling quickly via your business channels. You can also identify low stock levels and ensure that you do not hold excess stock.
It helps to save warehousing costs, make better business decisions, and to detect patterns. For example, do you have to manage items and their expiry dates? They can achieve this with proper stock management.
When you consider the benefits explained above, proper inventory management can affect every aspect of business, from warehousing cost to your ability to accurately and speedily fulfill orders. Good inventory management software will help your company save money and stay on top of your business processes.
Conclusion
As we mentioned earlier, there is a dire need for cybersecurity to go along with modern inventory management software.
Ransomware hacks are becoming increasingly common. Hackers can often leave with confidential information or compromise the integrity of automated systems by planting malware. To ensure that your business does not suffer downtime or loss of important data, keep an active defense against external threats.

Take Control of Your Privacy Today!
Unblock websites, access streaming platforms, and bypass ISP monitoring.
Get FastestVPN