Best Linux Distros in 2021
Best Linux Distros in 2021
By Christine Margret No Comments 5 minutes
Over time, Linux has spawned several distributions to appeal a large number of users. Today, hundreds of Linux distros are available. Finding the best Linux distro in 2021 is a cryptic task for modern hardware fans. It seems that already a  massive distro collection is available to choose from.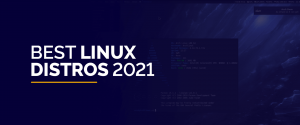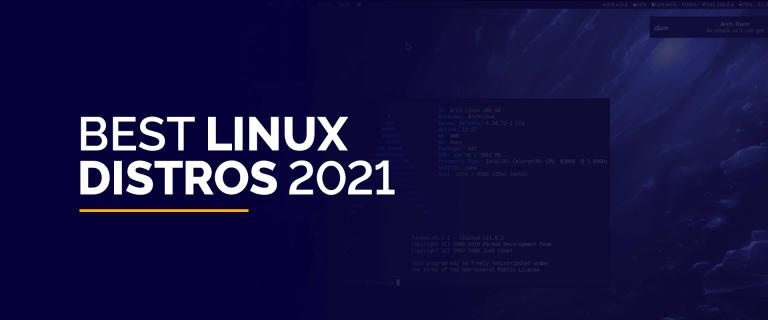 Luckily, this blog features the list of the best Linux distros in 2021 to breathe new life into your new operating system.
Here are our recommendations for the Best Linux distros in 2021.

The Best Linux Distros for Beginners
Below are the best options for Linux distros for beginners  to get a good start for your hardware journey:
Ubuntu is one of the most popular and widely used Linux distros. It is the best Linux distro for beginners, and it is capable of working with servers and Linux desktops.
Ubuntu takes pride in the way it supports users. It offers an extremely user-friendly interface with a bunch of pre-installed essential tools.
The distro includes almost everything to satisfy a user looking to get a head start with Linux. Its software center covers a massive collection of software programs, including word processing and spreadsheet applications, web server software, email software, tools, and programming languages.
Manjaro is a developer-friendly Linux distro. It's an Arch-based Linux, and heavily optimized for speed. It works with a rolling release model.
The installation process is hassle-free with Manjaro's custom tools and utilities. Without Majarao, managing and installing Arch Linux is quite a grueling thing to do.
There's much more that you can achieve with this distro. Infact, many Qt developers are leverging  Manajaro's KDE edition with Qt designer, and Qt Assistant tools to support their development process.
Linux Mint is a strong choice for users new to Linux. The distro is Ubuntu-based with some top-of-the-line browser plugins, media codecs, and the ultimate Java and DVD playback support.
Linux Mint made configuration as simple as possible. With its web-based package installation interface, custom desktop option, and menus, users can alter windows appearance the way they want.
The Best Linux Distros for Experienced Users
Users on the hunt for the best Linux distros for expert developers should look down here:
Debian is a top choice distro for expert-level developers. Manages to get easy user-access to software applications without pre-installing them.  It comes with bundled 60,000 packages with pre-compiled software following hassle-free format to be easily installed on your machine. All software applications are free plus Debian Testing, and Debian SID is also a thoughtful option to opt.
Fedora is a distro built to support Linux communities. The community-supported Fedora Project forms it. With its free and open-source license software packages, developers can access the most advanced software. Fedora Linux is not for everyone; it is highly recommended for expert users looking forward to exploring the extreme Linux limits.
Fedora also frequently releases its custom variation, which is also known as Fedora spins. Such spins are available for robotics, designing, security, gaming, and more. Forget not to mentioning that Fedora holds a short-life version and requires constant updates.
Compared to Fedora, OpenSUSE is less popular but offers an incredible line-of-features. Developers looking for an ideal environment can use OpenSUSE.
Developers can choose from the two OpenSUSE distros: OpenSUSE leap, a regular cycle distro, and OpenSUSE Tumbleweed, which is a rolling release alternative.
Depending on the development needs, developers may use either distro offering YaST configuration tool to tailor installation needs.
The Best Linux Distros for Gaming
Linux distros for gaming can be adopted for a seamless coding experience. Find the best Linux distros for gaming in 2021 below:
the SteamOS is a powerful gaming platform, based on Debian. SteamOS misses many features like a file manager. Such features are available on other Linux distributions. The SteamOS is making many improvements, but various games that are available on Steam can't run on SteamOS therefore, we do not recommend it for day-to-day use.
DraugerOS is one of the best Linux Desktop Gaming OS that uses mainline Linux Kernel. With several tweaks, developers enable Kernel to support low latency with a scheduling frequency range from 250Hz to 1000Hz. These changes made gaming unfettered with higher frame rates, compacted screen tearing, and better gameplay performance.
Drauger is compatible with many controllers, including Xbox, Xbox360, and PlayStation. It comes with a bundle of pre-installed apps and tools for an exalted gameplay experience.
GamerOS is a Steam-only distro, it doesn't support any other gaming platform. It automatically redirects to Steam's Big Picture Mode-Interface designed for TVs. It's a new mode, developers choose to navigate it via controllers or regular mouse and keyboard.
Arch Linux supports DualShock (3,4) Steam controllers, Switch Pro and Xbox One, and Xbox 360. This Distro doesnt support dual-boot hence, the overall installation is quite straightforward. It doesn't require the user intervention for dragging it to the hard disk. The only downside is that  support for any Live session is not available and because of that, many users avoid it.
Conclusion
We hope this guide proves helpful, and that you can get the best Linux distros to meet your needs in 2021. You can try any of the outlined Linux distros for a clean Linux experience.

Take Control of Your Privacy Today!
Unblock websites, access streaming platforms, and bypass ISP monitoring.
Get FastestVPN