How to Play a Google Memory Game? Play Through a VPN for Secure Play
How to Play a Google Memory Game? Play Through a VPN for Secure Play
By James Collins No Comments 8 minutes
For a human cognitive function memory is a prevalent aspect. A healthy brain is able to store, revive, and process. Often humans go for mental health activities to keep their brains active and healthy. Some people go for exercises after aging to avoid cognitive impairments or memory loss. With time other alternatives play a vital role in keeping brain cells active and healthy.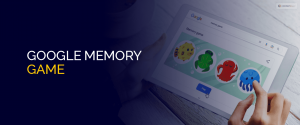 With the game industry being developed at a great speed, such games have been launched that help in strengthening and revitalizing memory in an effective way. Games have the capability to boost brain activity but is not much believed.
So, what are the games that keep a brain healthy and active? And where can you find them? The game Google Memory Games has turned out to be to increase IQ and memory. The game has an interactive nature and improves cognitive skills.
What Is Google Memory Game?
The Google Memory Game is a top-brain web-based game with a logic contest. The player is shown with different images where they have to remember their position. Each image is shown one by one, and the previous image disappears. The game has a decent and straightforward game flow beneficial for kids and adults.
The game does not require installing on the devices or using a specific gaming monitor. It is played directly, the players can also go to add-ons and find other Google memory games. If you want to study more about The Google Memory Game, here is what you need to know.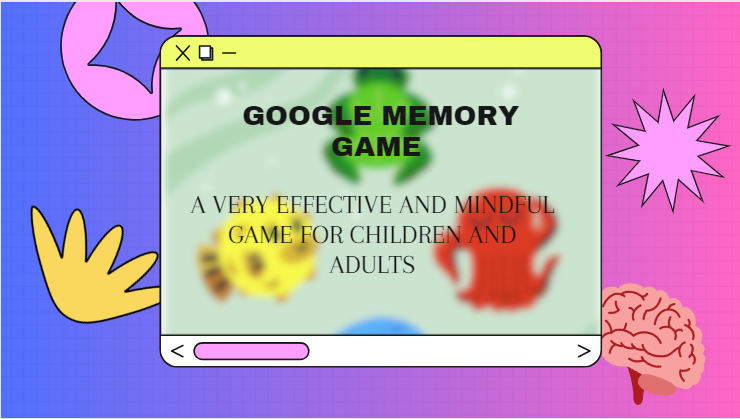 How Does Playing Google Memory Games Help in Brain Functions
Since it is clear what is a Google Memory Game, and how it helps in boosting brain function. But there is more to know and explore in learning about the benefits of playing memory and brain games. The foremost advantage of playing a memory game is to help kids have their memory enhanced. They learn to be sharper, more vigilant and differentiate between some important components. The is built by involving critical thinking, so it does not bore children, or anyone playing.
Here are some of the perks that one individual may experience after playing brain games.
Refines Cognitive Function
Any memory game, specifically The Google Memory Game is a great way to improve mental skills, have a better perception in solving problems, and analyse critically. For example, while playing a game if you are not able to connect the puzzle you can go for other alternatives that may suit it.
Quick Response to Everything
Reflex is also important for brain health and to react in time under certain conditions. As much as you are faster to respond, it is better for your health. So, the Google Memory Game helps you to work quickly and is better for you to react on time.
A Good Activity for Free Time
Instead of sitting idly or watching tv, it could be spent playing a mindful game. You can play whenever you are free to have a memory booster every then.
Moreover, playing mind and memory games train the brain by allowing neuroplasticity to improve. Neuroplasticity is capable of organizing and reorganizing synaptic connections. It also seasons the brain in comprehending concepts and languages.
How Can Someone Play Google Memory Game?
The gameplay of Google Memory Game is simple, yet intriguing. The game has a simple version as it mostly caters to children, but adults also play for their brain exercise. Here is how you can play the game,
A screen appears with different boxes like a tile.
On the screen, there are cards that need to be flipped.
After flipping a card, you need to remember them. This is what the game is about.
Now, the game comes into play, as the memory will be tested
Match the cards, and make sure to do it efficiently.
What If Google Memory Games Does Not Work on Your Device
Well, one of the most important aspects that is quite ignored is using a VPN. Certain reasons account to use a VPN. For some reasons, the local network blocks the traffic and does not read it. Secondly, if a game is from a certain location, it does not work anywhere else.
Thirdly, there must be a lock on your internet on some level that it does now allows some features of the game to work. Otherwise, some internet connections are strict and do not allow some regulations. Some information on the internet requires a secure connection and is only cracked by a VPN. Thus, it helps to create a private connection with servers and apply encryption methods.
Using a VPN for gaming is a subjective choice, but it is perfect for PC and consoles. Many reasons pertain to the fact that you need a VPN for gaming.
 What is a VPN?
Virtual Private Network – VPN is a tool that allows access to establish a protected network connection with public connections. In this case, the VPN becomes the source of data and the internet services provider cannot see where you are connected to. The VPN helps to disguise the VPN and use pseudo-identity. By using VPN, it stops other parties to look at your data or steal it.
Interestingly, a VPN works immaculately by converting all data into gibberish. So, it is completely useless to make any kind of cyberattack. The VPN encrypts all the sensitive and private data on the devices whether they are incoming or outgoing.
Why Do You Need to Use A VPN For Gaming?
Do you enjoy playing Google Mind Games or any other game? Perhaps, you may also like playing games like Among Us, or MMPORGs in your leisure time with your friends. Well, it does not matter what kind of game you want to play.
If you are playing a game on the internet, it is important to use a good VPN. The VPN is suggested to protect privacy, manage security, and privacy. A great VPN is a perfect source for a gaming experience through VPN. Here are some reasons that accumulate the importance of using a VPN. A VPN making its wave in the market is the Fastest VPN. The service is highly competent, and secure and does not lag the gameplay.
Security And Data Protection
Without encryption, it would take the longest to read any kind of data. If the data is not encrypted it is prone to attacks and phishing, and be viewed by anyone.  But if you are connected to a VPN there are no chances of it being phished.
Fewer Costs of Games
Some games have different prices and they are set according to where you reside. The game developers are aware of taxes and currency rates, which is why sometimes you have to pay more than the original cost. But if you use a secured VPN network you can avoid it. The VPN allows you to change locations and apply some tactics that sell you the game cheaper.
Protects from DDoS Attacks
The DDoS attacks – distributed denial of service have become common now. in some games, if you have an opponent and they found out about your streaming channels they might twitch your channel and try to bring it down. In hindsight, the VPN protects the IP address and prevents them from any external attacks.
No More Bandwidth Throttling
The regular internet connections are not smooth, as the ISPs throttle and slow down for some reasons. The throttling of the ISPs congests the network and delays any activity taking place. Games usually eat more data ranging from 95MB to 300MB. With gaming hours, data storage, title and game type you may see disturbance. With a VPN service, you can avoid throttling by encrypting data making it difficult for ISP if you are playing a game or simply surfing.
How To Play Google Play Memory from Any Part of The World
As you know to play games like Google Memory Game or any other game it requires a trusted VPN. You need a VPN to remove geolocation barriers and avoid attacks, therefore a VPN would do wonders. One of the emerging names in the VPN is The Fastest VPN.
The fastest VPN is a verified platform providing a complete VPN service. Through the service, you can unlock every website and app. Their VPN protects from data theft, device comptonization and other external attacks. One of their great qualities is they have is compatibility on every device. You can use it on iOS, Mac, Android, Fire tv or Windows.
Some considerable features of the Fastest VPN
Works on more than 200 devices.
They have a built-in DNS that protects the information from leakage.
A highly secured and high-end security system with features and great encryption technology.
The internet is protected by military-grade 256-Bit AES encryption.
Provides unlimited bandwidth.
The platform serves as a supreme platform with robust features and services. They are a great option for gaming as it is layered with malware protection. You can also have access universally to everywhere.
The Concluding Note
The Google Memory Game is played worldwide and is a top choice to boost brain activity. Where's, if there is a problem playing it VPN is here to rescue you. They are one of the finest options for playing the game in a secured and layered environment.
Take Control of Your Privacy Today!
Unblock websites, access streaming platforms, and bypass ISP monitoring.
Get FastestVPN