How to Watch BBC iPlayer in Sweden
How to Watch BBC iPlayer in Sweden
By Christine Margret No Comments 5 minutes
BBC iPlayer is a not-to-be-missed video-on-demand and streaming service. You can catch up on everything from news to entertainment. BUT! If you're living in Sweden or anywhere outside the UK, you cannot access BBC iPlayer because of copyright concerns.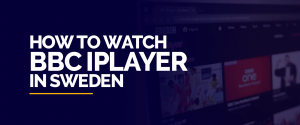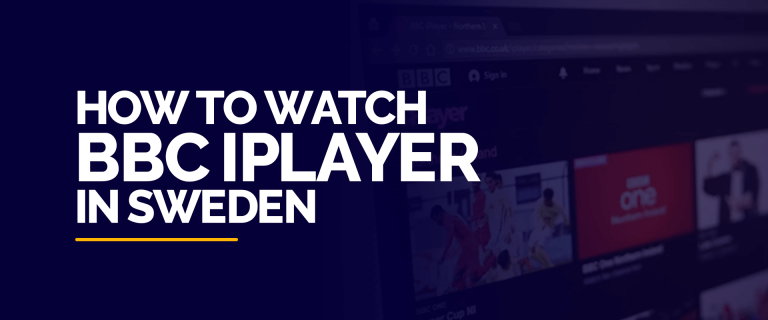 Luckily, we have worked out all the possible ways to let you stream BBC iPlayer in Sweden. In this blog, you will walk through the essential steps to access BBC iPlayer outside the UK.

Why Is BBC iPlayer Inaccessible in Sweden?
BBC iPlayer operates under the UK TV license, hence why it remains unavailable outside of the country.
Though the streaming service mostly contains content from BBC, there are various shows which the BBC exclusively buys to publish in the UK. As BBC stands for British Broadcasting Corporation, it clearly shows that the main target audience of the service is in the UK. Hence, the streaming service is, unfortunately, not viewable in Sweden due to copyrights and legal agreements.
How to Watch BBC iPlayer In Sweden?
To watch BBC iPlayer in Sweden, you can opt for any of the two possible ways. The first and the easiest way to access BBC iPlayer  is through a UK VPN. The second way to view BBC iPlayer outside the UK is via changing the settings of your iCloud account.
How to Watch BBC iPlayer with a VPN
To watch BBC iPlayer in Sweden, you'll need a VPN with dedicated UK servers. A VPN will change your virtual location from Sweden to the UK. In this way, the service will be open to you.
Just like Netflix and others, BBC iPlayer can detect VPN, so a free VPN service is something you should not rely on. FastestVPN unblocks BBC iPlayer from anywhere in the world. Get access to dedicated UK servers and enjoy a buffer-free streaming session.
How Can I Create a BBC iPlayer Account in Sweden?
To create a BBC iPlayer account in Sweden, get a UK zip code generator, then signup for the service, and that's it! However, this step is not as effective as using a VPN to access BBC iPlayer in Sweden because your account might get removed at any time.
How to Change iCloud Settings to Watch BBC iPlayer in Sweden?
If you want to install BBC iPlayer on your Apple device while staying in Sweden, then follow these steps.
Logout of your existing iCloud account
Create a new separate account (Enter UK as location)
Head to App Store
Download BBC iPlayer app
Note: Apple might not let you change the account's region without a correct payment address; hence making a new account is easier. You can logout and get back your previous account when needed.
Can I Watch BBC iPlayer on My Android Device in Sweden? 
Absolutely! You can access BBC iPlayer on your android device using FastestVPN. Here's how to do it:
Subscribe to FastestVPN
Login to FastestVPN
Select UK as your server location
Go to Play Store and tap the three-dot menu
Move to "Account"
Now Select UK as your account location
Restart Play Store
Now, install BBC iPlayer on your device.
How to Watch BBC iPlayer On Smart TV?
Sweden viewers can access BBC iPlayer on their Smart TVs using FastestVPN. Many Smart TVs don't support VPNs, so to watch BBC iPlayer, you'll need to set up FastestVPN on a router. Check out our guide on how to configure a VPN on a router. Use HDMI cable to connect with your TV and stream the way you want.
Can I Watch BBC iPlayer without a UK TV License?
Yes, only if you're connected to a VPN. While accessing BBC iPlayer with a VPN, you'll get a message that informs that you should have the UK TV license to watch shows. Simply, click on "Yes I have". BBC iPlayer won't ask you for a proof so you can safely continue streaming. However, you will need a UK ZIP code that you can search on Google easily.
Is Using a VPN Legal in Sweden?
VPNs are completely legal for use in Sweden. VPNs provide you with a secure connection that's encrypted for online safety. There is nothing illegal in streaming geo-blocked content with a VPN. However, if the streaming service detects a VPN IP, then it may block it.
Can I Use a Proxy to Unblock BBC iPlayer in Sweden?
Proxies are not a good option to access geo-restricted content. BBC iPlayer can detect and block it. It's also an unreliable way to stream due to slow servers and limited options. Moreover, free proxy services never use end-to-end encryption and sell your browsing data to third-parties.
What are the Most Popular shows to Watch On iPlayer?
BBC iPlayer offers an overwhelming collection of binge-watching TV shows. Here's a compiled list of BBC catch-up content to make your streaming sessions worth-while:
| | | |
| --- | --- | --- |
| Life | Us | Ambulance |
| Me, My Brother & Our Balls | Ghosts: Series 2 | Little Mix The Search |
| McQueen | The Repair Shop | Mystery Road |
| Question Time | Casualty | The Shipman Files: A very British crimes tory |
What Channels Can I Stream with BBC iPlayer?
When you tune into BBC iPlayer, you can explore a good variety of channels to stream. Below is a quick rundown of all the available BBC iPlayer channels:
| | | | |
| --- | --- | --- | --- |
| BBC One | BBC Two | BBC Four | CBBC |
| BBC Three | BBC Scotland | BBC News | Cbeebies |
| BBC Parliament | BBC Alba | Radio 1 | S4C |
Conclusion
That's about it! If you're living in Sweden, then accessing BBC iPlayer is not as complicated as you think. With FastestVPN, you can not only access BBC iPlayer but Netflix and Hulu also. So, subscribe to FastestVPN, available with 15 days money-back guarantee, and enjoy unlimited streaming.

Take Control of Your Privacy Today!
Unblock websites, access streaming platforms, and bypass ISP monitoring.
Get FastestVPN