How to Access Blocked Online Casinos Using VPN
How to Access Blocked Online Casinos Using VPN
By Nick Anderson No Comments 6 minutes
You've come across the perfect online casino and want to try it out. Unfortunately, you've discovered that the casino doesn't accept players from your country. What do you do?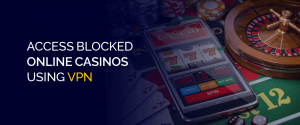 That's where a VPN comes in. VPN is short for Virtual Private Network. It is an encrypted network that hides your true location. So you won't be blocked from accessing a particular casino.
But how do you use a VPN to play at a blocked casino? Read on. We have all the details in this article. And before we conclude, we will show you the ideal payment options to use when gambling using VPNs. Let's get cracking!
How to Use a VPN for Online Casino
Using a VPN at an online casino:
Subscribe to the FastestVPN.

Download and install the VPN software on your device. For mobile gaming, ensure you download the mobile app.

Open the VPN software and connect to a server where the online casino accepts players.

Open the casino website, sign up for an account, and begin your gambling experience.
How to Make Payments with a VPN
You don't want your identity known when playing at a blocked online casino, right? But there's a catch. Not all payment methods keep your information incognito.
Using just about any payment method when gambling online is a sure way to have your genuine identity revealed. The consequences? Potentially losing your casino account and, even more distressing, forfeiting your hard-earned winnings.
Therefore, maintaining secrecy throughout the operation is essential for protecting against these threats. This includes signing up for an account, engaging in your preferred games on the platform, and even cashing out your well-deserved winnings.
Top 5 Payment Methods to Use at Blocked Online Casinos
Here are the top payment methods to keep you submerged and completely anonymous:
Bitcoin
Bitcoin, a cryptocurrency that took the world by storm upon its debut in 2009, has become a household name for millions worldwide. Its reputation as a reliable payment method transcends boundaries, even among those who are unfamiliar with its inner workings.
One of the basic aspects of Bitcoin is its ability to ensure privacy. There is no need to disclose personal information when utilizing this payment option, making it a trusted choice for playing at blocked online casinos.
Safety is a top priority, and Bitcoin delivers on this front. Thanks to its utilization of blockchain technology, which effectively safeguards your information from hackers, it is considered one of the most secure cryptocurrencies.
Furthermore, Bitcoin transactions are untraceable, ensuring that casinos remain oblivious to the sender's identity and location.
Trustly
You've probably heard of this casino payment method. It's trendy, with over 500 million people, including gamblers, using it.
Here's the interesting bit about Trustly: you don't need an account to use it. That means you won't need to share or verify any documents. That's why it's a reliable banking option when using a VPN at a blocked online casino.
You remain anonymous since Trustly doesn't need your bank or personal details. So you won't leave any trace after making transactions. This means you'll be safe from hackers and completely untraceable by the casino.
Besides keeping you underwater, Trustly processes transactions fast. You can use this payment method to deposit and cash out your winnings.
OnlineCasino-SouthAfrica quoted that "Trustly is blocking VPN." This means that if you are on a VPN connection, some payment methods recognize this and start blocking. The reason for this is the abuse of these services by hackers trying to pay with stolen credit cards.
Paysafecard
Another payment option available at most VPN-friendly online casinos is Paysafecard. This Austrian-headquartered payment method has been around since 2000.
When using Paysafecard, there are no boring processes involved. You only need to enter the 16 digits in your voucher. 
By using the voucher, you remain anonymous. The VPN casino you're playing at won't know your banking or personal information.
Unfortunately, you can only use this prepaid card when depositing funds in your account. That means you may need to consider a different payout option.
Ethereum
You'll rarely find a crypto casino that doesn't accept Ethereum. It's a widely known payment option that's available at Curacao-licensed VPN crypto casinos.
With Ethereum, you can be sure of anonymity. Ethereum transactions are pseudo-anonymous. That means tracing your identity requires extensive data mining and chain analysis. This is more challenging than it sounds, and casinos will rarely go to that extent.
Away from privacy, Ethereum processes deposits in an instant. Similarly, ETH withdrawals are processed within minutes.
Another thing: you shouldn't worry about Ethereum withdrawal and deposit charges. Most crypto casinos charge 0% fees for Ethereum transactions.
Neosurf
With over 130,000 outlets globally, Neosurf is another reliable payment method for a blocked online casino. It has processed billions of transactions since it debuted in 2004.
When using Neosurf, you don't need to share your personal or banking information. Head to a Neosurf outlet and purchase a 10-digit voucher. You can then use the voucher to cash in at a casino.
What's more, Neosurf is a fast payment option. Deposits, for example, are instant.
Because of its perfect reputation, hundreds of gambling sites accept Neosurf. That means you'll likely find it at a blocked online casino.
Pros and Cons of Using a VPN 
Here are the highs and lows of using a VPN to play at blocked online casinos:
Pros
Prevents tracking

Protects your information

Ideal for avoiding censorship

By-passes geographical restrictions

Access to some of the best online casinos
Cons
Some online casinos are against the use of VPNs

Access to unreliable online casinos

If caught, you risk losing your account and all money therein.
Tips for Using a VPN at Blocked Online Casinos
First, ensure your VPN provider is trustworthy. You don't want to pick just any VPN company. Doing so may compromise your privacy and security.
Moreover, before signing up for a VPN, ensure it covers a wide range of servers/countries. This way, you'll have no problem joining casinos based on the countries the casino accepts players from.
More importantly, consider a No-log VPN such as FastestVPN. FastestVPN does not keep any logs of your data and keeps you safe and anonymous.
On top of that, opt for a VPN with optimal speeds. Using slow VPN networks will ruin your gambling experience, especially when playing games and transacting.
Also, remember to choose a reputable casino. Not all blocked online casinos are legit. Ensure the casino you'd like to join is licensed and safe. After that, have fun and play responsibly!
Conclusion 
To sum up, a VPN can be used to gain access to restricted online casinos and play freely and anonymously. Using confidential and secure payment options like Bitcoin, Trustly, Paysafecard, Ethereum, or Neosurf are great ways to stay safe and private online. It's critical to choose a reliable VPN service with a variety of servers, lightning-fast connections, and a strict no-logging policy, such as FastestVPN. You can rest assured that your money and personal information will be safe when you play at a reputable and regulated online casino. Players can improve their online casino experience, play safely, and gamble responsibly by following these recommendations and following the required safeguards.
Take Control of Your Privacy Today! Unblock websites, access streaming platforms, and bypass ISP monitoring.
Get FastestVPN