How to Delete Kik Account
How to Delete Kik Account
By Nancy William No Comments 9 minutes
Messaging and social media apps are great, but it can be a threat when it comes to children or underage teens. Kik is one such app that is popular among the youth. But, how safe is it? Is Kik a threat? Either way, this guide will show you how to delete Kik account permanently or how to disable it temporarily.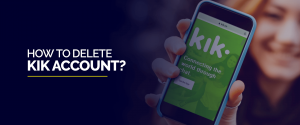 Table of contents
What is Kik?
Before moving ahead, let's first start with the basics. What is Kik?
In short, Kik is a messaging and social app. It's also known as Kik Messenger. What's more? Kik is free and the mobile app is available for iOS and Android operating systems. Just like most messaging and social apps, with Kik, you will be able to communicate and exchange private messages, share pictures, videos, and music with other users on the app. With an account, you'll have access to GIFS, quizzes, news and more.
How to delete Kik account permanently
Here's how you can delete your Kik account permanently:
Go to the

delete Kik account page

.

Fill in the "

Username

" and "

Email

" sections, and

choose a reason

for why you want to get rid of Kik account. You can also fill the "

Additional info…

" box and then check the box below it. Click on "

Go!

" to delete Kik.

 Check your email and scroll at the bottom. You should see a box, as shown in the image below. Click on

"

Permanently Deactivate

."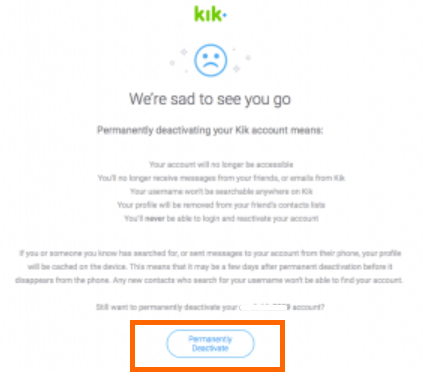 After that's done, follow the rest of the onscreen instructions to proceed.
That's about it! You've now permanently deleted your account. Once you remove Kik, you won't be able to reactivate it, nor will anyone be able to use it. To use the app, you will need to sign up for the service again. 
Can I re-access my Kik account once I delete it?
No, you won't be able to. Once you delete your account, you won't be able to sign back into it, nor retrieve any data that you lost. Deleting a Kik account is much like deleting Reddit account – nonretrievable. However, if you're only temporarily deactivating your account, you will be able to sign back into it.
Temporarily deactivate Kik account
If you'd like to deactivate your Kik account temporarily, here's how: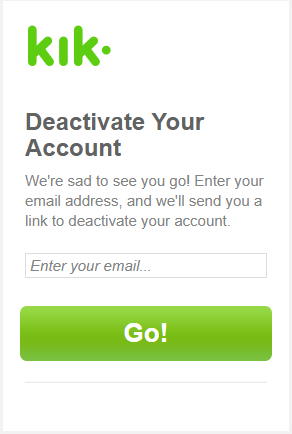 Enter in your email address, and click on "

Go!"

You will receive an email, click on the link and follow it. Click on "

Deactivate

."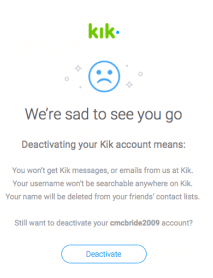 This will temporarily deactivate Kik. When you're ready to use it again, simply sign in using your Kik ID. 
How to delete Kik messages
Even though Kik automatically deletes old messages that pass the maximum limit, you can still get rid of Kik messages easily:
Open your Kik chat.
Select the messages that you would like to delete.
Long-press the message, and click on "Delete."
If, however, you would like to remove Kik conversations:
Choose the Kik conversation you want to delete.
Click on their username, seen above the chat.
Click on "Delete."
How to delete your Kid's Kik account
The simpler way in deleting your kid's Kik account would be to ask them for their username and password. With this, you can go into the settings in the top left corner and follow the onscreen instructions to erase Kik.
 However, if that's not possible, you can reach out to the company and send out a request to make it happen. Another way to delete your kid's Kik account is to send out a request to [email protected] It's always great to be safe first!
Can you deactivate Kik account without email?
No, there isn't a way to delete Kik account without your email. Either write the password down somewhere or contact Kik support to assist you.
How to delete Kik account on Android or iOS smartphone
Kik already has an account deletion form that you can use to deactivate Kik. You can use the very same form on your Android and iPhone smartphone, along with your laptop or PC.
All you need to do is fill in the form with your account username or email address, and state your reason for leaving.
How to sign up for Kik
The procedure to sign up for Kik is fairly simple. All you need to provide is your email address, username, and your birthdate, and hit on create.
There's good news and bad. The good news is that only minimum information is required, for other users to see, plus the app claims to delete all message histories after some time.
There is, however, a downside. Kik comes with many vulnerabilities and privacy issues that most users aren't aware of. For starters, there's no end-to-end encryption which is important for protection and security purposes. Plus, the app logs IP addresses. This gives you a reason to delete your Kik account. However, if you're a parent and wish to delete your kids Kik account, follow the tutorial below to get started.
What steps can I take if someone is harassing me on Kik?
If you're not too set on deleting your Kik account, you could disable it. However, if your issue lies around someone harassing you on Kik, there is something you can do about it:
Once you're being harassed on Kik, immediately report the account of the harasser to

[email protected]

. You just need to send them a message. You'll then be allowed to get in touch with Kik's Safety Center that will take matters into their own hands and off yours. Other than this, and after reporting the harasser, you can block or report the bully by clicking on the "Report User" button.
Choose to talk to an adult or a caretaker if you're underage, and especially if things get out of hand.
You can choose to block the person if that's what you'd like.
If things spin too out of control, you can either delete your Kik account or report it to any cybercrime or cyber police agent.
Why is Kik a threat to cybersecurity and privacy?
There are quite a few reasons why Kik is a threat to cybersecurity and user privacy while using the app, and here's why:
Kik is easily accessible. With that said, teens or kids younger than 18 can easily sign up and register with the app without knowing the dangers. There is no means of parental control on Kik. Users can easily sign up with a fake birth date or name.
Transparency is important for any company, and the products it creates. There is no authentic policies provided on Kik that you can go through, plus, the company does not allow independent audits.
There is no means to get any proper information on the company that runs Kik. With countless efforts from many experts, the results have been very vague as to obtain any background information or policies on the app.
There is a lack of basic encryption. Most messaging apps are designed with a lack of online privacy or security features. With that said, there is no solid encryption on Kik. This means that your information, all your messages, and media can be stolen, and shared with third-party sources.
Kik allows fake accounts. So, just about anyone can steal your identity and use it against you on a platform like Kik. There is no double factor authentication or any means to identify the user as authentic.
Other than this, there are usually many social media apps that cause major vulnerabilities in the security and privacy of the user, data, or device. There are other platforms like Skype that also can cause issues if your account isn't used but lies around in your device. It's why you need to know how to delete Skype and other apps similar to it.
Use a VPN
Now, Kik might be a fun app to be on, especially if you're a teen and would like to keep on with the trends, however, if you're still planning to stay on with Kik, make sure you use a VPN with it! Since Kik doesn't come with adequate security nor privacy features to protect you online, it is best you pair it with a great VPN.
We recommend using FastestVPN since it's affordable, and operates using AES 256-bit encryption standards. It'll help secure your device, your internet connection, and keep your information from leaking and getting pried on by external third-party sources.
Also read – How to Delete a Pokémon Go Account
Is there a safer Kik alternative?
If there are other but safer Kik alternatives that you are willing to try out, here are a few to consider:
Signal
Signal has now managed to overthrow WhatsApp after its many privacy and security issues. It is also one of the better alternatives to consider other than Kik. It's safe, comes with solid encryption and a high level of online privacy for users. With Signal, you can chat, send GIFs, videos, pictures, music and more. There's also a video and voice call option. What's more? With Signal, all your chat will automatically be deleted after a timer is set. Plus, it's free to use!
Fennec Messenger
This one is the best for your child's security over messaging apps. No stranger will be able to reach out to your child. The best feature that Fennec Messenger offers is a device locator. You'll be able to locate your child via the app, if ever in danger. The amount of time you spend on the app is also monitored.
JusTalk Kids
JusTalk Kids is another great alternative for Kik, but is more of an app with major parental control perks. For starters, parents would be able to set up a password for the kids, and delete any strange or unwanted contacts of the list at any time. The features include video and voice calls.

Take Control of Your Privacy Today!
Unblock websites, access streaming platforms, and bypass ISP monitoring.
Get FastestVPN