How to Delete Reddit Account
How to Delete Reddit Account
By Nancy William No Comments 10 minutes
Need to delete your Reddit account? Don't know where to begin? We'll help you out!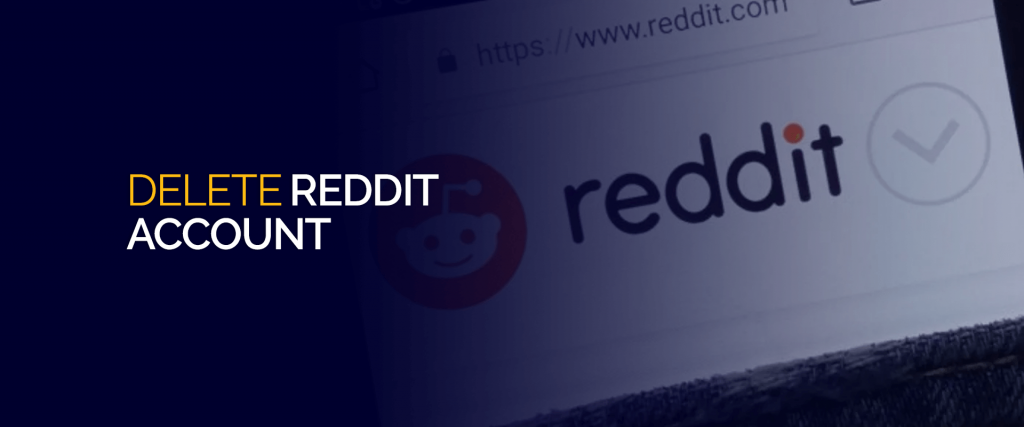 Reddit has always managed to be one of the very best social network sites in the world, with around 430 million users a month! However, there are many controversies that this great platform comes with, some of which may be the reason you're about to delete your Reddit account.
Back in 2012, Reddit was deemed as the hub of controversial issues and explicit content. Users joined and created various subreddit communities where discussions on child pornography, explicit content showing pictures of women without their consent, and other political agendas that were far from the truth.
Despite these events, the ex-CEO Yishan Wong still refused to condemn and remove any of these threads – as he stated were merely a part of "freedom of speech" that he supported. There's a fine line between freedom of speech and freedom to post distasteful and violent-in-nature subreddits.
After that, another controversial issue cropped up in 2016, where the CEO of Reddit, Steve Huffman made many alterations to a popular Reddit thread called r/The_Donald. It's where Trump supporters bashed the CEO himself for shutting down a subreddit because it highlighted conspiracies against Hilary Clinton.
Huffman could almost edit and control the entire flow of the content, to a point where he replaced his name on the thread with that of his attackers.
No doubt this infuriated the Redditors of the fact that he could invade their privacy and manipulate the content. This issue sparked the notion that Reddit was no longer safe.
A lot of other issues had cropped up, mainly towards Reddit breaching user privacy and sharing their data to third parties by re-enabling the tracking feature. Of course, users can manually disable tracking, but not every Reddit user was informed about it.
Why you should delete your Reddit account
There are many reasons why you would want to delete your Reddit account. For simpler reasons, maybe you've had enough of social media, or you are not as active on Reddit as you used to be. Reddit isn't the only platform, in fact, users also look up ways on how to delete Amazon account for security reasons.
Your main focus to delete Reddit account could also be for cybersecurity reasons. Taking a look at all the past issues regarding how much data was logged and manipulated by the ex-CEO himself, how can one trust a platform like Reddit again? This is mainly for the privacy-centric, who after past breaches would now like to delete their Reddit account.
Apart from Reddit, we know that big-league entities like Facebook, Instagram, Twitter, and more are known for actively stealing or monitoring user data and activities. In fact, Facebook made the headlines this year in 2021, for a massive data breach scandal!
There's no saying to what end or degree, but we know the ongoing issue is big! Reddit on the other hand falls into the same category even today. None of these corporations can truly be trusted with your identity or online privacy, and are often the hub of fraudulent activities.
According to a report in 2018…
There was also an alarming public service announcement that circulated the internet 3 years ago in 2018, which stated that Reddit is now using API tracking to monitor everything its users do and log their information. In short, this sort of tracking opened the gates for third-party sources to either log your data for personal gain, or steal it.
All the data collected is also used by these third parties that Reddit permits, to give the users a "better experience" online, swarming them with unwanted spam adverts.  However, there is still a way to control what data you'd like to be shared or what shouldn't. You can go into the advertising settings if you have a Reddit account and tweak it around a bit.
So, if you're not too keen on all your information being spilled out or taken advantage of, you should move on to steps on how to deactivate Reddit account. However, there is more to look into before you delete the account. Let's just say you went ahead and deleted it, do you know that your information, comments, or posts can still linger around the Reddit space even after you no longer have an account?
Take a look below to understand this a little more clearly.
Read this before you delete your Reddit account!
Other social media platforms might offer users the chance to pause or temporarily deactivate their accounts, but this isn't the case with Reddit. Once you delete your Reddit account, there's no going back. Even the term used to "deactivate Reddit" means to delete it permanently.
Does deleting your Reddit account delete your messages or content?
No, it doesn't. When you get rid of your Reddit account, all your comments, messages, and threads will remain on the site. Instead of your username, the public or you will only be able to see "[deleted]" in place of the author name.
All your posts, comments, and other data still remain visible. So, before you delete your Reddit account permanently, make sure you first delete everything, including the private messages you may have sent!
What if I want to reactivate my account?
There's no way to get back your Reddit account once you delete it. So, before proceeding with the tutorials below, be sure that you want to delete your Reddit profile!
How to delete your posts or comments on Reddit
Here is the deal, we all know that cybercrimes like identity theft, phishing scams, and malicious attacks are at an all-time high. I mean you could use free anti-tracking software to protect your identity for short term purposes, but that is not going to be very effective when you still have all your details on Reddit even after you've deleted your account.
When you deactivate your account, all that is happening is you giving up the rights to access your profile. However, it's a fact that even though you delete your account, everything you've posted in the past; a comment or a post, will still be pretty visible to the public.
That might not seem like a huge deal, but there are times when most of you have unconsciously added personal information about yourself on Reddit. Like let's just say your username was "JackFerguson1992" and you asked a question regarding using a VPN for the USA, or would like to unblock Hulu from outside the USA, but simultaneously introduced yourself as Jack Ferguson, your line of work, and your country of origin. That itself is giving away more information than needed.
For example…
Here's what happens when you delete a Reddit account:
Your username "JackFerguson1992" is not seen to the public eye
Your comment containing your name, location, and line of business is still seen to the public eye.
There's no way of removing the details on Reddit after you've deleted your account.
Is the situation a lot more clearer? With that said, before you attempt to permanently remove Reddit from your phone or device by deleting the account, make sure you take the extra time to delete all comments and posts and other identifiable information you curated on the profile.
Delete posts and comments on Reddit
Go to the Reddit website, and sign in to your account.
Click on your profile icon (avatar) at the top right corner of the screen, like so:

Click on "Profile."
Next, click on "Posts" or "Comments" to view either of them.

Scan through the posts or comments that you'd like to delete. To do that, just click the "…" button, and a list of options will appear.
Click on "Delete."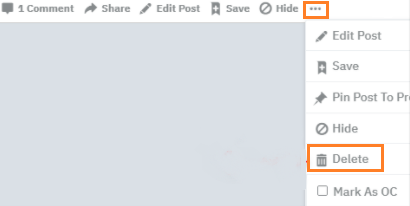 The same tutorial applies to all comments and posts on Reddit. You need to delete them individually. You need to also individually delete all private Reddit messages if there are any.
Now that you've deleted all your posts and comments from Reddit, you can now learn how to delete or deactivate your Reddit account permanently.
How to delete Reddit account permanently
Once you delete a Reddit account, there is no going back. So, make sure you're 100% ready to do it!
Delete Reddit account:
Sign in to your Reddit account.
Click on your profile icon, and then on "User Settings" from the drop-down menu.
Scroll to the bottom and click on "Deactivate Account."

Re-enter your sign in details, and then state your reason why you want to delete your Reddit account. Click on "I understand that deactivated accounts are not recoverable" and then click on "Deactivate"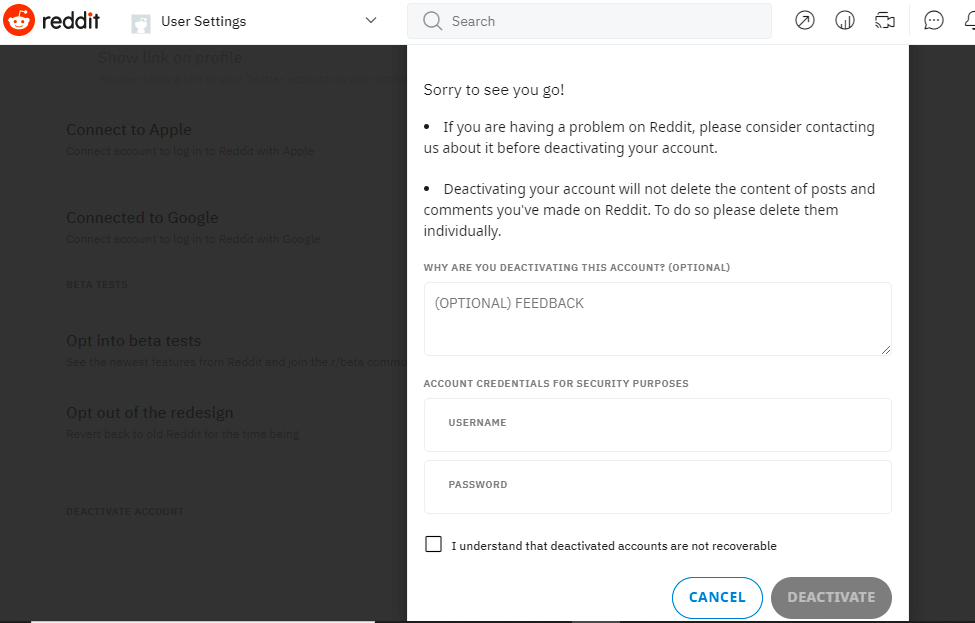 When you see another pop-up asking if you're sure you want to deactivate, click on "Deactivate."

You've deleted your Reddit account permanently!
How to delete Reddit account on Smartphone
Sign in to your Reddit account.
Click on the icon on the top-left of the screen and click on "My Profile."
Now, click on "Settings" and then after scrolling, click on "Help FAQ."
You will be redirected to the "Reddit Help" page. Enter in "Deactivate account" in the search tab.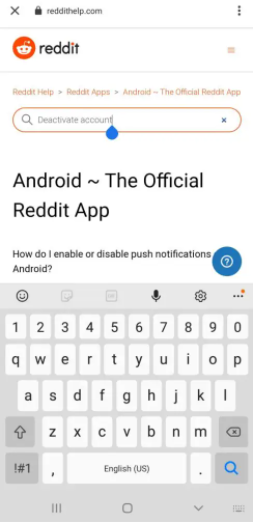 Once you see the query, click on "this link."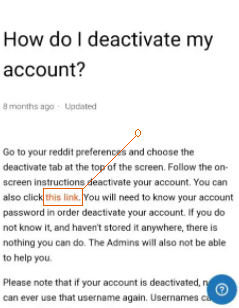 You will now see the deactivation page.
Fill in all the necessary details, including your reason for deleting your Reddit profile.
Click on "Deactivate."
That's all!
Other than that, here's a video representation of how you can deactivate a Reddit account on mobile.
How to delete Reddit account on old.Reddit.com
Go to the deactivate tab of your liking.
Sign in to your profile.
Fill in the form with your username, password, and make sure to confirm Reddit account deactivation before clicking on "Deactivate account."
Just in case you don't want to delete your Reddit account…
Lastly, this is just an optional step if you're not ready to delete your Reddit account. We understand that most platforms or apps like Reddit come with major cybersecurity threats to online privacy and security, but there is a suggestion to keep your account and protect yourself while on it.
Ads are super annoying, and with that said, if that was the main issue on Reddit, you could go into your Reddit privacy settings and disable any extra data that might be stored on there. Once you bounce out of that, the Reddit ads go down to a bare minimum.
Other than that, there is another secure option, and that is by investing in a VPN that works with Reddit, but at the same time protects your device and data against such invasive platforms. A VPN will help lower what information websites like Reddit can steal or log, but make sure you choose a VPN provider that doesn't log your data either. For that, FastestVPN makes a great option, and comes with top-of-the-line VPN features that you can take a look at!
To conclude
You now know how to delete a Reddit account!
As mentioned, there are many reasons why users are now deleting their Reddit accounts. However, if we were to pin one reason, you probably should delete your Reddit account only because of privacy and security reasons.
Knowing that all your information on sites such as Reddit is often logged, monitored, or manipulated, make sure you're careful about what you post online. If, however, you're not deleting your Reddit account, make it a habit not to highlight personal information like your name, age, location, and more.

Take Control of Your Privacy Today!
Unblock websites, access streaming platforms, and bypass ISP monitoring.
Get FastestVPN