How to Unblock Online Games Easily
How to Unblock Online Games Easily
By Nick Anderson No Comments 4 minutes
Video games have come a long way. They are rich in visuals and allow for a connected experience with other players around the world. Online gaming has steadily increased in popularity over the last couple of years thanks to games such as Fortnite, and the accessibility and portability of mobile devices. But like much content that the Internet Service Providers (ISP) has control over, online gaming too has joined the list. Curious to learn about how to unblock games? We'll show you exactly how.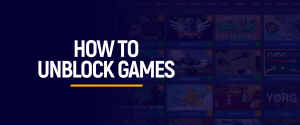 Why ISPs Block Games
In the context of online games, it is actually the IT administrators of your school, university, or workplace that disable access, not the ISP whose service they rely on. Although games are entertaining, they can be a productivity-killer. And that's what your employer or the administration is concerned about.
But more importantly, online games can demand bandwidth that can make the experience slow for other users on the network. Online games and online streaming websites are two areas that are generally blocked from access.
However, if you find yourself on a break and willing to catch some fun by playing your favorite games, then an Online VPN will enable you to access it.
What a VPN Can and Can't Do for You
A VPN works by directing the flow of internet traffic through its server. The data packets travel encrypted through the ISP's server and to the VPN server before they are sent to the destination. The VPN server's IP address allows you to spoof your geographic location and bypass restrictions.
But a VPN cannot do anything if access to content is tied to your online account's region. Once you select a region during signing up for an account, that stays with you, regardless if you use a VPN. It is true for services such as Xbox Live, PlayStation Network, Steam, etc. The same applies for Android and iOS devices using PlayStore and App Store accounts, respectively.
If you chose the United States as your address during the sign-up process, then the content displayed will be specific to that region.
The guide aims to unblock only websites that allow you to play games online. Such entertainment domains are popular by demand and can easily be blocked by the ISP.
How do You Unblock Games at School or Work?
There are a couple of ways that you can try to unblock games online, but a few of them might not yield any results in the face of a strict firewall. Hence, the best way to unblock games online is through a VPN for school. It's as simple as connecting to a VPN server and opening up the webpage. But before you try a VPN, perhaps you can get away by changing your DNS server settings.
A DNS server is like the address book of the internet. Domain names have an IP address that the DNS server looks up at your request and returns to you. It would be problematic for everyone if we were to remember the IP addresses of multiple websites. So domain names provide an easy way to remember websites, while DNS servers look up the IP address. It's possible that the ISP is blocking access based on DNS queries.
Here's how to change the DNS server:
Windows
Open Network & Internet by right-clicking on the Wi-Fi/PC icon in the icon tray.
Click on Change adapter options.
Right-click on the current connection and select Properties.
Double-click on Internet Protocol Version 4 (TCP/IPv4).
Check on the Use the following DNS server addresses and enter these values:
8.8.8.8 (Preferred DNS server)
8.8.4.4 (Alternate DNS server)
Click Ok.
Mac
Click on the Apple menu and go to System Preferences.
Go to Network.
Select the network that you are connected to, then click on Advanced.
In the DNS tab, click on the + icon to add DNS server. Now enter these values.
8.8.8.8 (Primary DNS)
8.8.4.4 (Secondary DNS)
Click Ok. Then click Apply in the next window.
Browse the websites to see if you can visit them now. If you can't then connect to a VPN.
Subscribe to FastestVPN
Download the app for your device.
Launch the app and connect to any server outside of your region.
Access online games without restrictions.
Conclusion
The reason why a VPN is so much more effective than any other method is thanks to the multiple benefits that only it can provide. Not only does a VPN use its DNS servers to serve your requests, but it also encrypts your internet traffic, making it impossible for the ISP to detect its content.
If you find yourself unable to connect to the VPN server, then switch to the OpenVPN protocol. It will mask VPN traffic as regular HTTPS traffic.
Take Control of Your Privacy Today!
Unblock websites, access streaming platforms, and bypass ISP monitoring.
Get FastestVPN