Best Online Photo Storage Sites
Best Online Photo Storage Sites
By Christine Margret No Comments 6 minutes
A decade ago, online photo storage was but a need of only a few. People used to keep their digital media in computer folders, mostly.  With time, as more photo storage sites came online, and smartphones and fast internet speeds became mainstream, it became more of a preference. This guide highlights the best online photo storage sites you can try! Pair them with FastestVPN to improve online security!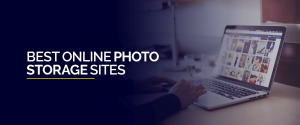 A couple of years ago in 2013, a service named Flickr introduced one terabyte of free storage. Eventually, Google upped its cloud storage offering with unlimited photo storage in Google Photos.  
In 2018, Flickr dropped its storage limit for free accounts to 1000 photos only. Google has also phased out its unlimited storage option in favor of a 15GB limit this year. 
Fast-forward to the present, we have various options for cloud photo storage and sharing sites. And this blog aims to cover it all. So, let's check out the best online photo storage sites to keep your files stored and organized without further ado.
The Best Photo Cloud Storage Services in 2021
We have compiled a list of authentic photo storage sites to best meet your general photo storage needs. Check out below: 
Dropbox
Dropbox has plenty of useful features and what makes it even trusted is that it was one of the first cloud storage service providers. Its basic account comes with 2GB of storage that you can upgrade by getting a Dropbox Plus to account for $11.99/mo for 2TB. 
You can also get extra storage levels from 500MB to 1GB per referral. With Dropbox, users get a 30-days history and options to restore folders in case of accidental crashing or deletion. 
In addition to its features list, Dropbox supports Raw files storage and is integrated with Facebook to let its users share files on the social network. 
Pros: 
Support: All File Types 

Interface: Easy to use 

Integrations: Facebook/ Adobe Creative Cloud 

Free Storage: 2GB 
Cons:
Editing options not available 

Photo Tagging not available 

Prices are high 
Flickr
Flickr is another great photo storage platform where you can enjoy saving up to 1000 photos for free. You can also upgrade to a Flickr pro account for $7.99/mo to get unlimited media storage. Besides offering a massive storage capacity, Flickr also has other scores that include a clean Photostream interface. 
You can also make your images available for public viewing and commenting.  There's also a stat engine to keep you informed on who's viewing your images. 
Flickr has a drag-and-drop option that allows you to manage your albums easily, and you can also add a collection of photos from other photographers. 
Flickr pro account serves you with amazing features, including the facility to view your media at resolutions up to 6K without ads. Not only that, you may stream videos that are 10 minutes in length. 
Pros:
Support: JPEG, GIF, and PNG Files 

Interface: Photostream 

Free storage: 1000 photos 

Tagging features: Available 

Extensive tools: Available 
Cons: 
Free version limits file sizes 

RAW Files not supported 
Google Photos
Google photo-sharing service has some limitations, but it's still a good option to go with. With Google Photos, you can get a backup of all your smartphone's videos and photos. 
The photo organization is exemplary since Google Photos uses AI techniques to categorize your media. You can type any relatable word, and Google will fetch the most relevant results from your media library. Finding a specific group, person or thing is hassle-free with Google Photos. 
Editing options for tweaking colors or cropping are also available. Moreover, you can also share your albums publicly or with a specific group of friends. 
Google account holders can get 15GB for their entire account that too include apps like Gmail. To get more space, upgrade to Google One with 100GB for $11.99/year. Users can also opt for 200 GB for $29.99/year and 2TB for $99.99/year. 
Pros: 
Support: Photos and Video Files 

Interface:

Easy to use 

Free Storage: 15GB for the entire account 

Tagging feature: Available 

Editing Tools: Available 
Cons: 
Compressed and resized files 

Unpaid photos are limited to 16MP in size
Microsoft One Drive
Microsoft OneDrive is a cloud storage provider with seamless Windows integration along with other remarkable features. Microsoft cloud storage solution comes with a basic account of 5GB storage and it's totally free to use. Yet, if you have more files to save, you can buy its other tiers that include $2/mo for 100GB, $7/mo for 1TB plus, these advance plans will also enable your access to Office apps. 
 Moreover, Microsoft One Drive is compatible with all file types. It's just not limited to the photos so you might not find other exclusive features that other photo storage sites are providing. 
However, users who want advanced features might try OneDrive business plans for file auditing and management. OneDrive business plan 1 costs $5/mo and OneDrive business plan 2 is for $10/mo. 
Pros: 
Support: All File Types 

Interface: Similar to Windows 10

Free storage: 5GB 

Integration: Windows, Microsoft 363

Tools: Decent file-sharing and document collaborative editing
Cons: 
Syncing for specific folders only 

In-app photo editing not available 

Very limited photography features 
iCloud
iCloud is a dedicated file storage service powered by Apple. Besides supporting photo storage for Mac, Apple and iPhone it has seamless support for Windows. 
You can upload your media online and display it in a Photostream interface. Moreover, photo tagging is also available, and you can tag images with names and locations. The best part is that other iCloud users can also share or add their photos to the stream. 
iCloud gets you 5GB of free storage that you can upgrade by paying for the advanced photo storage plans starting from $0.99/mo for 50GB, but this plan is exclusively available for users in the USA only. 
Pros: 
Support:

PNG, JPEG, TIFF, and RAW formats

Integration: Apple devices

Free Storage: 5GB

Tools: Extensive photo editing tools in the Photos app 
Cons: 
Limited to Apple devices only 

Top out limit is 2TB only 

Free storage limit is low compared to other providers 
Conclusion
These are the best online photo storage sites that you can completely trust upon. This list will surely help you keep your photos in the right format and accessible anywhere. However, if your only aim is to store all photos in one encrypted zip file, you could try that out. But, you will still need to store them on one of the photo storage units to access them anywhere and on any device. So, try using any of the services above and let us know about your experience with it.

Take Control of Your Privacy Today!
Unblock websites, access streaming platforms, and bypass ISP monitoring.
Get FastestVPN