How to Encrypt ZIP Files on Various Platforms
How to Encrypt ZIP Files on Various Platforms
By Johan Curtis No Comments 5 minutes
We've all been there; when there are simply too many files to send, and you don't want to send those one by one because that's just way too time-consuming and not to mention gives off a very unprofessional impression.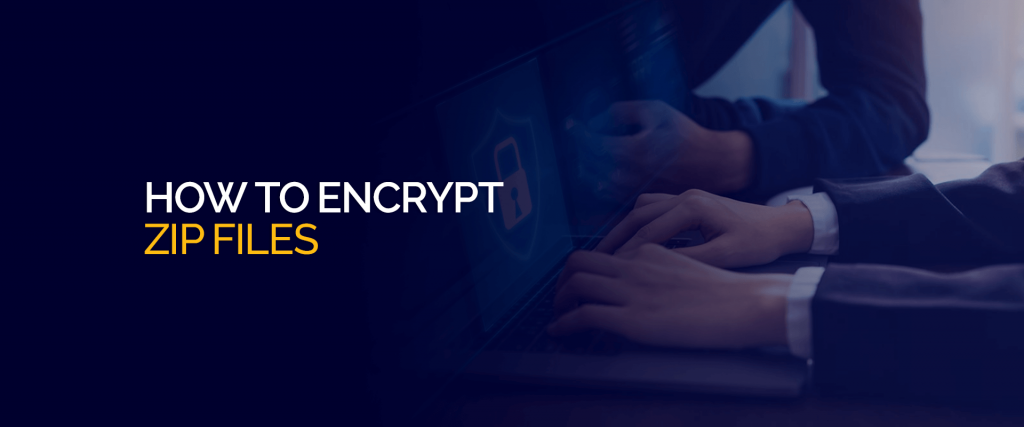 This is where ZIP files come in handy. You can literally just compile or archive all your data or documents in one file and sent it to the recipient.
What exactly is a ZIP File?
A ZIP file is basically an archive file that compresses your data in such a way that you don't lose any of it.
There are also two types of ZIP files, one of which is the regular non-encrypted ZIP file that can be accessed by anyone when they click on extract files. Whereas, the other type which is the more secure version of a ZIP file is an encrypted file.
An encrypted ZIP file is password protected; this way, it prevents just anybody from viewing your data and permits only a few selected people.
Why Choose ZIP Files?
The most common reason why people prefer to use ZIP files is that they are comparatively easier to handle and are less time-consuming. Since ZIP files compile all your data and documents in one single folder, it is an easier option, and it acts as a free backup file also.
Similarly, as established earlier, it's way more convenient and impressionable to send multiple files altogether in one small compressed file rather than having to send several attachments.It is also a good option if you're low on space.
How to Create a ZIP File?
If you're looking to create a regular non-encrypted ZIP file, you can simply do so by installing any of the ZIP file creating software such as WinZip.
Install WinZip, open it in the WinZip Wizard Mode, and when you're asked "what do you want to do?", select "create a ZIP file" then you will be guided throughout the entire process.
How to Create an Encrypted ZIP File
If you are transferring confidential data or sensitive data, it is always wise to choose an encrypted ZIP file. Only you or the person you want to share it with can access it.
There are several methods of encryption on different devices, some of which include downloading third-party applications; we've listed them down for you.
How to Encrypt ZIP Files using Windows
Several applications offer encryption on windows, one of which is WinRAR. Here's a step by step tutorial:
Open WinRAR's website and download the application onto your PC.
Once it is downloaded and installed, select the data and documents you wish to encrypt
Right-click and select "Add to Archives" in the menu displayed
When the Archive and Parameter popup opens, name your file whatever you choose
Make sure that under the Archive Format section you have select "ZIP"
Once done, at the bottom right, click on "set password."
Type in the password you want
Then select "ZIP Legacy Encryption" (this way if the recipient does not have WinRAR, they can still view the file)
Now, wait for WinRAR to create your ZIP File.
How to Encrypt ZIP Files using MAC
Similarly, you can download some sort of application to create ZIP files on MAC, but did you know you could do it easily without downloading anything? Here's how:
Select whatever files you wish to compress
Right-click once selected, then choose "compress" and choose the ZIP file
Open your Finder, select "utilities"
Once that opens, choose "terminal" from the folder
Then enter this command to encrypt "zip -e archive_name target_folder" and "zip -er archive_name target_folder"
A popup should appear asking you to enter a password, enter the password of your choice
Verify it and press "OK"
And you're done with creating an encrypted ZIP file
How to Encrypt ZIP Files using Android
In order to create ZIP files on your phone and password-protect them, you will need to download a third-party application that will do the encryption for you, such as WinZip.
Here's how:
Download WinZip from Google Play
Open WinZip
Tap the menu button and select a location where you want to import files from such as Dropbox etc.
Select the files you wish to protect
Choose a location of where you want to save your ZIP file
Open the folder or create a new folder and select "zip here"
Choose a name for your ZIP file
Once you enter the name, tick the box which says "Encrypt ZIP File"
Come up with a password of your choice, reenter it.
Tap "OK"
WinZip then creates the file for you, and you can view it at the location you selected.
Conclusion
ZIP Files are extremely useful. Ever since we've learned about ZIP Files, they've been nothing but a lifesaver, making transferring files easier and quicker, and to top it off, they save disk space.
Moreover, encryption is an added feature that is of utmost importance in order to protect sensitive data; we hope that this blog was of help to you in encrypting your files efficiently.
Take Control of Your Privacy Today!
Unblock websites, access streaming platforms, and bypass ISP monitoring.
Get FastestVPN