12 Best Sports Streaming Sites
12 Best Sports Streaming Sites
By Johan Curtis 1 Comment 6 minutes
We all remember the time when online streaming was a word that was foreign to us. Wanting access to best sports streaming sites meant owning a TV, buying premium cable, and calling the cable company to subscribe to certain packages to gain access to sports channels where you could stream matches live. The process is incredibly time consuming and not to mention expensive.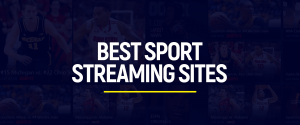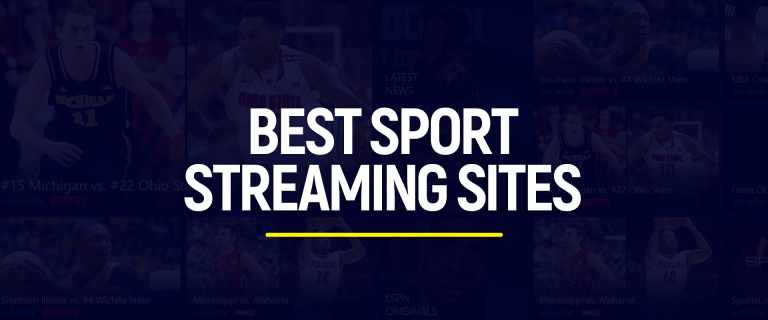 Then came technology and has changed our lives ever since. Thanks to the internet, now you can find multiple online streaming platforms that offer live streaming facilities for almost any sports matches you want to watch.
For all you sports fanatics who want stream matches online, we've compiled a list of the best websites where you can watch your desired matches.
However, before we begin our list, let's discuss a few problems that you may face.
Are Streaming Websites Available Worldwide?
All good things come at a price. Most streaming websites, whether free or not, play geo-restricted content, which means that people who are not living in those selected regions, cannot view that particular content.
Similarly, most websites altogether are geo-restricted such as ESPN+, FOX, etc. These websites are only accessible to residents in the USA or other select regions, which means that not everyone can gain access to the website.
No need to stress out though, we've got you covered! Want to find an easy way to surpass geo-restriction and play content? It's simple, download a VPN!
How a VPN Help with Streaming
A VPN is known for the brilliant security and privacy it provides you.
By downloading a VPN before you begin streaming, you can easily surpass geo-restricted content. A VPN will mask your location by swiftly changing your IP address to one which matches the particular website's location requirements and portrays you as a resident living in the said region.
Similarly, some websites may play third-party supported content, which may not be entirely safe for you. That's where a VPN comes in handy. A VPN will provide you with the security you need when visiting such risky websites by encrypting your data and making sure no one else gets access to your internet traffic.
FastestVPN and its multiple international servers offer you access to unlimited content while making sure that you are browsing completely safe and secure.
Best Streaming Websites
1)  Pluto TV
Pluto TV is an internet TV platform that offers multiple channels, including various sports channels, as well as many other platforms. It works like any other premium TV subscription, even better, if we may. However, it uses third-party content or content from partnered websites such as Fox Sports to ensure safety connect to FastestVPN first.
All you have to do is open their website to add the channel to Roku. Or you could simply download their mobile application.
2) WatchESPN
WatchESPN is the official ESPN channel. They offer loads of advertisement-free content. You can simply click on their website and begin streaming or download the mobile application.
However, ESPN is geo-blocked, so don't forget to connect to FastestVPN.
3) AllSport Live
This is perhaps one of the oldest sports streaming websites there is. AllSport Live provides you with as many links as you want to the game of your choice.
It has completely free content and has many language options as well, which means you can choose whichever language you're most comfortable with and begin streaming.
4) Stream2watch
Stream2watch is pretty similar to AllSport Live. With its enormous media library, you are most likely to find any match you are searching for. Just type the description in their search box, and it will find the game for you.
Similarly, if you have Roku installed on your Smart TV, you could also add their channel onto Roku and stream live from your TV.
5) Loala1
Loala1 is a fairly popular website and preferred by many people. With its user-friendly interface, it allows people to stream sports content online without having even to download an application.
Apart from the video content, it also offers updates and news about the sports industries.
6) Hotstar Sports
Hotstar is one of the best websites to choose for streaming sports content; it has a vast list of matches as well as certain sports interviews and provides live stream options as well.
With sleek website design, it makes it very easy to use and find whatever you are searching for. You can choose to either view content on the website or even download the mobile application.
7) VIP League
VIP League is also one of the user-friendly websites that you could opt for. It offers a variety of sports streaming, including cricket, football, tennis, etc.
It also offers streaming in different languages so that you can watch whatever you desire at ease.
8) FirstRow Sports
This is truly one of the best websites to stream sports; you can view your content without any problems.
It even provides the user that have slow speed internet connections with live scores and updates if they can't seem to watch the match.
9) Allsport live
Allsport live is a Russian website that contains a huge library of sports. The language barrier may cause some hindrance, although you can always translate the website with Google translate.
It provides you with free streaming to all sorts of sports such as hockey, football, cricket, etc.
10) Sony LIV
Sony LIV is an Asian streaming website which contains a huge collection of sports matches, as well as live telecasts of games. It is owned by the Sony Pictures Network, which guarantees that the quality will not be compromised.
The site is completely free to use; you don't even need to register just begin streaming. You'll need to go for a premium subscription if you want an ad-free experience.
Most of you must be pretty familiar with Sky Sports as it is well known in the live streaming area.
11) Sky Sports
Sky Sports, by far, offers the widest variety of sports content, along with live broadcasts. You can stream anytime you want and watch whatever you choose.
Similar to Sony LIV, you don't need to register. Just need to open the website and begin watching. An advantage they hold over Sony LIV is that they barely play ads.
12) CricFree
CricFree is also a great choice when it comes to sports streaming. It offers a wide variety of sports.
Its unique website design lets you schedule your games according to your particular timezone and set up alerts, so you don't miss any matches.
They also have a feature where you can chat with whoever is online at that moment.
Conclusion
This concludes our list of 12 best sports streaming websites; we hope these were of help to you.
However, one thing to keep in mind is that some of the sites mentioned above are either restricted by location or they tend to use third party content. In both cases, it is suggested to subscribe to a VPN to ensure immediate and secure streaming. With that said, you can use the FastestVPN risk-free trial to get a feel of the app.
Take Control of Your Privacy Today!
Unblock websites, access streaming platforms, and bypass ISP monitoring.
Get FastestVPN