FastestVPN No Log Policy And Get Certified Data Security!
FastestVPN No Log Policy And Get Certified Data Security!
By Johan Curtis No Comments 4 minutes
In today's world, where everything is digital, people are becoming more concerned about their online privacy. There are a lot of threats on the internet, and users want to protect their data from being tracked, monitored, or even stolen. One of the best ways to secure online activities is to use a VPN service that follows a "no-logs policy." In this post, we will assist you in learning what a no-logs policy is, why it is crucial, and how FastestVPN-certified no-log guarantees users' privacy.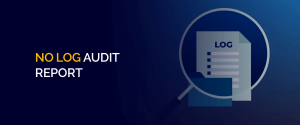 What is a no-logs policy?
A no-logs policy means a VPN service does not record a user's online activities. This includes information like IP addresses, browsing history, timestamps, and other metadata. A VPN service cannot hand over any data to third parties by not keeping any logs.
Why is a no-logs policy important?
A no-logs policy is important because it protects the privacy of users. If a VPN keeps logs, it can expose sensitive information to third parties, including governments, hackers, or even advertisers. This information could be used to track users' online activities, steal their identities, or even blackmail them.
Moreover, a no-logs policy ensures that a VPN service cannot provide data to government agencies or law enforcement, which is vital for people who live in countries with strict censorship laws or surveillance practices.
How does FastestVPN's no-logs policy ensure users' privacy?
FastestVPN's no-logs policy is evident. The company does not log any information about users' online activities, including browsing history, IP addresses, timestamps, or any other metadata. This means that users can browse the internet anonymously without worrying about their data being monitored or tracked.
FastestVPN also has a strict policy regarding user data. The company does not share or sell data to third parties, ensuring users' privacy is always protected. FastestVPN has recently been certified by a renowned firm Altius IT with a no-log audit report that is visible to every user to ensure your data is in safe hands as nowhere.
Additionally, the company uses high-level military-grade encryption to secure all data that passes through its servers, ensuring that even if data is intercepted, it cannot be read or accessed by unauthorized users.
Why Should You Utilize FastestVPN's No-logs Policy?
There are numerous benefits to utilizing FastestVPN's no-logs policy.
The first benefit is that it guarantees complete anonymity for all of your online activity, safeguarding your privacy from prying eyes. This is crucial if you travel to nations with restrictive surveillance laws or use public Wi-Fi networks. Additionally, as mentioned earlier, it has just been certified with a no-log Audit report. That signifies how important your data privacy is to FastestVPN.
The second benefit is that using a no-logs VPN service like FastestVPN guarantees the security of your data even if it is intercepted. FastestVPN uses high-level encryption to secure your data from hackers and malicious individuals.
Lastly, by using a no-log VPN service like FastestVPN, you can be assured that no one, including governments, ISPs, or advertisers, is keeping track of or watching what you do online. You are, therefore, free to explore the internet without being concerned that your data will be misused.
Although, even before FastestVPN had an audit to ensure its users with anonymity and secure browsing, it had been transparent with its no-log policy for its users to be kept anonymous.
Conclusion – No Logs Significance
In conclusion, a no-logs policy is essential for any VPN service. It protects users' privacy by ensuring that third parties do not track or monitor their online activities. FastestVPN's no-logs policy is particularly strong, providing users with complete anonymity and security while they browse the internet. If you value your privacy and security, a VPN service with a no-logs policy must be used.
Take Control of Your Privacy Today!
Unblock websites, access streaming platforms, and bypass ISP monitoring.
Get FastestVPN